Shuttler On Athlete-Friendly Academic Pathway Delivers Smashing Results
Extended International Baccalaureate Diploma Programme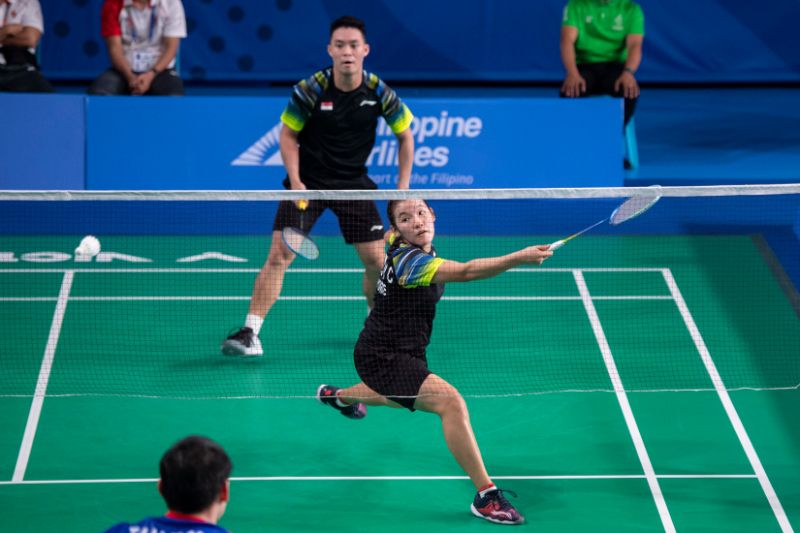 Crystal Wong Jia Ying (foreground) at the Philippines 2019 Southeast Asian Games. Photo by SNOC/Lim Weixiang
Crystal Wong Jia Ying has been producing smashing results both on and off the court. She recently graduated with the International Baccalaureate Diploma with a commendable results after spending 8 continuous years as a Sports School student-athlete.
Crystal took full advantage of the Sports School's through-train pathway that led her directly to an IB Diploma without having to take the national examinations. As an elite student-athlete, the Sports School, IB Organization and the World Academy of Sport (WAoS) offered her the opportunity to take up the Extended IB Programme. The Extended IB Programme is an athlete-friendly academic option offered to student-athletes with high potential in sport to compete the IB Diploma Programme over an extended period. It aims to support the dual career aspirations of student-athletes who want to follow an athletics pathway concurrently with studies.
Crystal maximised the opportunity by taking the maximum extension period of two years on top of the standard two-years, to complete the IB Diploma programme. As the rigour of the IB Diploma programme and the commitment of a young athlete is demanding, stretching the programme to four years gave Crystal a longer runway to plan her modules around her sporting plans, and ensured that she can perform the best of her ability in both sport and studies. She shared, "The Extended IB programme allowed me to maintain my training intensity of twice a day, as well as gave me the flexibility to continue training with the national squad which is outside of school. On top of that, I was also able to travel frequently, without worrying too much on my school work as the extension eased the study load. Balancing sport and studies is possible!"
Crystal-Clear Goals
From a young age, Crystal was determined to follow her father's footsteps. Crystal's father was a badminton coach, and her weekly outings with her father to his training sessions where she played with a racquet and shuttlecock by the side, sparked an interest in the sport. Joining Singapore Sports School was a natural choice for her as a step towards making her dreams come true.
As an Extended IB student-athlete, Crystal could focus on her training regime and polishing her skills by frequently competing with international players in her prime years. She won three bronze medals in three editions of the South-East Asian Games in the Women's Doubles event, and won several other competitions that helped her break into the World's Top 60 in the Mixed Doubles and Women's Doubles rankings.
But she is not done setting more records for herself. Crystal aims to qualify for the Olympics and achieve top 15 ranking in the world. She also wants to clinch more individual medals at major games. With crystal-clear goals in mind, she has decided to take the plunge unreservedly to be a full-time athlete before she pursues a university education to fully realise her lifelong dreams.
We wish her all the best!