Home
> Admissions > Admission to Secondary 1
Admission to Secondary 1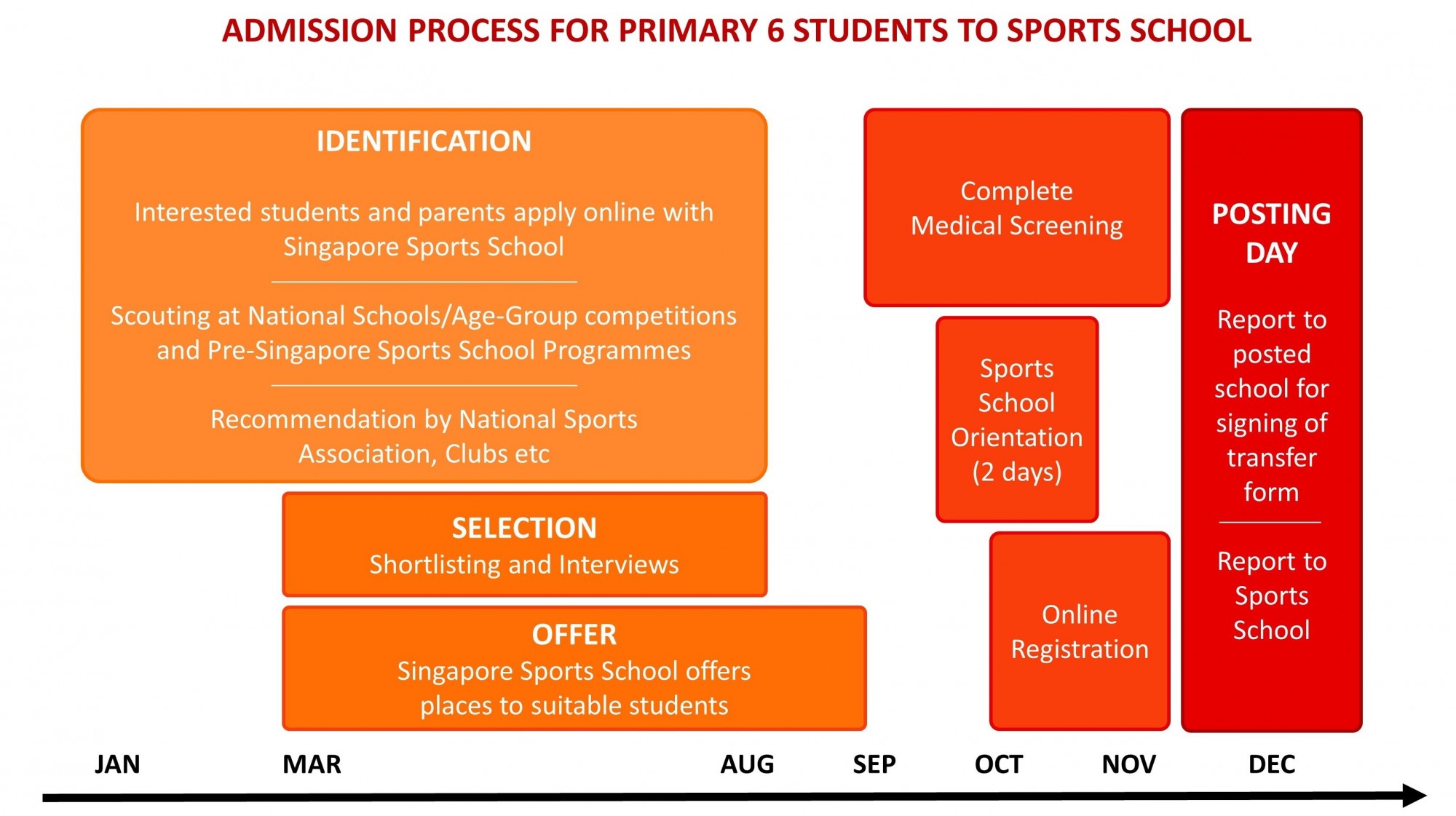 Timeline for 2022 Secondary 1 intake
Date

For Who

What To Do


1 March to 30 April 2021

(Main phase for Admission)

Interested P6s





(Do NOT apply to Sports School using MOE DSA-Sec portal)




Please get ready the following documents:

1) Combined into one pdf file [Max File Size: 3 MB]

Birth Certificate/Re-entry permit for Singaporeans/PR
P5/P6 Holistic Development Profile (inclusive of Physical Fitness page)
Others (Sports achievements / awards / letter of support from NSA for Individual Programme).

2) Documents (if any) related to learning disabilities or special education needs [Max File Size: 1 MB]

From 1 April to 31 May 2021

Shortlisted P6s


Shortlisted applicants for Fencing, Football, Netball and Track and Field will be notified to attend Coaching Clinics by the respective Sports Academies.
For others such as Badminton, Bowling, Shooting, Swimming, Table Tennis and sports under Individual Programme, shortlisted applicants will be contacted for further engagement by 31 May 2021.

For All Sports

Parents of shortlisted candidates will receive a notification for admission interview.
Applicants who are successful in the admission interview will be offered a place for the 2022 Secondary 1 intake.
Upon acceptance of the offer, the school will schedule a compulsory medical screening for all incoming Secondary 1 students with our medical board.

From 1 June to 31 August 2021 (Supplementary phase – subject to vacancies available)

Interested P6 who missed our main phase





(Do NOT apply to Sports School using MOE DSA-Sec portal)




Shortlisted applicants will be contacted by Admissions for further engagement.

September 2021

Shortlisted P6s for supplementary phase

Admission interview and offer during supplementary phase.

October 2021

Successful P6 Applicants

Participate in Sports School's Orientation Camp

October to November 2021

Successful P6 Applicants

Participate in Sport School's Secondary 1 Online Registration

November 2021

Successful P6 Applicants

PSLE Results Release

December 2021

Successful P6 Applicants


Participate in MOE's Secondary 1 Posting Exercise so that you will be allocated a 'posted school'. Should you need to exit Sports School due to extenuating circumstances, you will have a place in the 'posted school'.




On the next working day after the release of the posting results, P6s will need to report to their posted school and get the posted school's endorsement to transfer to Sports School. Thereafter, they should send the endorsement to Sports School to complete the enrolment process.