Sports

Singapore Sports School's sport programmes aim to develop student-athletes optimally based on Long-Term Athlete Development (LTAD) principles, while acknowledging their academic aspirations and building character. Our team of expert coaches is supported by sport scientists from the National Youth Sports Institute to provide optimal training and competition for student-athletes founded on the principles of LTAD. Since the school's inception, many of our current and former student-athletes have gone on to represent Singapore at major competitions such as the World Champions, Southeast Asian Games, Commonwealth Games, Asian Games, and Olympic Games.
Supporting The Sport Ecosystem
Sports School strives to be the pipeline for the national teams by supporting the development of youth athletes. We collaborate closely with organisations in the sport ecosystem such as national sport agencies Sport Singapore (SportSG), Singapore Sport Institute (SSI) and National Youth Sports Institute (NYSI), as well as with National Sports Associations (NSAs) to ensure a seamless progression of our student-athletes into the national setup.
We also have partners overseas to facilitate the sport development of our student-athletes. These partnerships provide additional opportunities for our student-athletes to train and spar with athletes of higher ability, and gain exposure to different styles of play. Click
here
to view list of sport partners.
Our Philosophy: Long-Term Athlete Development
The Long-Term Athlete Development (LTAD) framework is widely identified as the optimal sport development model for student-athletes. LTAD offers a pragmatic and scientific approach where a systematic, integrated system is built around developing student-athletes and identifying appropriate levels of competition at each stage.
The Sports School believes that the athlete-centred, coach-driven and sport science-supported approach in a LTAD model will help develop a lifelong involvement of student-athletes in physical activity and sport participation, as well as produce future champions.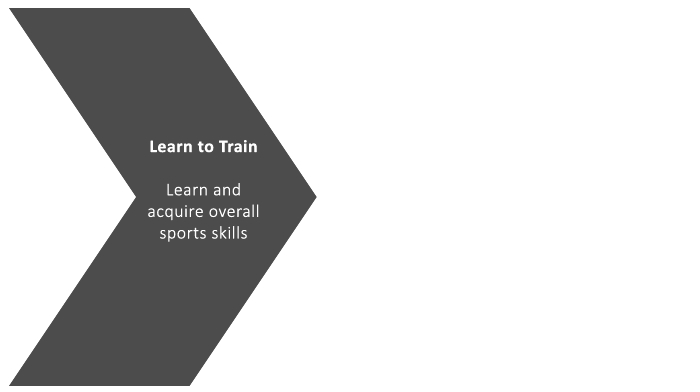 The LTAD model in the Sports School comprises three key stages (Learn to Train, Train to Train, and Train to Compete) to cater to the needs of the student-athletes aged 13 to 19 years old. Key principles of this model include:
Developmental age (maturity), rather than chronological age is used in training/competition planning;
Fundamental movement skills are viewed as the building blocks for sport-specific movement patterns;
Training load and competition is balanced to prevent injuries and burn-out; and
Athletes and coaches are given the platform to fulfil their potential and remain involved in sports.
Sports Programmes
Student-athletes in Singapore Sports School are either in an Academy Programme or in an Individual Programme.
The Academy Programmes are in the following sports:
We also work closely with the NSAs to nurture student-athletes in sports such as artistic swimming, diving, golf, gymnastics, ice skating, pencak silat, water polo, wushu, and more.
While all student-athletes receive a flexible yet rigorous academic programme, have the option to board on campus, receive sport medicine and sport science services, and Athlete Life Management support, only those in an Academy Programme will receive sports training from Sports School coaches. Those in Individual Programme are supported by their respective NSAs in their sports training.


Academy Programme
Individual Programme
Academics
Boarding

Sport Medicine and

Sport Science Services

Athlete Life

Management Support

Sports Training

Sports Staff
Our Sports staff have experience coaching in both the local and the international arenas. They possess the knowledge and expertise to develop athletes to perform on the world stage. Our coaches have experience at developing athletes at all levels of sport – from the talent development stages, to youth competitions (such as the World Junior Championships, Asian Youth Games and Youth Olympic Games), to senior elite international competitions (such as Southeast Asian Games, Commonwealth Games, Asian Games and Olympic Games).