International Baccalaureate Diploma Programme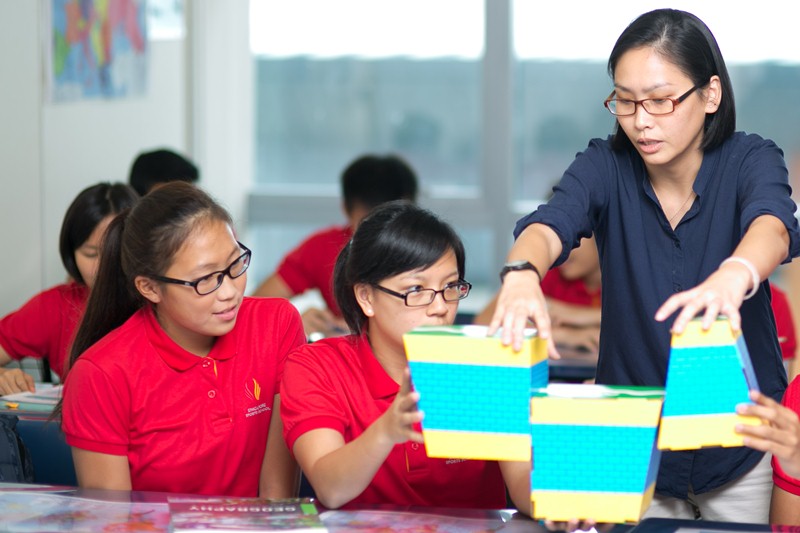 The International Baccalaureate Programme, accredited by IB Organization is catered for those who prefer a broad-based academic programme leading to university. This through-train pathway provides an uninterrupted sport development pathway for aspiring athletes to concurrently achieve their dual goals in sports and studies.
Sports School has been recognised as an Athlete-Friendly Education Centre by the World Academy of Sport (WAoS) as it offers an extended pathway for high-performing IBDP student-athletes. Those on the Extended IBDP can stretch the completion of their studies by up to three years as compared to the usual two years in order to balance sports training and school commitments. They have greater flexibility in planning their academic schedule to match their long-term sport goals and competitions. Student-athletes on the extended pathway will attain the same qualifications as students on the usual 2-year pathway recognised for university admission.
OVERVIEW
The philosophy about the nature of education is the driving force behind the International Baccalaureate Diploma Programme and is expressed through three elements: The IB mission statement, learner profile and the fundamental principles on which the curriculum is based and which continue to inspire its development.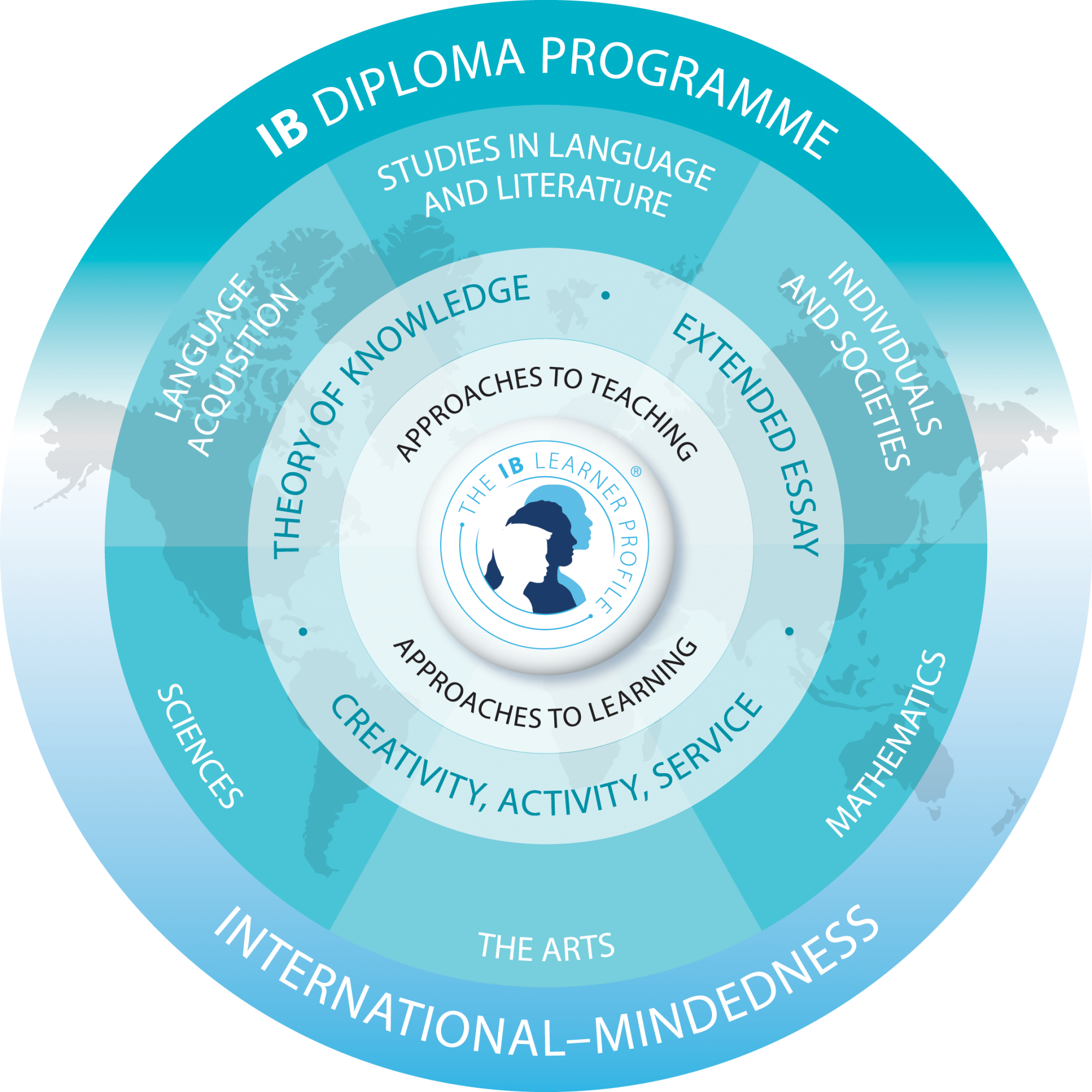 Mission
The International Baccalaureate® aims to develop inquiring, knowledgeable and caring young people who help to create a better and more peaceful world through intercultural understanding and respect.
To this end the organization works with schools, governments and international organizations to develop challenging programmes of international education and rigorous assessment.
These programmes encourage students across the world to become active, compassionate and lifelong learners who understand that other people, with their differences, can also be right.
Learner Profile
The IB learner profile is the embodiment of the IB mission statement in 10 attributes and aims to define the type of learner the IB aspires to develop in its three programmes. The learner profile is located at the heart of the programme so as to provide a focus for reflection on what is most important in IB World Schools and the IB teaching profession.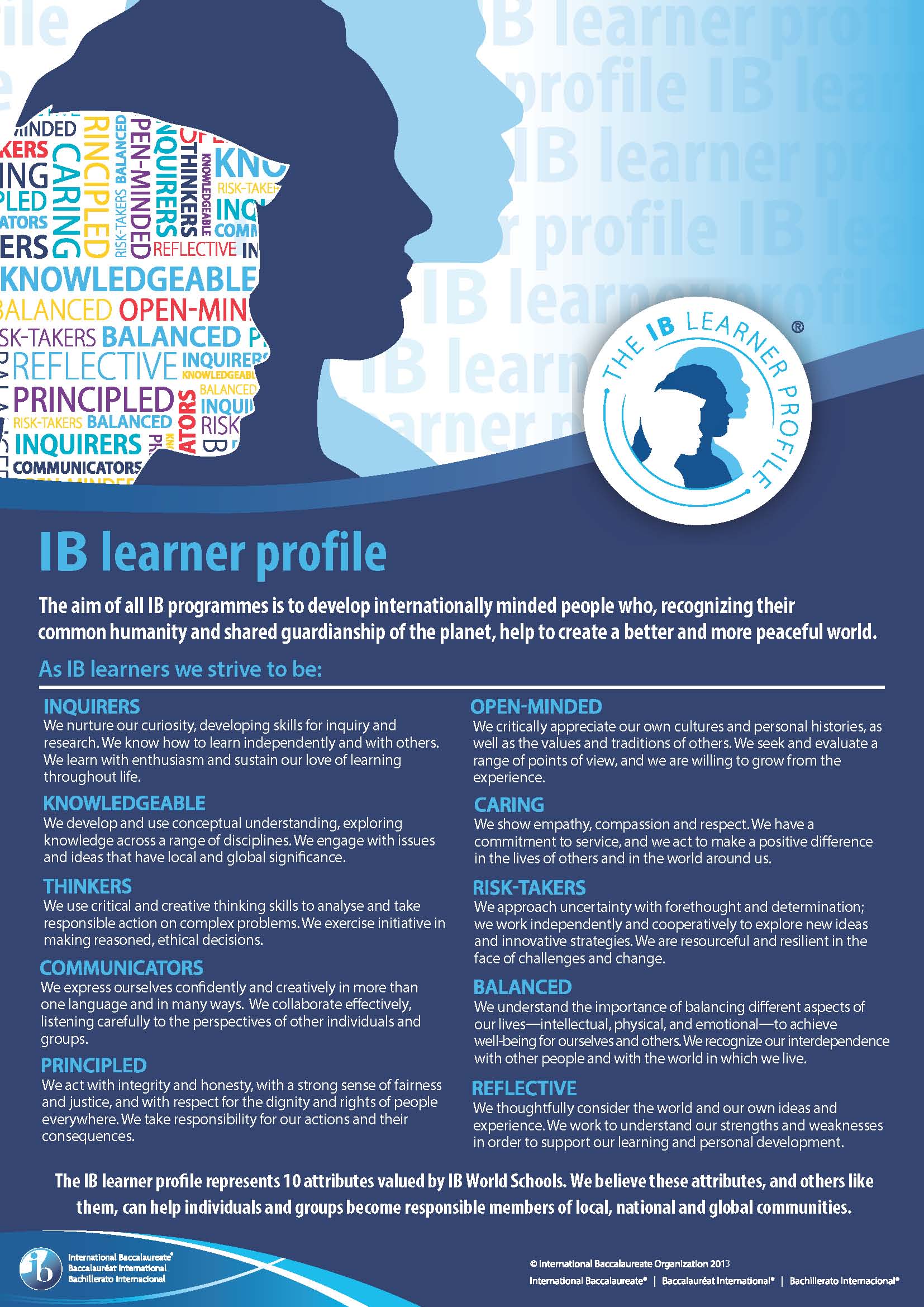 Click to enlarge image
SUBJECTS
Students study six courses at Higher Level (HL) or Standard Level (SL):

Three HL and three SL
One subject is chosen each from Groups 1 to 5
Sixth subject is another subject from Group 3 or 4
Three Core subjects (Theory of Knowledge, Extended Essay and CAS)
SUBJECT GROUPS
CORE PROGRAMME
Theory Of Knowledge
Theory of Knowledge (TOK) plays a special role in the IBDP by providing an opportunity for students to reflect on the nature of knowledge, and on how we know what we claim to know.

It is one of three mandatory components of the DP core. The TOK requirement is central to the educational philosophy of the DP.

In addition, TOK prompts students to:

be aware of themselves as thinkers, encouraging them to become more acquainted with the complexity of knowledge

recognise the need to act responsibly in an increasingly interconnected but uncertain world

TOK also provides coherence for the student by linking academic subject areas as well as transcending them.

It therefore demonstrates the ways in which the student can apply their knowledge with greater awareness and credibility.

Extended Essay
The Extended Essay (EE) is a required component of the IBDP. It is an independent, self-directed piece of research, finishing with a 4,000-word paper.

The EE provides:

practical preparation for undergraduate research
an opportunity for students to investigate a topic of special interest to them, which is also related to one of the student's six DP subjects

Through the research process for EE, students develop skills in:

formulating an appropriate research question
engaging in a personal exploration of the topic
communicating ideas
developing an argument

Participation in this process develops the capacity to analyse, synthesise and evaluate knowledge.

How is study of the Extended Essay structured?
Students are supported throughout the process of researching and writing the EE, with advice and guidance from a supervisor who is usually a teacher at the school.

The IB recommends that students follow the completion of the written essay with a short, concluding interview with their supervisor. This is known as viva voce.

The EE and interview can be a valuable stimulus for discussion in countries where interviews are required prior to acceptance for employment or for a place at university.

http://www.ibo.org/programmes/diploma-programme/curriculum/extended-essay/what-is-the-extended-essay/

Creativity, Activity, Service
Creativity, Activity, Service (CAS) is one of the three essential elements that every student must complete as part of the DP.

It is not formally assessed. However, students reflect on their CAS experiences as part of the DP, and provide evidence of achieving the seven learning outcomes for CAS.

How is Creativity, Activity, Service structured?
The three strands of CAS, which are often interwoven with particular activities, are characterised as follows:
Creativity – Arts, and other experiences that involve creative thinking
Activity – Physical exertion contributing to a healthy lifestyle, complementing academic work elsewhere in the DP
Service – an unpaid and voluntary exchange that has a learning benefit for the student. The rights, dignity and autonomy of all those involved are respected.

In order to demonstrate these concepts, students are required to undertake a CAS Project. The project challenges students to:

show initiative
demonstrate perseverance
develop skills such as collaboration, problem solving and decision making

What is the significance of CAS?
CAS enables students to enhance their personal and interpersonal development by learning through experience.

It provides opportunities for self-determination and collaboration with others, fostering a sense of accomplishment and enjoyment from their work.

At the same time, CAS is an important counterbalance to the academic pressures of the DP.

http://www.ibo.org/programmes/diploma-programme/curriculum/creativity-activity-and-service/
GRADING
IBDP Assessment Structure and Point System
Point System
Grades awarded for each course range from 1 (lowest) to 7 (highest)
Maximum a student can score for six subjects is 42 points
Up to 3 additional points are awarded for combined results on Theory of Knowledge and Extended Essay
Highest total: 45 points
To obtain the Diploma, a student has to gain at least 24 points, subject to certain minimum levels of performance across the whole programme, including TOK and EE, and to satisfactory participation in Creativity, Activity, Service
TESTIMONIALS
"The IBDP curriculum, such as the Theory of Knowledge classes, has broadened my horizon and shown me how being open-minded can unlock bountiful possibilities. The rigorous IBDP schedule, which emphasises the balance of sports and studies, has also taught me efficient time management in planning my training, competitions and studies. These invaluable skills will benefit me for a lifetime in my future endeavours."




Regine Goh Xuan Xuan (Swimming)

IBDP, Class of 2019
"The flexibility of the Extended IBDP is a major plus point. I have been able to train and participate in major competitions including the 2019 SEA Games without compromising on my studies. Time management between intense sport training and the rigour of the IB programmes has become a reality as my workload is carefully planned and stretched out over a longer period of time."




Lincoln Forest Liqht Man (Gymnastics)
Extended IBDP, Class of 2020
"I've learnt to be more resilient after joining the IBDP. The IBDP is one of the most challenging diploma programmes, and to do that whilst having heavy sport commitments makes it even more difficult. I appreciate the flexible timetable that is offered to Extended IBDP students-athletes, which allows me to maximise my performance. The IBDP has also made me more open-minded. Subjects like Theory of Knowledge (TOK) have really made me view the world in a different light and this teaches me to view issues from various perspectives."




Kimberly Ong Li Ling (Wushu)

IBDP, Class of 2021
"The IBDP curriculum is very suitable for student-athletes since we have a lot of sports commitments. So, as compared to the usual GCE O-Level route, we have more freedom and less pressures to excel in both studies and sports. Thanks to the flexibility, I was able to achieve some of my best sporting moments, achieving a Gold in the Men's Sabre event in the Asian Cadet Circuit (U17) in Wuxi in 2018, Gold in Singapore Junior (U20) Nationals 2021 and Gold in Singapore Senior Tournament 2021."




Chan Phu Xien (Fencing)
IBDP