Alumnae Launch Children's Book
Go Shanti Go! Book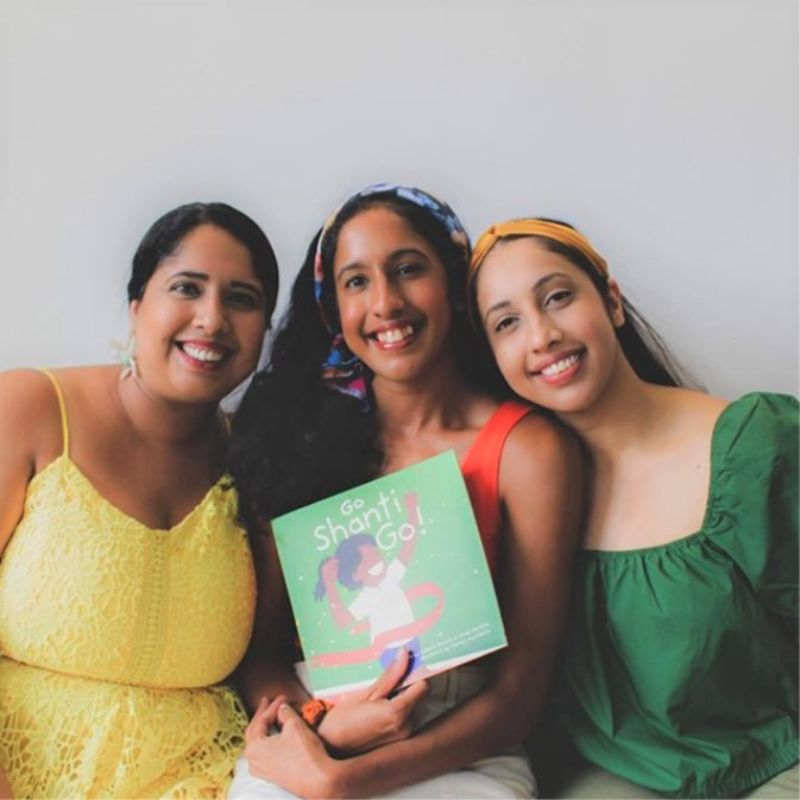 From left, sisters Shobi, Veronica Shanti and Valerie Seema Pereira.
Photo: Instagram/Go Shanti Go Book
Ask any Singaporean what their most memorable moment of the Singapore 2015 Southeast Asian Games is and most would say it was when Singapore won the gold medal in the athletics Women's 200m sprint. That was the first gold medal won by a Singaporean in that event in 42 years. That champion was Veronica Shanti Pereira.
"The 2015 SEA Games will always have a special place in my heart. Not just because I won, but because my family was there to witness it along with everyone else sitting in the stands that day," said Shanti.
The exhilaration and excitement from that race felt by Shanti and her family alike is what prompted the sprinter and her two older sisters, Shobi and Valerie Seema, to capture the memory in a children's book titled Go Shanti Go!.
"I didn't realise how much impact that moment had until young kids started coming up to me telling me how much of an inspiration I was for them to join track. With that, it made sense to capture that moment in a children's book, not only as a way to remember the moment for a long time, but also for kids to know that they should never give up on their dreams, whatever they may be."
Go Shanti Go!, written by Shobi and Valerie, charts Shanti's journey as an athlete from a young girl watching her sister Valerie – also a Sports School alumna – race on the track, to the moment that she wins the historic SEA Games gold medal.
"Writing this book made me feel excited and nervous at the same time. Excited that we could re-tell this story that is so special to our family, yet nervous that something that meant so much to me was going to be out there. But we felt like it was something that we wanted to share with everyone – a book that celebrates our local Team Singapore athlete and the spirit of sports in Singapore for our young ones," said Valerie, a former national sprinter who competed at the Jakarta-Palembang 2011 SEA Games.
"It grew in meaning for us as we worked on the book. After having my first child and seeing how much he enjoys sports, watching Shanti's races and reading, encouraged me even more to see this book through."

The book, recommended for children 3 to 7 years old, was launched on 21 August 2020.

"I hope that the book is an inspiration to keep Shanti going through the toughest of times as an athlete and for athletes to know that there are many people supporting them and celebrating their highs and sticking with them through the lows too. And most of all, for the children! To remind them to be brave and to never lose sight of their dreams. No dream is too little."

Get your hands on a copy

here

and follow them on

Instagram

for updates.

"We had an image in our head about how we wanted the book to come together. Especially the illustrations that are curated from moments and photo references throughout Shanti's journey. We also hope that the illustrations and story can encourage positive discussions about sport and cultivate interest as well," said Valerie.