Great Mentors Make Great Difference
Staff Awards 2020: Mentor of the Year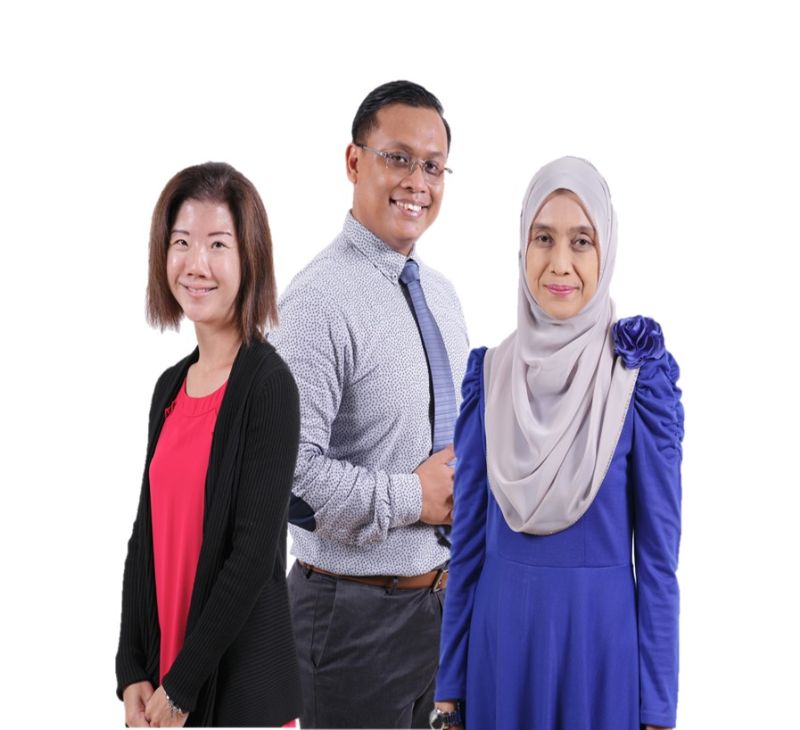 From left, Marlene Oh, Mohamad Faizal Jazman and Marlina Ahmad
In Singapore Sports School, every student-athlete has an academy mentor who looks into their overall and long-term development, ensures their emotional and social well-being and conducts mentoring sessions. Mostly, the mentors follow them through their secondary and post-secondary school life to forge a closer relationship with both the mentees and their parents, and be able to make a better impact in their lives.
This year, three inspiring and nurturing mentors were recognised as the Mentor of the Year – Marlene Oh Shu Hui (Teacher, Science), Marlina Ahmad (Teacher, Mother Tongue) and Mohamad Faizal Jasman (Subject Head, Mother Tongue). They were awarded for possessing good knowledge and understanding of each mentee, managing mentees appropriately and having productive mentoring sessions, and demonstrating commitment to character development and imparting the school values.
Caring Through Kindness and Trust
Biology teacher Marlene Oh Shu Hui is the light that shines the way forward. She mentors an interesting mix of student-athletes from the International Baccalaureate Diploma Programme (IBDP) who have a demanding academic and sporting schedule.
Marlene pays special attention to their emotional and social well-being – often lighting the way for them by guiding, nurturing and counselling them. She looks into the needs of each student-athlete and puts together an individualised plan for those who need it. She follows up professionally with them and ensures student-athletes are coping well so that they graduate with a certificate in hand, and a smile on their face.
On how she engages her mentees, Marlene shared, "I am very real with my mentees when I share life experiences with them because I think they are mature enough to handle tough issues. This probably allows some of them to open up to me about their issues or their struggles. And when they do, I try not to judge and empathise with them. I always try to be their cheerleader, seeing the gold (treasure) in my mentees and trying to encourage them to go beyond what they think they can achieve."
Being a close friend and confidante to her mentees has earned her the respect and admiration of her mentees. Rishika Ghanamoorthy, alumna from the Netball Academy who graduated last year as one of Marlene's mentees said, "She's very understanding of the needs of student-athletes. Moreover, she is very receptive to feedback and this makes us comfortable to tell her anything. She's like a second mum to us… An incident where she really touched my heart was when I was in IBDP Year 6. I was going through a very stressful period and I had a lot of work piling up, sports competitions that I was training for and leadership commitments. I was really struggling to stay on top of all my work. There was a time I broke down and cried really badly and she was there to pick me up. She even cried with me and bought me sunflowers."
Marlene has been a teacher at Sports School for seven years. Prior to that, she was teaching at a Junior College. On her philosophy in life, she shared, "For life, as well as in teaching, is to see past the exterior and recognise the value in people – that is honour. If we value the people around us, we'll treat them with kindness."
Caring Through Personal Experiences
When the mother of one of Marlina Ahmad's mentees passed away, she quickly reached out to her mentee and consistently checked on her. During a tough period in her life, Marlina helped her through the many changes, and was a life-saver! This is just one of the many examples of the impact that Marlina has left in the lives of her mentees. According to her mentees, she is a motherly figure whom they can run to whenever they are overwhelmed with challenges and adversities.
As a teacher for the last 21 years in three different schools, Marlina has seen the growth of many students under her charge. Her gentle and kind approach has left a lasting imprint on many of her past students, so much so that she has about five groups of past students who visit her every Hari Raya. From giving academic lessons and advice, she now gives parenting advice to some of them who are already in their mid-thirties with children of their own.
She shared, "I regard all my students as my own children. As such, many of them find comfort in talking to me when they face adversities, be it academic matters or issues pertaining to social-emotional needs. My experience as a teacher-counsellor and attaining a Masters Degree in Guidance and Counselling, definitely helps me in this aspect. It also helps that I have 2 teenagers at home who are of the same age as my students and mentees, and hence they often find comfort just expressing their thoughts and worries, as they feel I am able to understand them."
Building positive relationships and trust is important to Marlina. "Once such a relationship is established, they will move the mountains for you," she said. She also acknowledges that different approaches works for different mentees, and does not use the one-size-fits-all approach in dealing with her mentees. She takes time to understand what is effective for them, which also contributes to developing a positive relationship.
Marlina's passion for teaching and inspiring lives makes her exemplary teacher and mentor. "My mantra in life is: When undertaking any task, do it with love and utmost sincerity. Hence, teach from the heart, not by the book. Over the years, my students may forget the content of my subject matter, but I hope, they do not forget how I made them feel and how I treat them as individuals," she concluded.
Caring Through Values Education
"Educating the mind without educating the heart is no education at all," says Mohamad Faizal Jasman, the Mentor of the Year recipient and Subject Head of Mother Tongue. Described as an extremely patient mentor even during tough situations, Faizal ensures that he role models in his effort to shape personalities into individuals who can succeed in all aspects of their life.
Faizal, who mentors the Secondary 4 and 5 Football Academy student-athletes, shared, "A good head and a good heart are always a formidable combination. I believe that values are important as they act as a compass to guide and lead us towards a certain direction. I find myself in a privileged position as a teacher to guide them in shaping their value systems. Their values will dictate the choices they make and determine the direction that they take in their lives. Hence, it is important to inculcate positive values when they are still young."
On several occasions, Faizal has proven that he is a source of support and encouragement when his student-athletes need it. But even when they may not need it, Faizal shows that he is there for them. He makes it a point to attend their football tournaments whenever he is available as he knows the sport means a lot to them. Seeing his mentees on the football field also gives him the opportunity to see them in a different light and observe their resilience, determination and support for one another. His holistic understanding of his mentees also empower him to manage situations better, and lend a helping hand to student-athletes. Importantly, he reiterates how the values he sees on the pitch can be used in their daily lives.
One of his mentees, Adam Reefdy Muhammad Hasyim from Secondary 4 sang praises for his mentor. He said, "Mr Faizal is a fatherly-figure, who is always there for us. He keeps track of our academic and sport progress, and motivates us to always do our best in everything. I really have to thank him for being him."