Top-Class Paddler
Theme Feature: Pearlyn Koh Kai Xin


Pearlyn Koh Kai Xin, a national paddler and community volunteer, has added one more title to her name – a top graduate. Pearlyn is the recipient of the prestigious Lien Ying Chow Gold Medal and the Ngee Ann Polytechnic Outstanding Achievement Award, making her one of the eleven top graduates in the Class of 2022 in Ngee Ann Polytechnic. She also received four other awards upon graduation - the Lee Wee Nam Gold Medal and Prize, Diploma with Merit, Activa Media Prize and Frasers Property Limited Prize – for her excellent results and being a model student.
In early May, Pearlyn graduated from the through-train Diploma in Business Studies (Entrepreneurship Option), offered jointly with Ngee Ann Polytechnic. She thrived in the course and it piqued her interest in entrepreneurship, making her keen to become a business owner one day. Pearlyn is the first student-athlete from Sports School to become a top graduate of the programme which had its first intake in 2017. Ngee Ann Polytechnic and Sports School recently renewed their partnership to continue offering an athlete-friendly diploma programme to student-athletes on Sports School campus.
(Read more)
Pearlyn achieved a near-perfect Grade Point Average although she had daily training sessions and participated in competitions. The 20-year-old national paddler credits her all-rounded success to the life skills table tennis has taught her. She shared, "Table tennis has been a huge part of my life. Over the years, it has imbued in me the traits of grit and resilience that have helped me to overcome many challenges. It has also taught me the importance of being thankful."
Pearlyn's sporting journey started when she was eight years old and studying in Pei Hwa Presbyterian Primary School. Her father used to take her along when sending her elder brother to training sessions. Pearlyn wiled her time away by picking up table tennis balls on the floor and admiring the fast-paced action as the balls flew from one end of the table to the other. She started playing table tennis when her brother's then-coach encouraged her father to let Pearlyn try the sport. Pearlyn started training regularly and joined her primary school's table tennis team.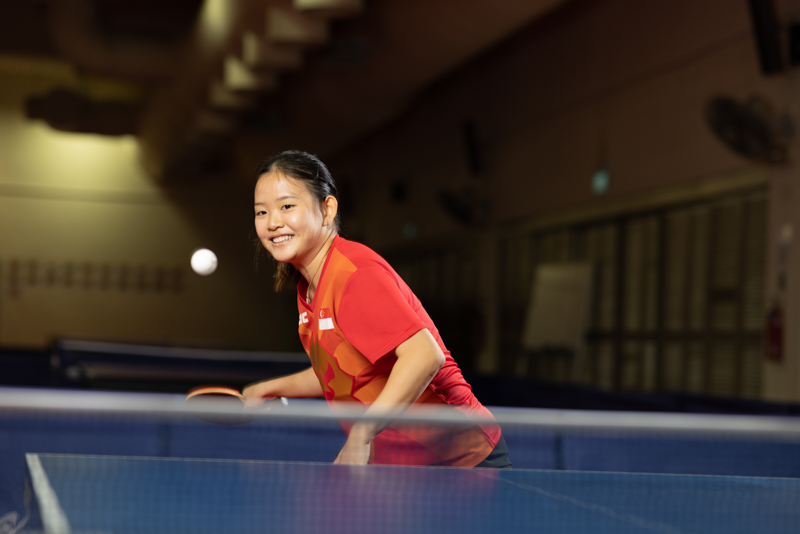 She represented Singapore for the first time when she was just a Primary 6 student in a training camp in Austria. The trip deepened her interest in representing Singapore in international competitions. Knowing fully well from her primary school seniors that Sports School offers competition opportunities and overseas exposure, she joined the School in Secondary 1 to further her goals.
Her Sports School experience lived up to her expectations. She has competed in several international competitions, including the 2019 Southeast Asian (SEA) Junior Table Tennis Championships where she won a gold and 2 bronzes, and the 2018 SEA Championships, where she returned home with a silver and 2 bronze medals.
One of her best competition memories was the 2015 Commonwealth Table Tennis Championships in India, her first senior-level tournament. The then 14-year-old was the youngest participant in the competition. Yet, she contributed to a team gold and edged out a top-seeded player to get a bronze medal in the Doubles game.
Looking back, Pearlyn enthused at the fond memories in her school life: "I enjoyed the School-Within-A-School Programme that had a small class size and a unique academic structure for us to meet training needs; the interesting boarding experience where we got to study, play and forge deeper friendships; and going overseas for competitions."
The compassionate Pearlyn also takes time to give back to the community. She volunteers at Meet-the-People sessions, and in 2019 she organised a one-day table tennis tournament for primary school students to give them a platform to compete and build interest in the sport. Last year, Pearlyn and her sister raised funds to prepare care packs for housekeeping and cleaning staff in Tan Tock Seng Hospital as their gift to Singapore for its 56th National Day. They took on this initiative to show their gratitude to those working hard behind the scenes during the pandemic.
"Giving back to the community is a learning experience for me. It allows me to meet people, build my communication and leadership skills, and improve myself. It also allows me to make a small difference in the lives of others," she said.
Pearlyn is currently awaiting admission into the business programme in National University of Singapore. She intends to continue playing table tennis professionally and hopes to qualify for major Games in the future. The all-rounded student-athlete advises younger student-athletes to manage their time well so that they can cope with the demands of sports and studies, and find time to give back to the community.
Continue Reading →