Slow And Steady Wins The Race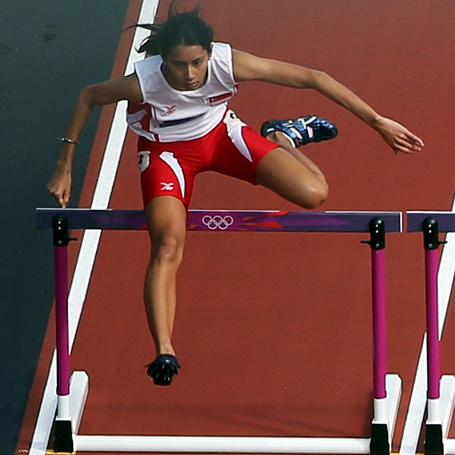 Dipna Lim Prasad at the London 2012 Olympic Games where she competed in the Women's 100m Hurdles event. Photo courtesy of SSC.
Olympian Dipna Lim Prasad will tell you that she was among the slowest runners at Singapore Sports School when she schooled here from 2004 to 2007. Train as she would, there was always someone faster.
In 2007, Coach Viatcheslav Vassiliev switched her from sprinting to hurdling. If her times for running were bad, those for hurdling were worse as she had to learn to skim over the obstacles without knocking them over, falling and hurting herself.
Frustration on the training track brought on quiet tears in bed. But Dipna did not give up as she wanted to be an Olympian – a dream which was seeded during her first year at Singapore Sports School when she watched the Athens 2004 Olympic Games at the School Dining Hall.
"My coach told me, 'If you want to be an Olympian, you cannot mollycoddle yourself. You need to train hard.' His training programme is indeed tough. Whenever I feel like giving up, he would tell me that I can do it and to carry on."
Four years after being introduced to a new event, Dipna is the fastest female hurdler in Singapore. She holds the Women's 100m Hurdles and Women's 400m Hurdles National Records. In the 100m Hurdles event, she has broken the National Record five times.
Dipna realised her dream of competing against the world's best women hurdlers at the London 2012 Olympic Games – all because her coach saw her potential and helped her hone her skills to glide over hurdles.
Coach Viatcheslav, or Coach Slava, as he is fondly known as to his colleagues and charges, expects nothing but Dipna's best whether in training or in competition.
"He will field me for an event if he feels that I'm ready for it. The times I clock in a straight race will indicate how fast I can go in a hurdles event, and vice versa. Sometimes, he tells me in mock threat before a race, 'You had better win," and sometimes, he would say, 'Just do your best.' I understand from his expressions what his expectations are. But sometimes, out of cheekiness, I will retort, 'Only do my best?' and he would reply, 'When you do your best, you will win."
Win, Dipna has.
At the 2013 Singapore Athletic Association Track and Field Series 3 at Bukit Gombak Stadium on 24 March 2013, Dipna and fellow Sports School alumnus T Piriyah became the first two Singapore female athletes to run below 57s in 28 years in the Women's 400m event, the last being Prema Govindan who ran 56.4s during the final of the National Schools Track and Field Championships in 1984. Both Dipna and Piriyah also clocked the fastest times since Chee Swee Lee's 55.08s at the Tehran 1974 Asian Games.
Then on 5 October 2013, she ran the Women's 200m race at the 3rd SIngapore U23 Open Track and Field Championships and breasted the tape at 24.36s to rewrite the national record of 24.54s which Prema Govindan held for 29 years.
"I didn't go into that 200m race with the intention to break the national record. I just wanted to clock a good time. I felt the push by Shanti Pereira and Tyra Rae Summer, and that helped. I was really surprised when I was told I had run 24.36s – with no tailwind aid, so I'm really happy."
For the record, Shanti, who holds the Women's 100m National Record, finished second in 24.56s and Tyra, who usually runs the 400m, was third in 26.39s. Both are also Sports School alumni.
Following Dipna's achievement, Prema Govindan told TODAY, the morning tabloid: "I'm very happy for Dipna who I know personally. This is great news for Singapore athletics and the Singapore Sports School in particular whom Dipna is a product of."
She added that the Women's 200m National Record will continue to be lowered over the next few years because of the exciting rivalry that is emerging between Dipna and Shanti in the event.
"Both Dipna and Shanti will be pushing each other to set faster times," she said.
Academic Achievements
* Graduated from Singapore Sports School in 2007.
* Graduated from Auckland University of Technology Diploma through-train programme in 2009.
* Enrolled into Nanyang Technological University in 2010 (Sports Science and Management).
Sporting Successes
* Holder of Women's 100m Hurdles National Record (she has broken it 5 times), Women's 400m Hurdles National Record, Women's 200m National Record, Girls 100m Hurdles National Junior Record (she has broken it 4 times), Women's 4x400m Relay National U23 Record.
* Represented Singapore in Women's 100m Hurdles at the 2011 IAAF World Championship in 100m Hurdles, 2011 Jakarta Southeast-Asian Games in Women's 100m Hurdles and Women's 4x400m Relay, and Women's 100m Hurdles at the 2012 London Olympic Games.
Awards & Recognition
* Nanyang Technological University Sportswoman of the Year 2011
* 2012 SAA National Championships U23 Best Performer Award (Female Category)
* Lord Sebastian Coe-British Chamber of Commerce Dream 2012 Award in 2012
* Singapore National Olympic Council's Singapore Sports Awards 2013 Meritorious Award (Individual)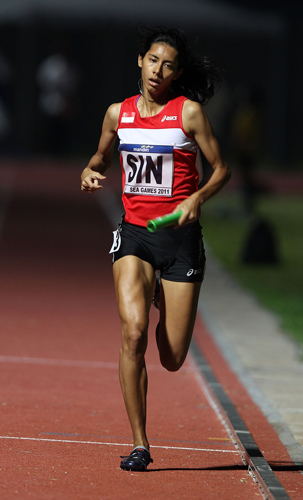 Dipna Lim Prasad running her leg in the Women's 4x400m Relay at the Indonesia 2011 Southeast Asian Games. Photo courtesy of SSC.