World No. 2 Is Decade's Best
ITTF World U18 Ranking
2019 SET Thailand Junior and Cadet Open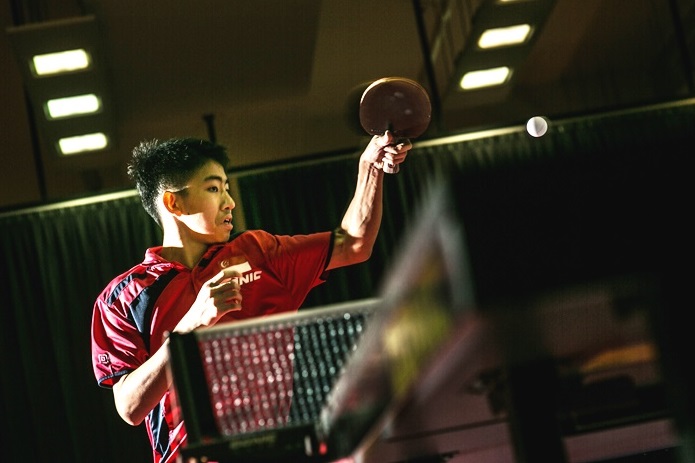 After a stellar 2018 which rocketed Koen Pang Yew En from No. 12 to No. 4 on International Table Tennis Federation's Under 18 ranking, the 17-year-old Singaporean is proving that there is a well of unfulfilled potential left in him.
Singapore's top junior paddler created history when he was named second best U18 paddler in the world when ITTF refreshed its monthly ranking in June 2019, up from 5th position. This is the highest standing achieved by any Singaporean in the U18 age-group and the best result in a decade. Only two other national paddlers have ranked No. 2 junior in the world: Li Hu (2004) and Ma Liang (2008 and 2009).
Koen's decision to take Leave of Absence from school to focus on sport in 2019 seems to be paying off as the paddler continues to deliver strong performances in the arena. At the 2019 SET Thailand Junior and Cadet Open, a Golden event on ITTF's World Junior Circuit, the World No. 2 player was the nation's best performer, returning from the tournament with 1 silver and 1 bronze medals.
The left-handed player overcame stiff competition in the Junior Boys Singles knock-out rounds to clinch the bronze medal on the last day of the tournament that was held in Bangkok from 15 to 19 May 2019.
In the Quarter-Finals of the individual event, Koen turned the tables when he defeated China's Kuang Li 4-1 to secure a spot on the podium. Just three days prior, the Singaporean had fallen to his Chinese opponent in the Junior Boys Team Final and ended the match three sets down.
Beh Kun Ting, in Year 2 of Sports School's customised Diploma in Sports and Leisure Management programme, and Koen had contributed to a convincing 3-0 victory over their Indian rivals in the Semi-Finals to book their place in the Final against China. Koen, Kun Ting, and compatriot Josh Chua collected the silver medal after being defeated by their opponents from China in the first three matches.
The first two sets in the Singles Semi-Finals against home favourite – and eventual champion – Yanapong Panagitgun proved to Koen that he was not going to have an easy time in the best-of-seven-sets contest. The 18-year-old Thai paddler bared his teeth by taking the first two sets 12-10, 11-9. Refusing to settle for defeat without a fight, Koen claimed the subsequent two sets, allowing not more than 6 points against him in each set. However, his older opponent was able to outlast him in the 50-minute match to win 4-2.
Secondary 2 student-athlete Zhou Jingyi was Sports School's top female performer at the 2019 Thailand Junior and Cadet Open, ending her Cadet Girls Singles campaign in the Quarter-Finals.
Less than a month later, Koen found himself Bangkok-bound for the 2019 Southeast Asia Junior and Cadet Table Tennis Championships from 4 to 9 June and was all smiles as he returned to Singapore with three gold and 1 silver medals in the Junior Boys division.