Student-Athletes Glitter And Shine In Sport, Character
ROAR Award, Sports Star Of The Month (April)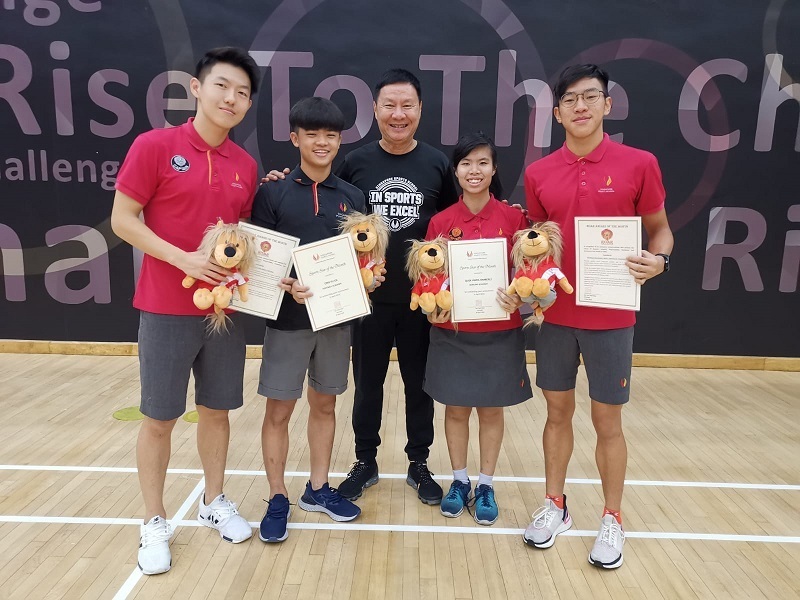 From left, Ashley Yong Cheng Wai, Ong Yu En, Principal Tan Teck Hock, Kimberly Quek Hwee and Nicholas Rachmadi

ROAR Award
"The true test of a man's character is what he does when no one is watching," said legendary basketball coach John Wooden.
Ashley Yong Cheng Wai was in a bus headed towards Clementi MRT Station when he noticed a primary school boy looking distressed. When many would have turned a blind eye, the Year 6 student-athlete in Singapore Sports School's International Baccalaureate Diploma Programme chose to step forward and alleviate the younger boy's worry which had arisen from missing the bus stop he intended to alight at and was unfamiliar with his location.
Offering comfort and assistance in contacting the boy's mother, the 18-year-old footballer went the extra mile to accompany the boy at Clementi MRT Station to ensure the boy's safety till his mother arrived.
Ashley's commendable act earned him the ROAR Award, presented by Principal Mr Tan Teck Hock on 2 May 2019. The ROAR Award, presented monthly, seeks to recognise outstanding student-athletes who exhibit the school Values of Respect, Integrity, Responsibility, Excellence and Resilience.
Student-athletes are expected to live as Learned Champions With Character – to excel not only in studies and sport, but also be role models to their peers and society in character and conduct.
Fellow IBDP Year 6 classmate Nicholas Rachmadi from Triathlon was the other recipient of the ROAR Award for April 2019. Nicholas had demonstrated good leadership abilities during school events, ensuring smooth execution, as well as looking after the wellbeing of his peers and juniors.
Nominees included Ashley Victoria Lok (Bowling, Secondary 1), Sarah Nahar Azmi (Bowling, Secondary 4), Phebe Meredith Lau Zhi Ling (Gymnastics, IBDP Year 6), Rishika Ghanamoorthy (Netball, IBDP Year 6) and Samantha Theresa Ortega (Track and Field, Secondary 2).
Sports Star of the Month
The Sports Star of the Month (April) was also presented that day to the student-athlete with the best sport achievement for the month. Bowler Kimberly Quek Hwee (IBDP Year 6) and footballer Ong Yu En (Secondary 4) were joint winners of the award. Kimberly was Singapore's most bemedalled athlete at the 2019 ASEAN Deaf Bowling Championships in Manila, Philippines, from 25 to 28 April. Meanwhile, Yu En was Sports School's star in the National School Football Championships "B" Division competition, earning the Top Scorer Award for scoring 7 goals in the Division 1 league, and two Man of the Match titles in the Semi-Final and bronze-medal playoff games.
CITATIONS
ROAR Award
Ashley Yong Cheng Wai (Football, IBDP Year 6)
Ashley Yong Cheng Wai was travelling on a bus towards Clementi MRT Station when he noticed a primary school boy in the bus looking distressed. Ashley approached the boy and learnt that he was lost as he had overslept and missed his intended stop.
Ashley comforted the boy and took the initiative to contact the boy's mother and arranged for her to fetch her son from the Clementi MRT Station. Ashley accompanied the boy until his mother arrived. Ashley showed thoughtfulness and extended his help willingly to a stranger without any hesitation.
Such commendable acts of helping those in need demonstrate Ashley's responsible behaviour. This epitomises the Champion's Mindset and is worthy of emulating by all student-athletes of Singapore Sports School.
Nicholas Rachmadi (Triathlon, IBDP Year 6)
Nicholas Rachmadi exhibits sound leadership qualities and is a responsible student-athlete who shows initiative in building rapport with his team members and constantly keeps a lookout for his juniors. During Singapore Sports School's Open House on 13 April 2019, Nicholas ensured that the school tours ran smoothly. He anticipated potential problems and solved them with his team members. He was decisive in his instructions and the school tours went off without a hitch.
Despite his busy schedule, Nicholas also took the extra effort of creating an excellent montage for the Opening Ceremony of the 2nd Singapore Sports School Para Games on 27 April, a second school event held within the same month. The para athletes and everyone who attended the Opening Ceremony were moved by the well-crafted Montage and excellent choice of music.
Sports Star of the Month
Kimberly Quek Hwee (Bowling, IBDP Year 6)
At the 2019 ASEAN Deaf Bowling Championships held in Manila, Philippines, from 25 to 28 April 2019, Kimberly Quek Hwee competed against 15 other women and won gold medals in the Singles, Doubles, Trios and All Events. She placed 3rd in the Masters event.
The 4 gold and 1 bronze medals that Kimberly won helped Singapore win the Women's Team Championship and the Overall Team Championship trophies.
Ong Yu En (Football, Secondary 4)
Ong Yu En had an outstanding season representing Singapore Sports School in the 2019 National School Football "B" Division Championships. For scoring 7 goals in the competition, he was presented the Top Scorer Award in the Division 1 competition.
Yu En was also nominated by independent officials as the Man of the Match in both the Semi-Finals, as well as in the bronze-medal match.