Alumna Starts Podcast To Drive Social Change
Alumni Feature: Rishika Ghanamoorthy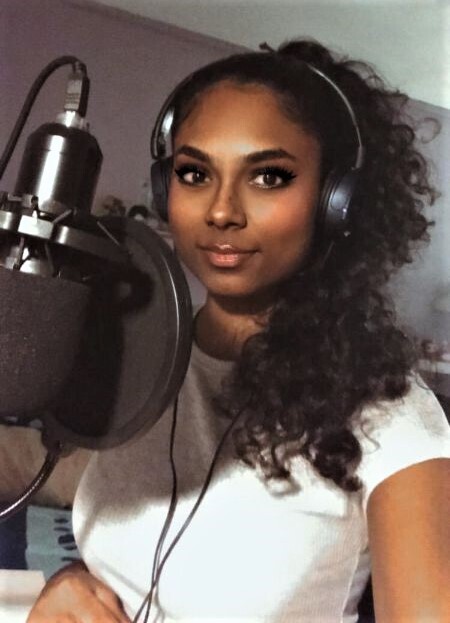 Rishika Ghanamoorthy during a podcast recording.
Photo courtesy of Rishika.
At 19 years old, Rishika Ghanamoorthy runs a podcast that encourages social change. She spent six years in Singapore Sports School, completing the International Baccalaureate Diploma Programme in 2019 before furthering her education at National University of Singapore's Faculty of Arts and Social Sciences where she is now a first-year undergraduate.
During her time at Sports School, the former Netball Academy student-athlete stepped up on many occasions to lead and serve her community, embracing the opportunities that were presented to her. In addition to being in the school's student council executive committee, she was also part of the organising committee for the International Youth Netball Challenge, an Under 15 invitational competition which the Academy hosts annually, and a Values in Action project to help the less-fortunate residents living in the nearby Champions Court.
Despite graduating from the Sports School, Rishika continues to serve her alma mater and play a part in developing the younger generation of student-athletes, such as undertaking a brief coaching stint with the Netball Academy and was a master of ceremonies at the recently-concluded 17th Awards Night on 28 January 2021. She is also a member of the pro-tem committee for the school's newly-launched Alumni Association.
---
1.

Share with us about the Chaotic Calm Podcast.
There are several reasons why I wanted to start a podcast, one of which is to contribute to the social change ecosystem. One of the mediums that change-makers use to contribute to this ecosystem is through storytelling. Our stakeholders include, visionaries, artists, disrupters, frontline responders and so many more (you can go read up on this). My time in Singapore Sports School allowed me to discover my potential in using my voice – literally and figuratively – as I was often called upon to emcee events, host dialogue sessions, and lead school events. At the same time, I really wanted to make a change in the student-athlete community in Singapore, and build a family and connect people. Hence, with this intention, I have of contributing to the ecosystem, being a storyteller was the best way to use this skill. Podcasting allowed me to realise this intention.
I felt that there isn't enough content for student-athletes in Singapore to find out what other student-athletes are doing especially from various sports. There is a lot of overseas content and the market is saturated with content from places like the United States or Europe. I wanted to build a community within Singapore as student-athletes in Singapore have very unique experiences and challenges as compared to the rest of the world. Furthermore, one must not forget that we are students as well. In this day and age, students need to be aware of social issues such as racism, LGBTQ rights, and environmental issues among others. Hence, this platform is intended to be a one-stop place for student-athletes to not just learn about sport but society too. Athletes are long believed to be social changers as well. Athletes influence culture; look at Kobe Bryant, Serena Williams, Cristiano Ronaldo for example. Their impact transcends sport; same with artists. Their opinions and contributions have an impact on areas like politics, popular culture, and the way we view social issues. This podcast aims to share such important knowledge and put it out there so that they can form their own opinions on such issues and contribute to the ecosystem in whatever way possible. In summary, this podcast addresses topics on athlete lifestyle, as well as lifelong learning.
The first season was launched on 11 July 2020 and as of January 2021, it ranked 61 in the Society and Culture category in Singapore. The show targets student-athletes and lifelong learners. The podcast can be found on several platforms such as Apple Podcasts, Spotify, Google Podcasts, Stitcher, and Substack. My podcast also has a newsletter on Substack and an Instagram page where you can find most of the information and is used as the main contact point for our community.
2.

What are some highlights of starting the podcast?
One highlight was definitely being able to interview Paralympian Theresa Goh. It was definitely an honour having her on the show and I learned so much from her maturity and insights. It was truly a moment of growth for me as I had to deal with my nerves when interviewing such a high profile athlete.
I have learnt so much soft skills and hard skills. Technicalities-wise, I had to do a few online courses on my own to learn how to edit episodes, how to approach people for an interview, how to plan a workflow for 3 months, publish podcasts episodes, as well as learn how to interview people and prepare for the interview. There are so many more things that I need, and want, to learn. I am currently taking an online course on how to use social media to market my podcast better. There are really a lot of resources out there and so much knowledge to gain. My podcast is still a work in progress and I am planning to rebrand by July this year.
In terms of soft skills, I have learnt how to be witty and think on the spot as interviews hardly ever go as planned. Furthermore, I have grown in confidence and can better control my nerves by using mindfulness techniques. Other things I have learnt are how to talk to different people as I have a plethora of personalities on my podcast and also how to accept constructive criticism.
It has definitely been a learning journey and moving forward I hope to get more people to join me in doing behind-the-scenes things to grow and learn together. Doing this on my own has not been an easy feat so I am definitely going to be approaching people. If anyone is interested to be a part of this community they are definitely welcomed!
3.

How do you balance your external engagements and school?
It definitely has not been easy. A lot of sacrifices has been made to maintain this lifestyle. I stay in NUS' Eusoff Hall and it is common knowledge that the Hall lifestyle can get a little much in terms of the party culture. I have had to sacrifice time with my friends and unfortunately, even family time. People in the Hall know me to be an early riser and someone who cannot stay up past midnight. Honestly, I really owe this discipline to my Sports School years. My body has literally been programmed to wake up early and this helps heaps.
My biggest time management tip is to sleep and wake up early. You will be more productive and you will achieve more in a day. Sleep is so, so important. Look at most of the world's successful people – almost all of them are early risers.
Another thing I do is map out my year at the start of each year, after I have set my goals and intentions. Following that, I map out my monthly plans. Every Sunday, I plan for the week ahead and come up with to-do lists for every day in advance. To-do lists and planners are my best friends. These items prevent me from forgetting things and help me to maximise my time as I can physically see what pockets of time I have or what free time I have to spend with my friends and family.
These were also habits that were formed when I was in Sports School. From journaling, to goal setting, to using a planner. Everyone around me in Sports School were highly motivated individuals and they inspired me to adopt this lifestyle as well. I am really grateful and thankful to all the staff and my teammates from the Netball Academy. In fact, my boarding experience also prepared me for my university life now.
4.

What do you currently do?
I am currently a freshman at NUS' FASS. My major is currently undeclared but I am leaning towards Political Science, Philosophy, or History. I play basketball, handball, netball, and run track for my hall, and I am also in the Inter-Varsity-Polytechnic Games team for the Netball and Track and Field clubs.
I made my debut in the Netball Super League in 2020 with Swifts Netball Club. Beyond playing for them, I am their events and marketing lead with my former Sports School teammate and best friend Isabelle Lee Xiu Wen. I have also taken up a netball assistant coach role at a primary school and junior college.
My Sports school journey definitely prepared me to take on all these various roles. I have had the privilege to learn from the Sports School staff who are highly-skilled at what they do and follow in their path. I also have to thank Dr Irwin Seet (Director, Student Development) for always believing in me and giving me so many opportunities. He is the reason why I am currently participating in a pageant in Hall and boy, has it been a learning journey for me. Without the support I got as a student-athlete in Sports School I would not be this confident because I used to be full of self-doubt.
5.

As an alumna and association committee member, how do you see yourself contributing to the Sports School community?
As a fresh graduate of the Singapore Sports School as well as an alumna of the IBDP, I hope to be able to use my experiences to connect to the younger student-athletes as I know the gaps and changes needed. I hope to be a voice for these student-athletes, especially the IBDP cohort. I see myself helping my juniors in getting the best advice, tips, and resources regarding life in university or in the tertiary education scene. I also hope to build a stronger family spirit, one that I feel has been a little lacking in the past. We are still a very young school, so the only way is up and I am super excited to be working with this wonderful Alumni Association committee.