DSLM Tees Justin Up For Success
Athlete-Friendly Academic Programme: Diploma In Sports And Leisure Management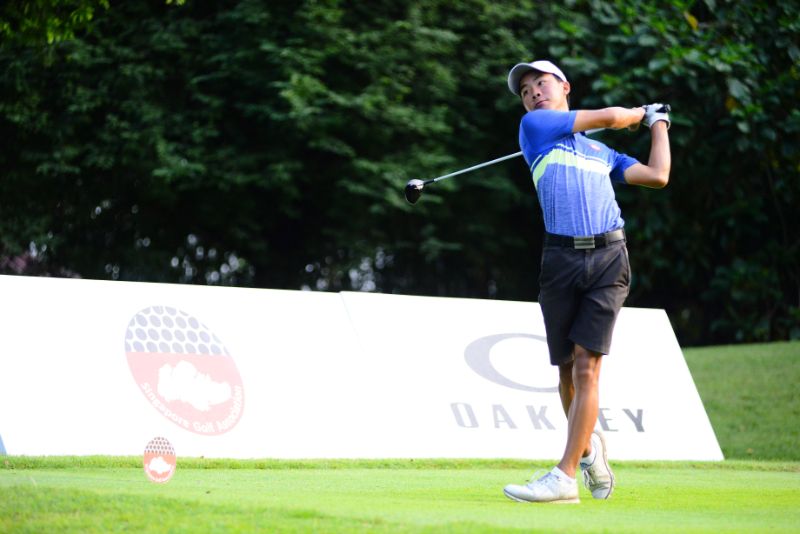 Justin Kuk Zheng Zhong. Photo by Singapore Golf Association.

At 18 years old, Justin Kuk Zheng Zhong finally made his break into the National Squad. This was an important move for the golfer whose near-term goal is to represent Singapore at his first Southeast Asian Games in Hanoi in 2021. As such, being in the customised Diploma in Sports and Leisure Management programme was an obvious choice for Justin, opting for the through-train route after completing his Secondary 4 education.
The customised DSLM was one of Singapore Sports School's three through-train pathways offered through a collaboration with Republic Polytechnic and conducted in-house at Sports School. Among alumni of the DSLM programme are former table tennis player and Public Service Commission scholar Isabelle Li Siyun and sprint queen Veronica Shanti Pereira, a Yip Pin Xiu scholar at the Singapore Management University. With effect from 2020 intake, Sports School has been offering Diploma in Business (Sport Management Track) in collaboration with Republic Polytechnic.
The key selling point of the customised programme for Justin was the flexibility in academic structure it provided for student-athletes, which would allow him to focus on sport while guaranteeing a recognised academic qualification. Now in his third year of the DSLM, the 2019 Putra Cup gold medallist has had opportunities to participate in competitions essential for his development, and participation in key events. The Putra Cup title was Singapore's first gold at the Southeast Asian tournament since 2011.
"I get sufficient amounts of Leave of Absence (LOA) so that I can compete in important competitions overseas without worrying about my grades being deducted (during the period I'm away from class)," said Justin.
Student-athletes in the customised programme are also able to defer their modules if a longer travel duration is required. For two months starting July 2018, Justin travelled around United States for training and competitions. The valuable experience was a major boost for his development and was made possible because he was able to defer two modules during that period.
In addition to a favourable LOA and deferment system, the special collaboration with RP offers Sports School student-athletes like Justin a unique timetable to allow for longer training hours, as compared to students in the polytechnics' mainstream programmes.
Justin has matured much in sport since his first year in the DSLM when he won the 2018 Optimist International Junior Golf Championship Boys "A" title. The Year 3 student-athlete is on track to graduate in 2022, and with the help of Sports School's athlete-friendly academic support, he can continue chasing his SEA Games dream in a conducive environment for youths managing a dual-career in sport and studies, before making a professional career out of golf in the more distant future.
Find out more about how to enrol in the customised diploma programme
here
.
Read more about the athlete-friendliness of Sports School's customised polytechnic programmes
here
.