Brothers Swim To Dreams Buoyed by Athlete-Friendly Support
Athlete-Friendly Academic Programme and Support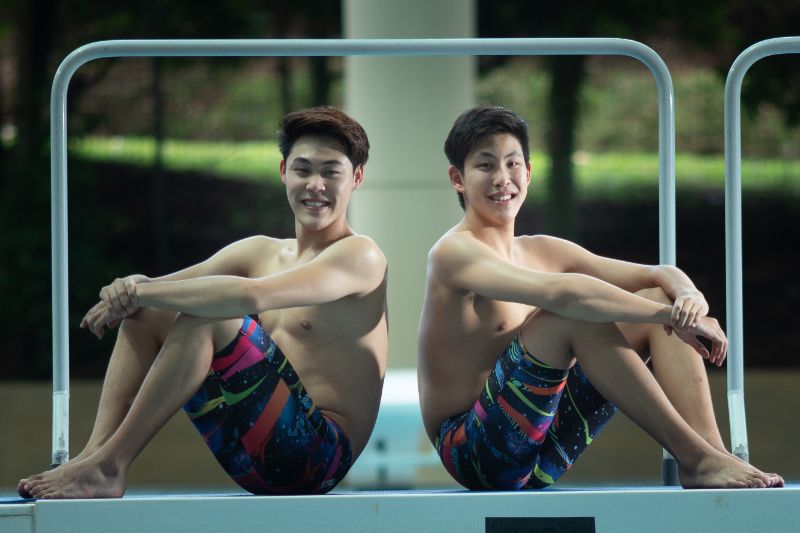 Brothers Maximillian (left) and Mitchell Ang

At 10 years old, Maximillian Ang Wei had made up his mind on his choice of school after Primary 6. Having competed in races that were held at Singapore Sports School, the swimmer knew that the campus on 1 Champions Way was the place he wanted to be at daily when the time came for secondary education.
His reason was simple: "I wanted to be able to balance sport and studies and I knew that other schools would not be as sport-friendly as Singapore sports School. I had friends who were struggling to juggle their busy schedules and I didn't want to be like them."
That time came in 2014. The young talent quickly got into the grind of sport training and competitions on top of balancing his academic expectations. In his first year at Sports School, competed at the Southeast Asian (SEA) Age Group Swimming Championships and won 3 golds, 1 silver and 2 bronze medals. Later that year, he also won a silver in the New South Wales State Open Short Course 400m Freestyle. The following year, Maximillian competed in more overseas meets against stronger competitors, such as the Hong Kong International Open Swimming Championships and International Children's Games, winning 1 gold and 2 silvers at the latter meet.
Maximillian's timings dropped and his opportunities to compete in international meets increased. Meanwhile, younger brother Mitchell Ang Li "waited patiently and excitedly" for two years to join the Sports School "because I thought it to be the perfect and best place to excel both in sport and studies in the country."
"My brother was key in helping me decide to come to the school. I would hear from him how supportive the staff are and that was a huge factor in my decision-making. I was aware that boarding was extremely advantageous too, eliminating travelling time and having everything you could ask for under one roof. I knew that life would be so much more difficult if I were to balance both sport and academics in a mainstream school.
"Even before I officially became a Sports School student-athlete in 2016, I was given the opportunity to train with my seniors-to-be, including my brother, when I was just Primary 4. This provided me the chance to interact with the coaches and seniors, making integration into the school seamless in Secondary 1."
The Ang brothers, now in Sports School's post-secondary programmes having opted for the through-train pathway which bypasses the GCE O-Level Examinations in Secondary 4, have come a long way since they joined Sports School's Swimming Academy. Maximillian is currently in the customised Diploma in Sports and Leisure Management (DSLM) programme, while Mitchell is on the Extended International Baccalaureate Diploma Programme (IBDP). The customised DSLM, offered through a collaboration with Republic Polytechnic (RP), is conducted in-house at Sports School and has a customised timetable and schedule suitable for high-performance athletes. The customised diploma programme that is currently offered by RP at Sports School is the Diploma in Business (Sport Management Track).
What both programmed have in common is their athlete-friendliness. Sports School is the only school in Singapore – and one of a few in the world – to be accredited as an Athlete-Friendly Educated Centre (AFEC) by the World Academy of Sport (WAoS). A three-way partnership between the International Baccalaureate Organization (IBO), WAoS and the Sports School allows selected high-performing student-athletes an extended duration to complete the IBDP beyond the standard two years IBDP.
"At Singapore Sports School, there is an academic path for every student-athlete – academically inclined or not – who comes through its doors. It was this, as well as the culture and student-athlete-centric stance of Sports School, that assured my wife and I that there will be no regrets for us to have both boys to spend their secondary and post-secondary education in the Sports School," said Melvyn, father of Maximillian and Mitchell.
Several of Maximillian's career highlights include breaking several age-group and national records, and winning the 200m Breaststroke bronze medal at the Philippines 2019 Southeast Asian Games. The breaststroke specialist has also represented Singapore at the Buenos Aires 2018 Youth Olympic Games, and FINA World Junior Swimming Championships.
"The through-train programme has helped me a lot because it has allowed me juggle sport and studies. Training and lessons are held at Sports School for me which cuts travelling time. The programme is also designed such that it allows me to defer or take leave from lessons for sport commitments, which will then be made up after the competition or overseas trip," said Maximillian.
The brothers both shared how staff contribute to an athlete-friendly culture. "The support staff are just phenomenal in this school. They will have your back no matter what, be it in terms of academics, sport, at boarding, also offering emotional and psychological support. They cover everything you could think of," added Mitchell.
The younger sibling has also donned national colours at the 2019 FINA World Juniors, making his first big leap into high-level competition. Other achievements include winning an individual medal at the 2017 International Children's Games in Kaunas, Lithuania, and multiple podium finishes at the SEA Age Groups in 2018 and 2019.
"I am so privileged to be granted the Extended IBDP as it makes my academic workload more manageable on top of my sport schedule, and allows me to incorporate proper recovery practices into my daily routine. I am therefore able to give quality effort in each training session and class, which is essential in my sport and academic pursuit," said Mitchell, who is also aiming to make his SEA Games debut in Hanoi at the end of this year. The 18-year-old also plans to qualify for the 2022 Asian Games and Commonwealth Games.