Athlete-Friendly Academic Programmes Attract Sport Champions
Post-Secondary Midstream Admission
Posted: 15 February 2018
By Joel Tan
Bowling Alumnus
Singapore Sports School strives to deliver athlete-friendly academic programmes in the secondary and post-secondary levels. The athlete-friendliness of the programmes is one of a few factors that attract aspiring Sport Champions to Sports School – including two multiple-medallists at the Southeast Asian Games, Au Yeong Wai Yhann and Jowen Lim Si Wei.
Being In The Best Of Both Worlds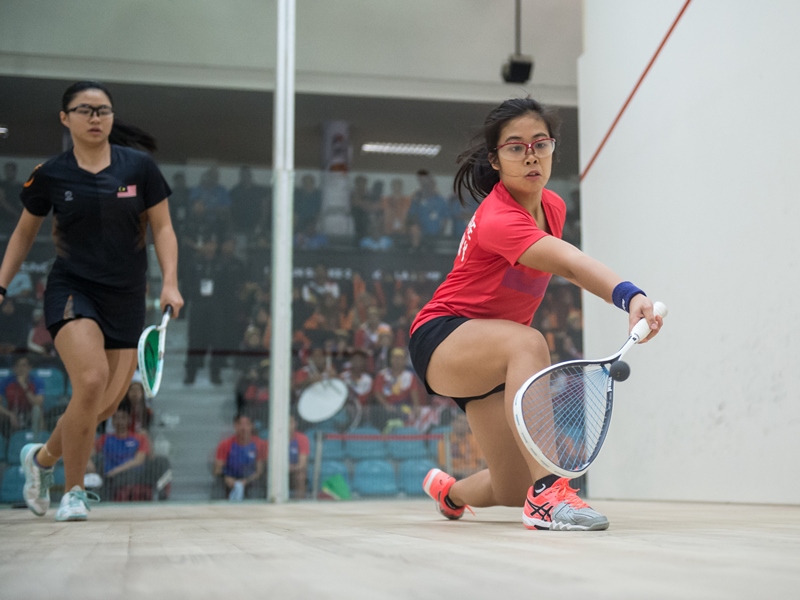 Au Yeong Wai Yhann (right), a double medallist at the Kuala Lumpur 2017 Southeast Asian Games,
is on Singapore Sports School's Extended International Baccalaureate Diploma Programme.
Picture by Shaun Ho/Sport Singapore.
She had her academic path planned out two years ago – or so, she thought. Au Yeong Wai Yhann wanted to enroll into a polytechnic to study Psychology. In the meantime, she will just play squash, and maybe win a medal at the Kuala Lumpur 2017 Southeast Asian Games.
She did step up to the prize podium in KL – not once, but twice – for the Women's Team silver and Women's International Doubles bronze medals.
After a two-year break from school and SEA Games achievement unlocked, Wai Yhann was all set to start her polytechnic diploma programme in March this year. Then, she learnt about the Extended International Baccalaureate Diploma Programme that Singapore Sports School offers and realised this is the best academic path to take.
"The IB programme is rigorous which I know I will enjoy, and yet, I can have the option to spread out my subjects over three years – which will give me time to train and compete. It's the best of both worlds," said the 19-year-old.
Wai Yhann will have her SEA Games teammates golfer Callista Chen Wan Qing, Pencak Silat exponent Nujaid Hasif Zainal Abidin, synchronised swimmer Debbie Soh Li Fei and badminton shuttler Crystal for company. Debbie had won 3 gold and 2 silver medals in KL, Nujaid returned home with 2 bronzes and Crystal came home with her second bronze medal in as many editions of the SEA Games that she had taken part in.
"Knowing how they have performed in their sports and hearing about how well they have scored in their studies, I am confident that I will be able to complete my post-secondary programme with grades that will get me into university, even while I continue to compete in international competitions."
Wai Yhann is the first squash player at Sports School, and she hopes she will not be the last.
"When my juniors see that Sports School offers the conducive environment for high-performance student-athletes to excel in sports and studies concurrently, they will want to come here, too."
Jowen: 'I Want An Asian Games Medal'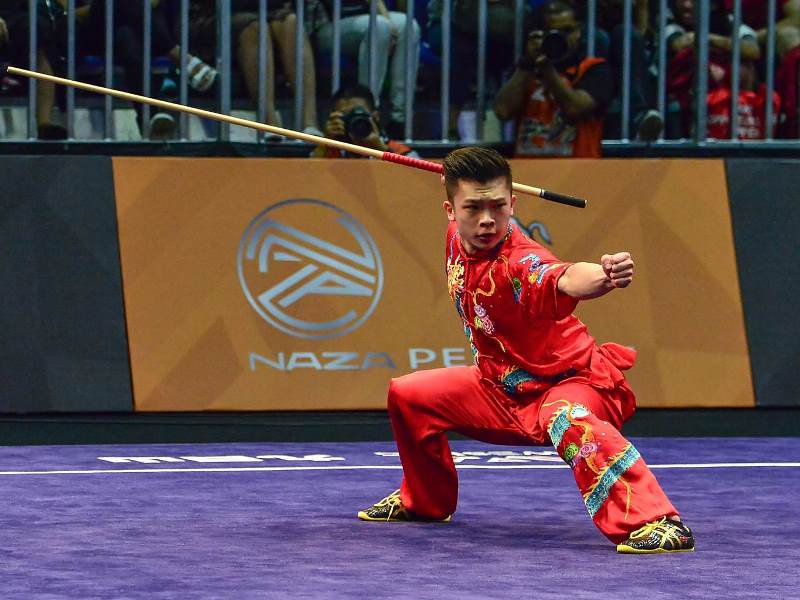 Jowen Lim Si Wei, a double gold medallist at the Kuala Lumpur 2017 Southeast Asian Games, joins Singapore Sports School's customised Diploma in Sports and Leisure Management. Picture by Andrew JK Tan/Sport Singapore.
When you are at the top of your game at the Southeast Asian level, where else will you go but higher?
"I want an Asian Games medal, and I will do everything in my power to win it – including change schools midstream. This is why I'm coming to Singapore Sports School to study," said Wushu exponent Jowen Lim Si Wei.
In March, Jowen will start Year 3 of the Republic Polytechnic Diploma in Sports and Leisure Management programme that is taught on the Sports School campus.
The three-time Southeast Asian Games gold medallist (Singapore 2015 and Kuala Lumpur 2017) is also a bronze medallist at the 2017 World Wushu Championships.
In the lead-up to the Jakarta-Palembang 2018 Asian Games in August, Jowen will be stepping up his training. The DSLM programme with a modified time-table will, in the meantime, give him more opportunities to compete overseas without affecting his academic scores. He can also tap on the sport science services in strength and conditioning, sport psychology and sport physiotherapy provided by the National Youth Sports Institute located at the Sports School. Thus, his midstream admission will provide the academic flexibility and support he needs to enable an increase in his training hours and overseas competitions.
"Even as I compete at the international level, I can't neglect my studies. When I learnt that Sports School wraps its academic time-table around a student-athlete's training and competition needs, I told myself, that's just perfect for me."
Note: The Diploma in Sports and Leisure Management offered by Republic Polytechnic is renamed the Diploma in Sport Management from 2019 onwards.