Resilience, Positivity Earns Darryl NSF Award
2020 NSF Of The Year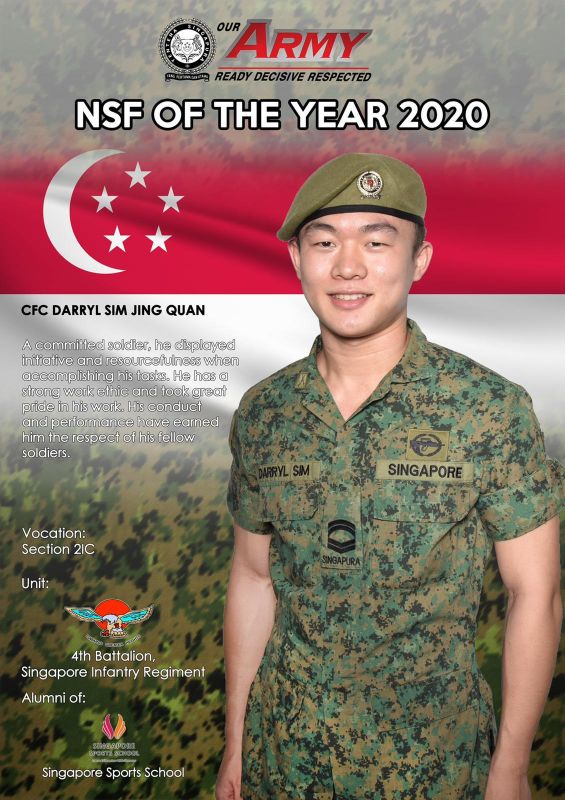 Things may not have gone as well as Singapore Sports School alumnus Darryl Sim Jing Quan had hoped for in the National Service, but what sport has taught him is to remain resilient and make the best use of his situation. On 28 July 2020, the former Badminton Academy student-athlete received affirmation of his hard work when he was conferred the NSF of the Year Award for 2020. The prestigious Award is presented to outstanding Full-time National Servicemen (NSF) who demonstrated professionalism, leadership and exemplary conduct during their NS.
Not surprisingly, he encountered his fair share of obstacles – literally and figuratively – during his two years of NS. However, it was not the physical tests Darryl was worried about, but the mental ones, admitted the shuttler who has represented Singapore at youth competitions.
His biggest disappointment came when he did not get into command school after the three-month Basic Military Training.
"It was a disheartening setback for me but I could almost immediately draw similarities to a significant sport experience, of anguish then redemption, during the 2015 North Zone and National Schools Badminton Championships. I remembered what then-Principal Mr Tan Teck Hock had said, that one needs 'a fire in the belly' to spark a change and fuel one's self-belief. Instead of just going through the motion, I told myself to make the best use of my time in the 4th Battalion Singapore Infantry Regiment.
"I feel extremely honoured to receive such a reputable award and be recognised and acknowledged not only by my superiors and army mates, but the Singapore Armed Forces as a whole. My six years as a student-athlete in Singapore Sports School helped set my foundation, both physically and mentally."
Darryl, who was head of student leaders at Sports School from 2015 to 2016, was commended for his good work ethic and outstanding conduct and performance, proving that Learned Champions With Character are developed for life, not just when in school.
Having received excellent report cards from his pre-tertiary education at Sports School and the army, Darryl is all set to begin his next chapter in Yale-NUS College.
"I'm confident that my experiences gathered from my Sports School and NS days will put me in good stead for the journey to come."
Citation
"A committed soldier, he displayed initiative and resourcefulness when accomplishing his tasks. He has a strong work ethic and took great pride in his work. His conduct and performance have earned him the respect of his fellow soldiers."