Thank You, Mr Peter Lim
2020 Singapore Olympic Foundation-Peter Lim Scholarship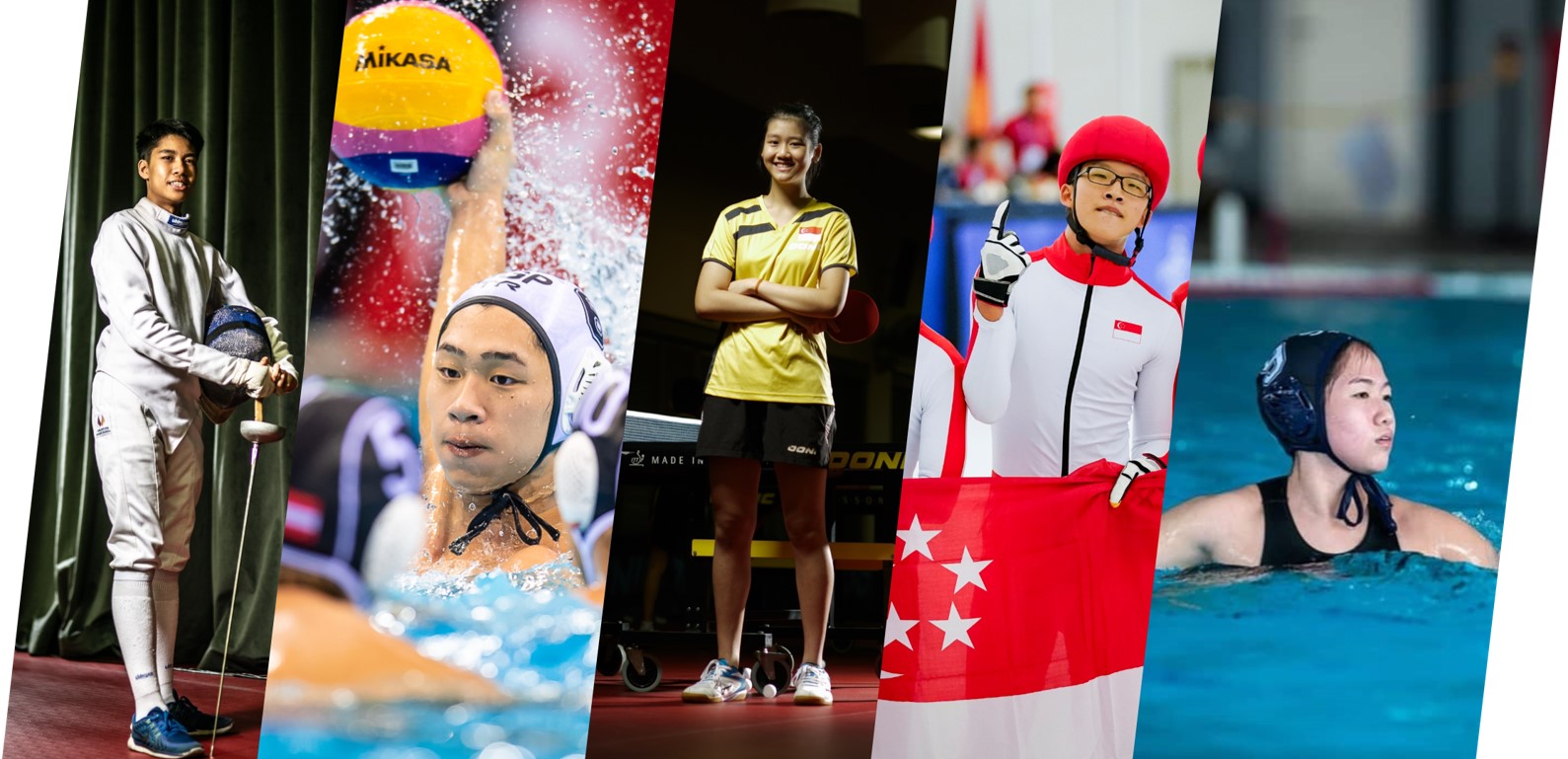 From left: Simon Lee Renjie (Fencing), Goh Wen Zhe (Water Polo), Wong Xin Ru (Table Tennis), Xu Jingfeng (Ice Skating) and Michelle Tan Ting Yee (Water Polo)

A total of 36 Sports School student-athletes were among 289 youth athletes who received a boost in their sports pursuit through the Singapore Olympic Foundation (SOF)-Peter Lim Scholarship in 2020.
The Scholarship was started by Singapore's philanthropist and sport enthusiast Peter Lim in 2010 to support deserving young athletes.
Among the 16 scholarship recipients in the High Performance Category are five 2019 SEA Games medallists Simon Lee Renjie (Fencing, silver medal), Xu Jingfeng (Short Track Speed Skating, gold medal), Michelle Tan Ting Yee (Water Polo, silver medal), Goh Wen Zhe (Water Polo, bronze medal) and Wong Xin Ru (Table Tennis, bronze medal).
Simon, who is in the through-train Diploma in Business Studies programme, is a second-time recipient of the scholarship under the High Performance Category. He said, "I feel grateful and happy that I received the scholarship. It will help to defray the cost of buying fencing equipment so I can continue my sports pursuit without being hampered by financial considerations. During this pandemic, I am able to improve the quality of my training at home by getting new equipment as I cannot train in gyms or in school."
The 16 winners from the High Performance category in 2020 are:
Artistic Swimming
Ariel Sng Kai Lin (DBS Year 3)
Badminton
Bernice Lim Zhi Rui (DBS Year 3)
Howin Wong Jia Hao (DSLM Year 3)
Megan Lee Xinyi (Secondary 3)
Bowling
Quek Lu Yi (DBS Year 2)
Xavier Teo Jun Hao (DBS Year 3)
Fencing
Simon Lee Renjie (DBS Year 1)
Gymnastics
Leah Chew (DSPM Year 2)
Ice Skating
Pagiel Sng Yie Ken (Secondary 3)
Xu Jingfeng (DBIZ Year 1)
Shooting
Teo Jia En (Secondary 4)
Table Tennis
Izaac Quek Yong (Secondary 2)
Wong Xin Ru (DBS Year 3)
Water Polo
Goh Wen Zhe (DSPM Year 2)
Michelle Tan Ting Yee (IBDP Year 5)
Wushu
Jolie Goh (Secondary 3)