Paddlers Izaac and Lin Qian Have A Bright Future
With The Future In Mind Scholarship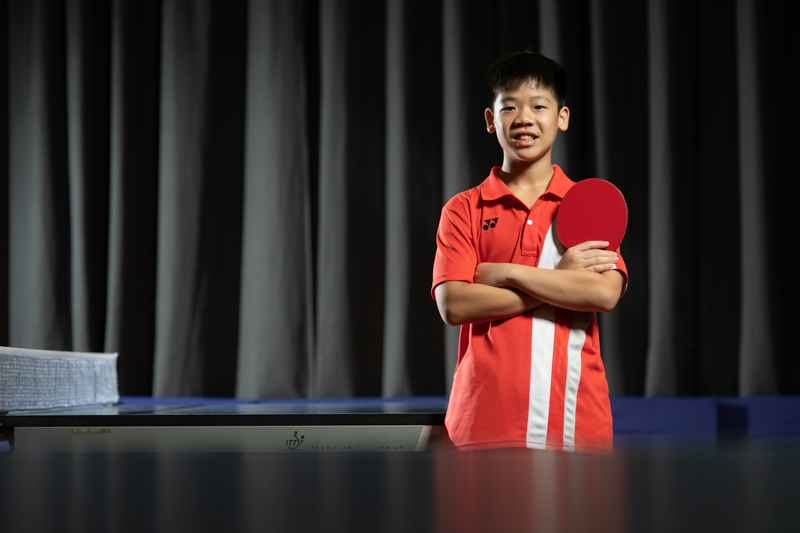 At just 16 years old, Izaac Quek Yong and Ser Lin Qian (both Secondary 4) are already making their mark in the sport of Table Tennis. At the beginning of 2022, they were promoted from the intermediate squad to the national team. In May, they were both awarded the With The Future in Mind Scholarship (WFMS). The Scholarship is a joint programme by Olympic Solidarity (OS) and the International Table Tennis Federation (ITTF) to support selected athletes in the pursuit of their Olympic dreams. A total of 11 youth players were awarded the scholarship, and Izaac and Lin Qian were two of the three recipients from Southeast Asia.
"I am really thankful to receive this scholarship as it is an acknowledgment of my skill and potential to achieve more in the sport," shared Izaac who is a first-time recipient of the scholarship.
The scholarship has also helped to bolster Lin Qian's confidence. Lin Qian, who has been presented the scholarship for the second consecutive year, shared: "I feel very encouraged and happy to be given this scholarship. It will definitely motivate me to work harder and achieve my best."
The scholarship will help to defray the costs of their overseas training and competition. It will also provide them with opportunities to participate in high-quality training camps, compete against the world's best players, and gain access to new technologies, such as the world's first Artificial Intelligence (AI)-based table tennis analytics application that offers match analyses and trend profiles.
To top it off, Izaac was the youngest member, among 17 new athletes from eight sports, included in the 2022 Sport Excellence Scholarship (
spex
Scholarship) programme. The programme recognises the athlete's sporting potential and aims to provide the best support to fulfill their sporting aspirations. Fellow Sports School 2022
spex
Scholars include alumni Jason Teh Jia Heng (Badminton), Basil Dill Ng Jui Chang, Darren Ong Wei Siong, Muhammad Jaris Goh (all Bowling), Goi Rui Xuan, Clarence Chew Zhe Yu, Koen Pang Yew En and Zhou Jingyi (all Table Tennis).
Continue Reading →