Scott Ang Yiqiang Is President Scholar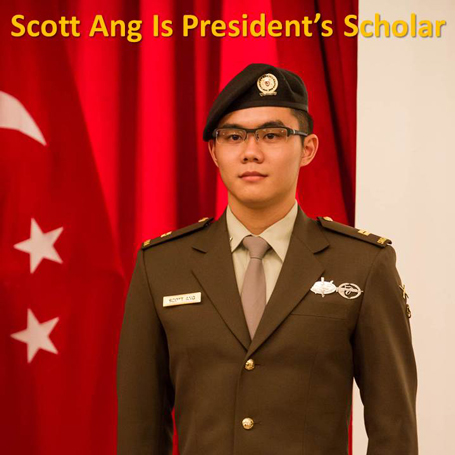 Courtesy of Public Service Commission.
Scott Ang Yiqiang has been awarded the President's Scholarship. The 2009 graduate is our first alumnus to be presented with this accolade.
Scott was, last year, presented with the Sword of Honour after his course at Officer Cadet School. He was also presented with the Public Service Commission's SAF Overseas Scholarship.
Scott, 19, received the President's Scholarship from President Tony Tan at the Istana on 16 August 2013. Besides Scott, three young men and one young woman also received the President's Scholarship.
Singapore Sports School Principal Deborah Tan is delighted with Scott's achievements.
"When Scott accepted the PSC Scholarship last year, he made a commitment to improve the lives of Singaporeans through public service. So we are delighted and proud that Scott has been awarded the President's Scholarship this year.
"Scott has without reservation credited his teachers and coaches at Singapore Sports School for the rigorous development as a student-athlete. Till today, he maintains close ties with his alma mater.
"Singapore Sports School grooms Learned Champions With Character and we are glad that our School has, in some humble way, nurtured Scott for his future role for Singapore," said Mrs Tan.
Scott joined the Singapore Sports School Swimming Academy in 2006. He said the Sports School programme taught him discipline and determination because of the tough training that he underwent, besides having to manage his time between school, leadership commitments, and sports.
Scott represented Singapore in Triathlon at the Singapore 2010 Youth Olympic Games. He said training with the sole intention of becoming a champion never crossed his mind.
"When you have enough passion for a sport, the notion of being champion becomes insignificant. I just wanted to be the best that I could be, the fastest that I could be, and whatever position I came in afterwards was unimportant. I enjoyed my sport and I made sure that I never let 'winning' become more important to me than my love for the sport itself," said Scott.
Scott recalled that he took a five-week long break from school for overseas competitions in his Secondary 4 year, and returned to School about a month before the GCE "O" Level examinations.
"My teachers gave me extra lessons and even tutored me personally on some occasions. I can't think of a single teacher there who did not go the extra mile to help me get on track for the exams. The support and flexibility in Sports School is amazing. Many of the teachers believed in me, and I did not want to let them down."
Scott scored 6 Distinctions and an L1R5 score of 7 points in his GCE "O" Level Examinations. He went to Anglo-Chinese School (Independent) for the International Baccalaureate Diploma Programme and graduated with 44 out of 45 points. At ACS (Independent), Scott was also elected President of the Students' Council.
"If you set your mind to something, don't let anyone tell you that you can't make it. Believe in yourself, do something about it, never give up, and you will succeed," said Scott.
Citation
Lieutenant Scott Ang Yiqiang has been awarded the President's Scholarship. On top of that, he was awarded the Singapore Armed Forces Overseas Scholarship and will be reading Law at the University of Cambridge in the United Kingdom.
Scott studied at Shuqun Primary School, Singapore Sports School and Anglo-Chinese School (Independent).
Scott has demonstrated outstanding leadership abilities in many areas. He was President of the Student Council at Anglo-Chinese School (Independent), and has displayed excellent interpersonal skills and decisiveness in playing this role. Scott also excelled during his National Service. He was Best Recruit of Pegasus Company for his Basic Military Training. In addition, he received the 'Sword of Honour' in 2013 for his outstanding performance in Officer Cadet School (OCS).
An accomplished sportsman, Scott represented Singapore in the Men's Triathlon at the 2010 Youth Olympic Games in Singapore.
Combining his leadership qualities and interest in sports, Scott worked with his fellow student councillors to organise a biathlon fundraising event, Project Infinity, which raised over $26,000 for the Children's Cancer Foundation. His passion for service has also motivated him to do humanitarian work at an orphanage in Cambodia.