Scholar, Athlete, Leader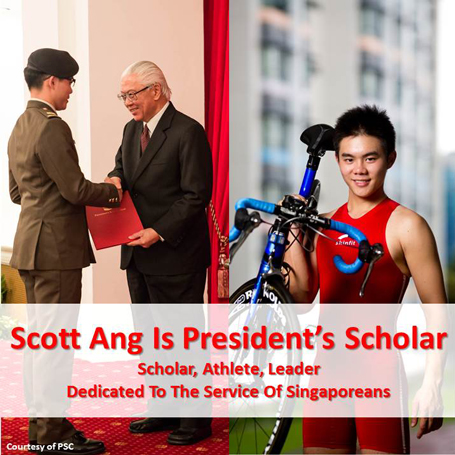 Scott Ang Is President's Scholar
'One must also show a strong ethos for public service, impeccable character, remarkable leadership and dedication towards improving the lives of Singaporeans.' – President Tony Tan
The Public Service Commission awards scholarships to outstanding young men and women who want to serve Singapore and Singaporeans through a career in the Public Service and the most prestigious undergraduate scholarship awarded by the PSC is the President's Scholarship.
To be awarded the President's Scholarship, one must demonstrate more than just excellence in academic and non-academic pursuits. One must also show a strong ethos for public service, impeccable character, remarkable leadership and dedication towards improving the lives of Singapore, said President Tony Tan at the President's Scholarship Award Presentation Ceremony at the Istana on 16 August 2013.
This year, four young men and one young woman received the President's Scholarship, among them, Scott Ang Yiqiang from the Singapore Sports School's graduating class of 2009.
Scott, 19, had received the PSC's SAF Overseas Scholarship in 2012 and his outstanding performance in the SAF and a recommendation from the Ministry of Defence were taken into consideration when the PSC decided to award him the President's Scholarship, the PSC had revealed to the media. Scott will head to the University of Cambridge to read Law.
President Tan reminded the five President's Scholars that Singapore was built through the hard work of our forefathers, who themselves hailed from diverse backgrounds and cultures. Today, our diversity remains key in securing our continued success, he said.
"Being a small, open economy, we will constantly be exposed to external threats and challenges. In addition, as our society matures, we will face new issues and opportunities. To tackle the challenges and to grasp the opportunities, we will need a Singapore that is not only able and nimble, but one which can leverage on the diverse strengths of its people to move forward. For this reason, we need a continuous stream of capable, dedicated leaders at all levels of society. These leaders need to have the ability to harness the varied strengths of Singaporeans from all walks of life."
President Tan said the recipients of the President's Scholarship bear a heavy responsibility as their peers and fellow Singaporeans will look to them for such leadership to bring Singapore forward.
"Beyond excellence in your academics and careers, each of you will have to work hard to nurture both unity and diversity in our society. You will need to build a strong sense of national identity, while appreciating difference across cultures and countries. The policies you create and implement must be done not in an ivory tower, but through strong connections and engagement with the community.
"By tapping on the collective wisdom and experiences of our different communities, we can build a better future for ourselves, our families and our fellow Singaporeans."
President Tan applauded the efforts of the families, principals, teachers and friends of the new President's Scholarship recipients. He added that everyone has played an integral role in moulding their character, values and sense of service.
"Tonight marks a new chapter in your lives. But I am certain that all of you will live up to indeed, if not exceed, the high hopes we have placed on you to do Singapore proud. I wish you success in your journey ahead and I look forward to you serving with distinction when you begin your careers in the Public Service."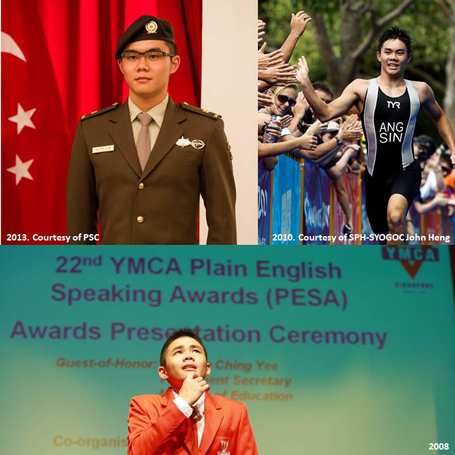 The Different Facets Of Scott Ang. Anti-clockwise from bottom: Scott Ang Yiqiang wins first prize at the 22nd YMCA Plain English Speaking Awards in 2008; Scott finishing the running leg of the triathlon at the Singapore 2010 Youth Olympic Games; Scott waiting to receive the President's Scholarship, while his citation is being read out on 16 August 2013.