Footballer Scores Award For Outstanding Performance
The Harry Elias Award for the Outstanding Eurasian Sports Student 2019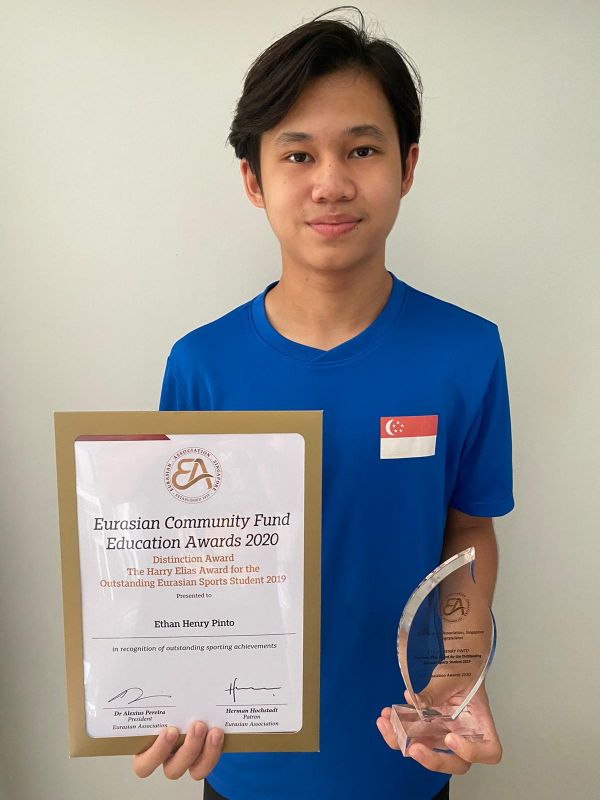 Ethan Henry Pinto, a Secondary 4 student-athlete from the Football Academy, recently received a boost for his hard work and outstanding performance in sports. He received the The Harry Elias Award for the Outstanding Eurasian Sports Student 2019 (Distinction Award). This award is among the Eurasian Community Fund Education Awards given out by the Eurasian Association to encourage students to continue working hard. Ethan is the first footballer from Singapore Sports School to receive the award. Past recipients of the award are fencer Amita Marie Nicolette Berthier (2013) and shooter Martina Lindsay P Veloso (2014).
Ethan was pleasantly surprised to receive the award. He said, "During this COVID-19 season when there are no matches, and training sessions are divided into smaller groups, I really appreciate the motivation that this award has given me." Ethan hopes to continue his studies in a fitness-related course at ITE after his GCE N-Levels Examinations.
Ethan earned his nomination because of his outstanding performance on the pitch. In 2018, he won the "C" Division title and the JSSL 7s international title with the Singapore Sports School team. He also made it to the National U15 team, and is featured him regularly in the first team line-ups. He went on to represent Singapore in the ASEAN Football Federation U15 tournament and the Asian Football Confederation U16 Qualifiers. Together with the Singapore Sports School U15 team, the school won the FAS-COE U15 League organized by Football Association of Singapore (FAS). To top it all, Ethan was voted as one of the nominees of the prestigious Dollah Kassim Award, an award that is given by The New Paper and FAS to recognise young footballers aged 18 and below.