Late Developer Dipna Blossoms Into Champion In Sport And Life
Lessons From The Champions: Dipna Lim Prasad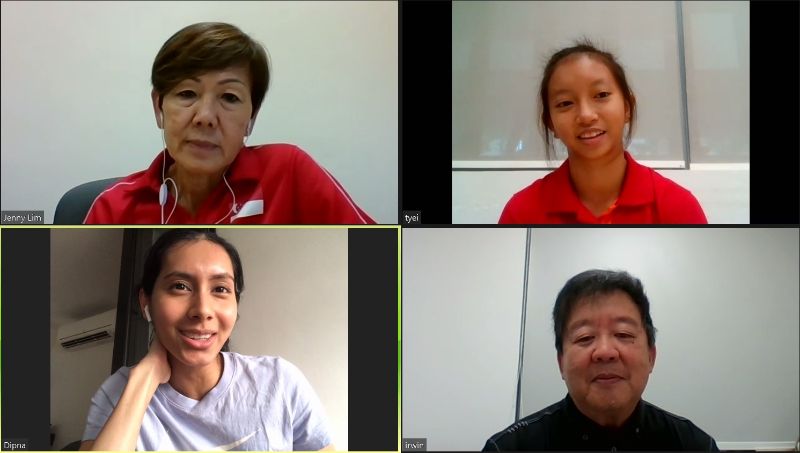 (Clockwise from top left) Jenny Lim (Senior General Manager, Track and Field Academy), Tyeisha Misson Rene Khoo (Track and Field Academy, DBIZ Year 1), Dr Irwin Seet (Director, Student Development) and Dipna Lim Prasad.

Former national athlete Dipna Lim Prasad shares her personal story of overcoming hurdles to achieve breakthroughs in sport. Since retiring from sport, she continues to contribute to the community and encourages student-athletes to start by giving back in little ways.
Dipna Lim Prasad was, as many would say, a late developer. She admits that when she entered Singapore Sports School as a Track and Field Academy student-athlete in the pioneer batch in 2004, she was a slow runner. So slow was she that she was mocked and bullied for her lack of speed in primary school. However, with the help of talent identification, the coach saw potential in Dipna and selected her to join the Sports School.
From not making the team to compete in Secondary 1, she started excelling the following year, and since then has achieved numerous accolades in the sport, including 3 silver and 1 bronze medals at the Southeast Asian Games and represented Singapore at the London 2012 Olympic Games. Dipna currently holds the national records for the Women's 400m and 400m Hurdles, and at one point, the 100m Hurdles and 200m records too.
"It's hard not being great at something that you want so badly to be good at, but just keep at it. Anything that is worthwhile is going to take a lot of effort. And that laid a foundation for me. Knowing that I may not be good at something straightaway, but if I keep training hard, I will eventually get there," she shared during the Lessons From The Champions session which was screened to student-athletes on 4 November 2020. The session, conducted over Zoom, was hosted by Dr Irwin Seet, Director of Student Development, with Track and Field Academy Senior General Manager Jenny Lim and post-secondary hurdler Tyeisha Misson Rene Khoo in attendance.
Drawing parallels between the downtime caused by injury and the coronavirus pandemic, she shared about how she came back from an injury to break the 43-year-old 400m national mark by Chee Swee Lee. Through her story, the former national athlete recounted how she coped with naysayers by focusing on the improvement process while reminding student-athletes to always look at life positively instead of being affected by undesirable circumstances in life. Dipna also shared what life was like as a full-time athlete and the importance of injury prevention and management.
The 29-year-old is now a mother of a 17-month-old son, Tien, and continues to actively serve and impact the sport community through her social initiative In My Shoes and as the vice-chair of the Singapore National Olympic Council (SNOC) Athletes' Commission.
"It's my belief that if I can contribute in some way, I should, and that's the mindset I take with me wherever I go. That's exactly how I started In My Shoes; seeing a problem and going 'Hey, I think I can do something to fix that.'," said Dipna, on what drives her to contribute to the community.
She urged Sports School student-athletes to "start where you are and help where you can", and to leave a positive impact on society.
"Having good values is so important. Obviously sport results is something that we want, it's what we train so hard for – to get the medals, to get the timings. But it's more than that. Do we just want to be a number on the medal tally, or do we want to have a story that can uplift and inspire the nation? And I think the latter is equally important."
Dipna also credited her Sports School experience which taught her good work ethics that has carried her through her student-athlete days, her career as a full-time athlete, and as she serves the community now.