13 Student-Athletes Recognised As The Best In Their Sport
Singapore Schools Sports Council Colours Awards 2020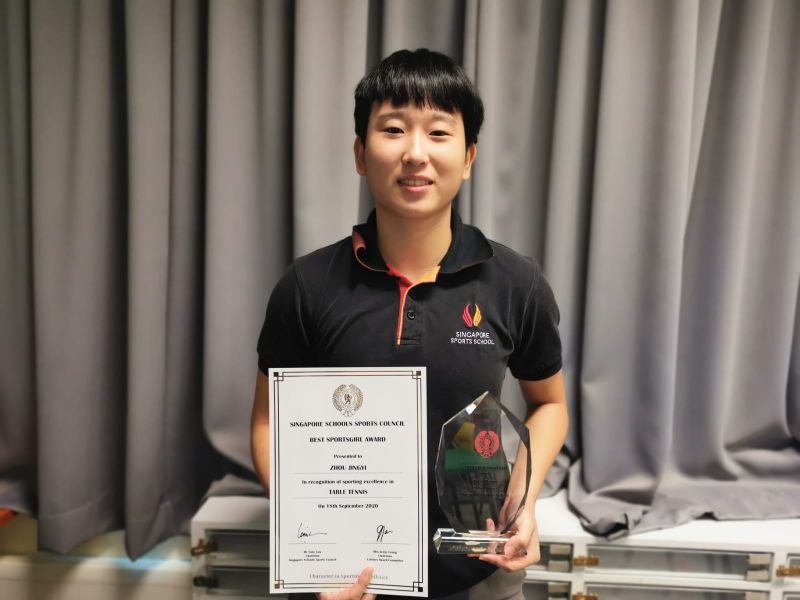 Zhou Jingyi, SSSC Best Sportsgirl for Table Tennis
Water Polo player Michelle Tan Ting Yee had a sweet ending to 2019 when she made her first appearance at the 2019 Southeast Asian (SEA) Games in the Philippines. At 16, she was part of the Women's Water Polo team that won silver at the Games. For excelling in her sport, Michelle received the Singapore Schools Sports Council (SSSC) Best Sportsgirl Award.
She is among the 39 recipients across 30 individual sports who received the SSSC Best Sportsboy Award and SSSC Best Sportsgirl Award, out of which 13 are student-athletes and recent graduates from Singapore Sports School. Sports School's student-athletes and recent alumni were ranked the top in both the male and female categories in Shooting (Air Rifle and Air Pistol) and Table Tennis.
The SSSC Best Sportsboy and SSSC Best Sportsgirl Awards were presented as part of the 50th SSSC Colours Award that recognises students' sporting achievements and display of good sporting character and values. Fifty-nine student-athletes and alumni also received the SSSC Colours Award (Distinction) and SSSC Colours Award. This year, a total of 309 students from secondary schools, junior colleges and Millennia Institute received Awards.
The Awards are based on sporting performance between August 2019 to September 2020. As sporting activities have been disrupted since early this year, including the National Schools Games, winners were selected based on their performance in competitions that were held earlier.
The move to continue presenting awards despite disruptions in sporting events was appreciated by student-athletes, coaches and parents as it encourages and motivates student-athletes who have performed well.
SINGAPORE SCHOOLS SPORTS COUNCIL (SSSC) BEST SPORTSBOY AND SPORTSGIRL AWARDS RECIPIENTS 2020
Badminton – Crystal Wong Jia Ying
Fencing – Joel Chiu Ka Jyn
Golf – Hailey Loh Suanne
Gymnastics (Artistic) – Lincoln Forest Liqht Man
Gymnastics (Rhythmic) – Alicia Lim Qian Hui
Shooting (Air Pistol) – Teo Jia En and Shirlene Hew Yun Ting
Shooting (Air Rifle) – Emmanuel Chan En Yue and Ho Xiu Yi
Squash – Au Yeong Wai Yhann
Table Tennis – Koen Pang Yew En and Zhou Jingyi
Water Polo – Michelle Tan Ting Yee