Swimmers Zoom To Learn From Champions
Lessons From The Champions (Swimming Academy)
Byline
By Koh Kai Lin
Swimming Academy, Secondary 1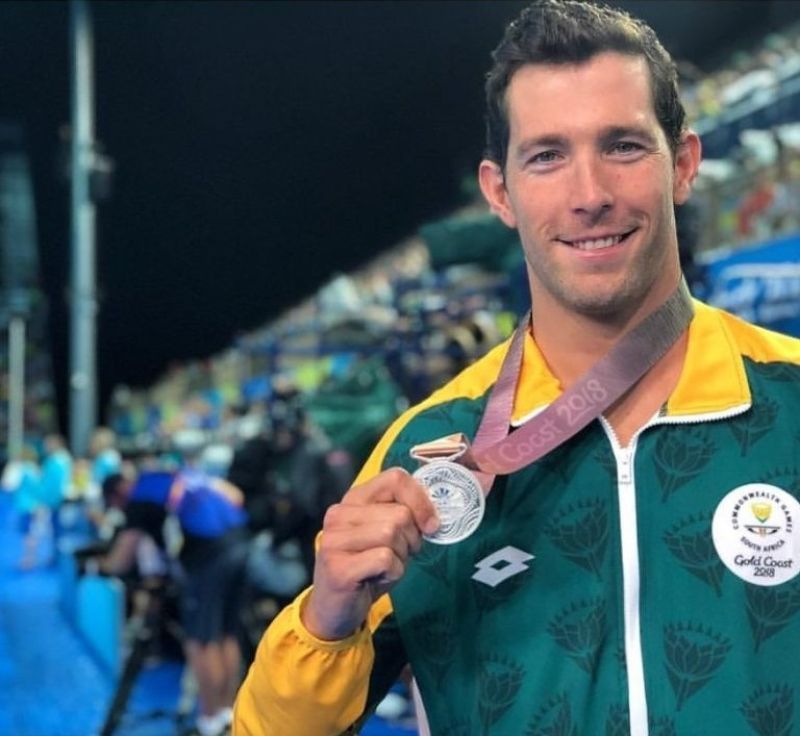 Brad Tandy with his 50m Freestyle silver medal at the
2018 Commonwealth Games. Picture courtesy of Brad Tandy.
On 6 May 2020, my teammates and I from Singapore Sports School's Swimming Academy had the privilege of meeting South African swimmer Brad Tandy – well, virtually, not literally though. The freestylist, who has a World Championship bronze medal and Commonwealth Games silver medal among his medal collection, dropped by over Zoom to share his swimming journey and how he handles the ups and downs of training and racing in this academy-based session of Lessons From The Champions (LFC). This was the first of a three-part series organised for us to learn from the experiences of world-class swimmers. After this enriching session with Brad, I can't wait to meet Breeja Larson and Giles Smith in the next two sessions held during the school holidays.
Coming from a small town in South Africa, Brad's competitors were usually older, stronger and fitter than he was. Rather than being affected by external factors, he chose instead to focus on the things he could control: Effort and execution. Put in a similar situation, we should always look internally and ask ourselves: How much effort am I going to make towards the goal? How am I going to execute it; what is my plan; what have I put in place to make sure I do it as well as I believe I can?
Brad shared that things may not turn out as planned, as much as we try to plan for them. However, what we can do is to be prepared for undesirable circumstances. He recounted an experience at his debut Commonwealth Games where his goggles strap snapped just as he was approaching the blocks for his first race – the 50m Breaststroke. Without a spare pair of goggles on him, he ran down the length of the pool, found a girl with a pair of goggles, put it on and completed his race. After that incident, Brad made sure he always had an extra pair of goggles with him for every race. He made preparations so that he will be ready for any unforeseen circumstances, whether in training, competition or travelling.
"Just because you don't feel a 100%, doesn't mean you are not going to be a 100%," said the 2016 Olympian, as he shared with us how the mind is more powerful than we can imagine, and that we should use it to its fullest. Brad recalled how he had been going through intensive preparations for the 2018 Short Course World Championships. Everything was going well until he arrived at the competition where he fell ill and was running a fever. Brad managed to qualify for the Semi-Finals and Finals of the 50m Freestyle event, and eventually winning the bronze medal.
This point struck a chord with me as there have been times when I do not feel good after warming up before a race, but I should not let how I feel determine the outcome of my race. It was a good reminder for my teammates and I that we should never give up before the race, just because we do not feel as strong as we should be.
It is easy for athletes to lose motivation and hope, and feel like giving up. However, it is especially then that we should persevere and not give up. We were reminded that the best emotion of a reward and success does not always come from doing something easy. If a task is difficult, is meaningful, and takes time and effort, it will create more joy and satisfaction than a simpler task would bring. Therefore, instead of giving up, we should tell ourselves that we are going to get something out of the challenging task and we can know that it is going to be worth the struggle in the end.