Sport Lessons Delivered In Classrooms Too
Sport-Related Content In Academic Subjects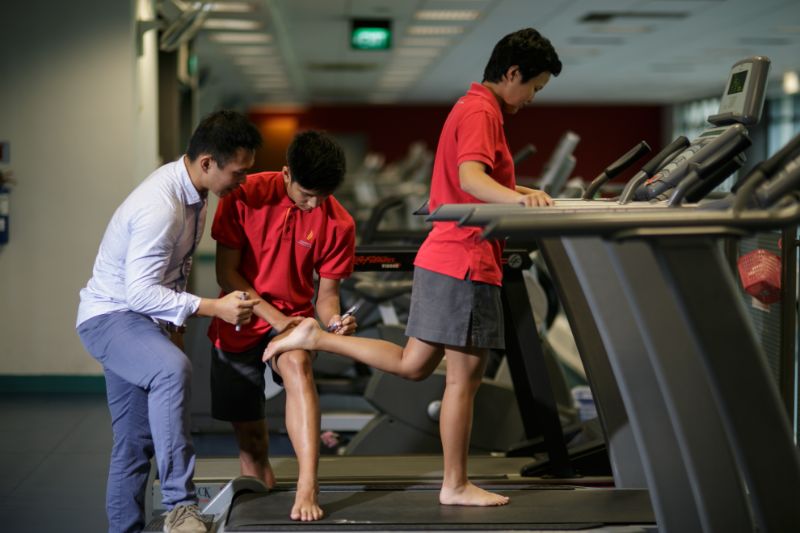 There is a common misconception that all athletes think about in life is sport, sport and… sport. Everything revolves around sport. There may be a certain truth to that as there are advantages to having deep interest in and passion for sport. Possessing theoretical knowledge of sport and how everyday situations can be applied to sport can help them as athletes, as well as sport administrators in the future. As such, sport-related content is weaved into the academic curriculum that is delivered to student-athletes at Singapore Sports School.
Science lessons at the lower secondary level incorporates sport examples which facilitates student-athletes' comprehension of the topic, while also increasing their sport-related knowledge. In a lesson on nutrition, student-athletes learn about carbohydrates and protein and how these aid in muscular repair. By learning about how the simple molecules are important in the muscle rebuilding process which affects their recovery in sport, student-athletes are able to make more informed choices on nutrition and the food they consume during meals. They also learn about the aerobic and anaerobic respiratory system, and the role that cells play in providing their bodies with energy for workouts that require explosive power.
"Understanding more about my body helps me in my sporting journey as an athlete. This really is useful to me, especially when I learnt about nutrition during biology lesson. I became more aware of what an athlete needs in his diet and I now try to apply it in my life to improve my performance on the pitch," said Nor Aqmar Shamil Norsham (Football Academy, Secondary 2).
Another Secondary 2 student-athlete Clarissa Lee Qian Ying from the Table Tennis Academy shared: "Through the sport examples shared during science lessons, I am able to understand why things happen the way they do. From the topic on forces, I was able to apply it to my sport and improve the spin of my ball which helped me change up my game."
In addition to student-athletes' acquisition of knowledge on how academic subjects can be applied in everyday situations including their sport training, teachers also use sport scenarios to make learning more interesting to student-athletes. This method of teaching also helps student-athletes grasp concepts better as they are able to connect to the topic more easily.
One such instance was when Humanities teacher Dinesh Nair used a case study involving the Brazilian government's decision to host two large sport events – the 2014 FIFA World Cup and Rio 2016 Olympic Games – to teach his class about socio-economical trade-offs.
"Brazil is known for their strong football culture, yet to host the 2014 World Cup, they needed to build more stadiums which cost a lot of money. Therefore, they had to manage the trade-off between higher expenditure from hosting the sport event and increasing tourism," said Secondary 3 footballer Ilham Iskandar Iskandar.
Ashley Victoria Lok (Bowling Academy, Secondary 3) added: "This method of teaching keeps me captivated during the lesson. Instead of just following the usual syllabus and going by the book, we learn more about what's happening around the world and, at the same time, have a deeper understanding of the topic we're learning about. Also, the class is usually livelier and we participate more in class which makes the lesson more fun."
Sport examples are also infused into Character and Citizenship Education lessons to reinforce the point and inspire student-athletes in sport and life.
During a CCE lesson on Resilience, Secondary 1 student-athletes from the Swimming Academy were shown an interview by Paralympic swimmer Yip Pin Xiu. In the video, Pin Xiu shared about how positive thinking helps her deal with the challenges of living with muscular dystrophy.
"Through the videos that I watched, I learnt that there are always challenges in life; it's a matter of how we choose to handle them. One of the ways of handling these challenges is by having a strong sense of positivity and looking for the silver lining in every cloud. The sharing sparked a change in my mindset such that I am better able to take on challenges both in sport and in life. It encouraged me to work harder during training and to take my sport more seriously," shared swimmer Magdalene Lee.