Raeka Netted Holistic Sports School Experience
Valedictorian (IBDP): Raeka Ee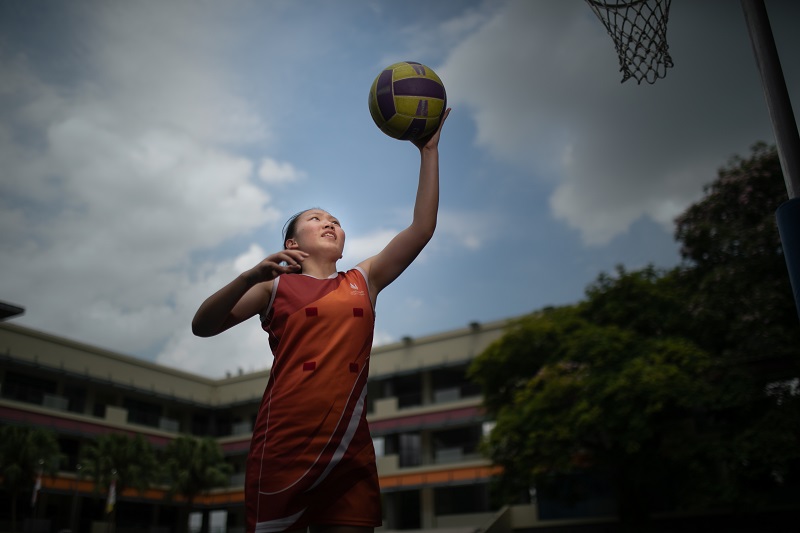 When IBDP Year 6 netballer Raeka Ee first stepped into Singapore Sports School during the Open House and netball trials in 2015, she was in awe of the school, not just because of its size and world-class facilities, but also because of the legacy that the school's alumni have created. When she officially enrolled in the school in 2016 at Secondary 1, the former Tanjong Katong Primary student was excited to carve out an exciting journey for herself.
Since then, the netballer has gone on to achieve a lot more on and off the court. At 1.57m-tall, the petite netballer trained hard to improve her speed and agility to make up for her lack of height in a sport where the average height of players is between 1.7m and 1.9m. Her effort paid off as she made rapid progress into the National U17 team in 2018 and the National 19&U (Schools) squad this year.
"Representing the school is an honour that I'd yearned for as a little netballer back then. My proudest moment would be singing the Sports School anthem before the Netball 'B' Division final of the National School Games in 2018 with my team on court, arms around each other and facing our opponents. It is a manifestation of the months and years of not just my hard work, but the efforts of the team, and I'm thankful to have trained and played with many other inspiring netballers during my time at Sports School," said Raeka.
Off the court, the former netball captain always finds time to serve the community. She has led community service projects for Fei Yue Family Service Centre and served in the 17th Students' Council Executive Committee. For her commitment to netball and community service, Raeka was awarded the inaugural EW Barker Scholarship in 2019.
Today, Raeka is part of the graduating class of 2021, and is one of the co-valedictorians representing the IBDP cohort. "Looking back, the Sports School has definitely played a pivotal role in helping me achieve my goals and more importantly, given me invaluable experience and ingrained values in me to shape me into who I am today. I am grateful for the friendship I have forged, the people who have supported me in my journey, and the opportunities that come my way. I would definitely choose Sports School all over again," shared Raeka.
Raeka's plans after graduating from Sports School is to pursue a career with the Singapore Police Force and to study law at a local university, while continuing to play sports regularly.
Continue Reading →