Shooter Martina Lindsay Veloso Sets New National Record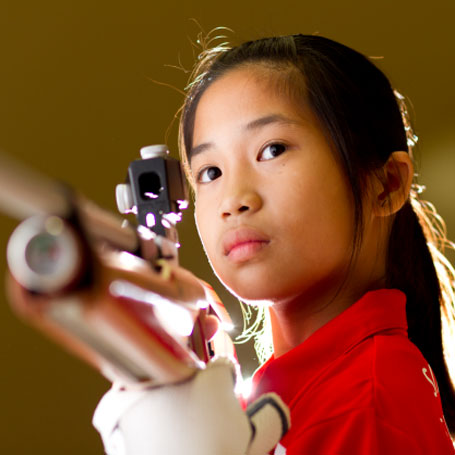 Singapore Sports School student-athlete Martina Lindsay Veloso set a new national mark when she shot a perfect score of 400 in the Women's 10m Air Rifle event at the HomeTeamNS Invitation Shoot, from 1 to 3 February 2013. She broke Olympian Jasmine Ser's record of 399, first set in 2008, and which she equalled on 26 January 2013 at the International Airgun Competition in Munich, Germany.
Martina, a Secondary 2 student-athlete, was part of the team from the Shooting Academy that competed against more than 270 shooters in the Schools Division at the HomeTeamNS Invitation Shoot. Her score of 400 won her the individual title; teammates Yang Shuet Hwei and Adele Tan came in second and third, respectively. Martina also teamed up with Shuet Hwei and Audrey Lim to win the team event with a combined score of 1,170.
Martina picked up shooting in 2011 through the Academy's "Learn-to-Shoot" programme for partner primary schools. She was one of six rifle shooters, 3 boys and 3 girls, handpicked by Coach Lim Chea Rong, to be part of the Academy when it was officially established in January 2012.
Last year, Martina competed in five sanctioned competitions. She won two silver medals in the "C" Division Girls' 10m Air Rifle individual and team events at the National Schools Games 2012. At the Thailand Open Shooting Championships, in which she represented Singapore Shooting Association, Martina won an individual gold and a team gold. There, she posted her personal best score of 395; until she shot her perfect 400.
Martina and her coach, Chea Rong, know that it is not possible to always hit 400.
"Martina will have to learn how to manage her highs and lows, and the School will help her, along with the others in the team," said Chea Rong herself a national shooter.
After all, Martina is only 13…