Thank You To Our Sponsors
Partnership With Sponsors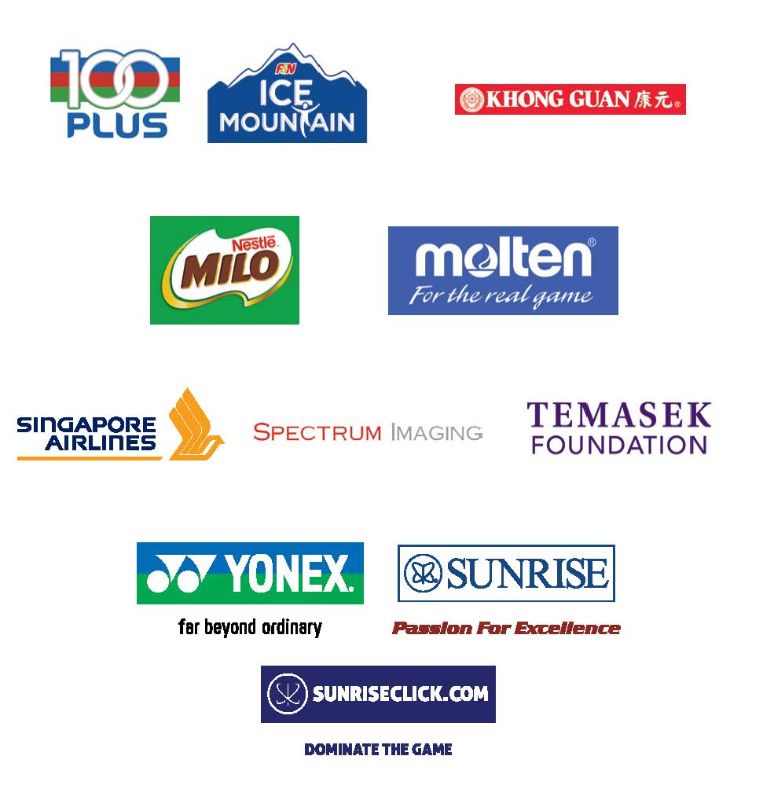 In Singapore Sports School's 17 years and counting, the School has had the privilege of partnering with corporate organisations and sport companies in nurturing Learned Champions With Character. These companies provide sponsorships of products and services in kind, and scholarships and awards which recognise the potential and achievements of high-performing student-athletes.
Two sponsors – Nestlé Singapore (Pte) Ltd with its provision of the MILO beverage, and Singapore Airlines Ltd (SIA) which offers complimentary air tickets – have journeyed with us since the school was newly-established. .
Over the years, several more sponsors have come on board to partner the School in supporting its student-athletes in their sport and academic endeavours, such as F&N Interflavine Pte Ltd (100PLUS, Ice Mountain), Khong Guan Biscuit Factory (S) Pte Ltd, Nestlé Singapore (MILO), Pacific Sports Pte Ltd (Molten), SIA, Spectrum Imaging Private Limited, Sunrise & Co (Pte) Ltd (Yonex) and Temasek Foundation.
Sponsorships of products or scholarships are known to be beneficial to sport teams and athletes as it helps allay various costs related to training and competition. This reduces the financial burden on athletes and allows them to focus on their development. Moreover, the knowledge of being backed and supported by organisations acts also as a source of motivation for athletes in their pursuit of excellence.
Through their sponsorship of Yonex apparel and equipment, Sunrise & Co has been a major partner of the Sports School since 2006. In fact, their sponsorship towards the School has grown over the years, progressing from sponsoring only the Badminton Academy, to sponsoring apparel to the entire student-athlete population.
Several academies have also benefitted from similar collaborations, such as Netball Academy's equipment sponsor Pacific Sports which supplies Molten products. Until 2020, student-athletes from the Football and Swimming Academies were kitted by Nike (Nike Singapore Pte Ltd) and TYR (Sportz and Fitness Team Pte Ltd) respectively.
Temasek Foundation is also a key partner to Sports School. Since 2011, Temasek Foundation has been supporting the development of high-performing student-athletes. The EW Barker Endowment was set up in 2011 to fund the Sports School's development of student-athletes with the potential to excel in sport. The EW Barker Endowment presently funds the EW Barker Scholarship and EW Barker Study Awards, both of which were launched in 2019.
Prior to the EW Barker Scholarship, selected student-athletes had the privilege of receiving scholarships funded by Singapore Pools (Private) Limited and Singapore Totalisator Board. The Singapore Pools Sports Excellence Scholarships supported many student-athletes between 2004 and 2019.
As Singapore Sports School continues to refine its programmes and initiatives to better nurture Learned Champions With Character, the continued belief and support from sponsors go a long way in developing Champions In Sports, Champions For Sports and Champions In Life.