Home
>
News and Publications
> Archive > JUL14 > Singapore Sports School Signs MOU With Ulsan Sports Science Secondary School
Singapore Sports School Signs MOU With Ulsan Sports Science Secondary School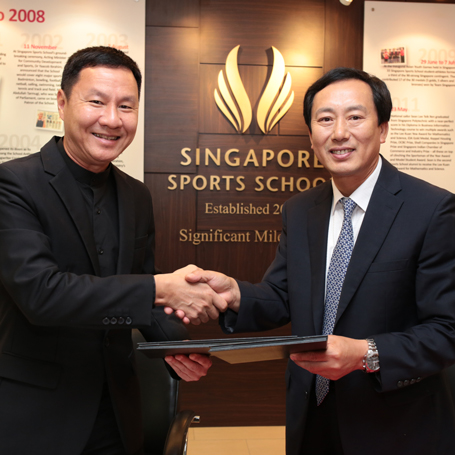 Mr Tan Teck Hock, Principal Singapore Sports School, and Mr Jung Jae Oh, Principal Ulsan Sports Science School, signed an MOU between the two schools.
Singapore Sports School has a South Korean Connection which will benefit both student-athletes and staff.
Ulsan Sports Science Secondary School and the Sports School signed a Memorandum of Understanding at the Sports School's Woodlands campus on 16 July 2014.
With the MOU, both schools will exchange information and ideas on educational programmes, teaching methods and materials. The schools will also share coaching methodologies and training programmes for student-athletes, as well as research and development in sport science. They will also look into the development of athlete support programmes and career guidance for student-athletes, including those who exit from competitive sports.
Another main feature of the MOU is the staff and student exchange programme which will provide opportunities for Sports School staff to learn from the South Korean coaching system and training methods, and student-athletes to gain valuable access to a quality training environment and competitive sparring partners in an overseas institution. The first group of staff and students from Ulsan Sports Science Secondary School will be visiting in August 2014, and the Sports School looks forward to sending a delegation of 20 student-athletes and four staff next year to the metropolitan city located near the East Sea, which hosted several matches in the 2002 FIFA World Cup.
Ulsan Sports Science Secondary School, which began operations on 1 March 2014, had visited the Sports School in March 2013 to tour the facilities and learn about its programmes. Its leaders were keen to collaborate with the Sports School, and hosted the Principal and three staff in May 2014. The Sports School delegation also made a visit to the new Ulsan campus which is scheduled to be completed at the end of 2014.