Champions, Run on!
2021 Champions R:un:on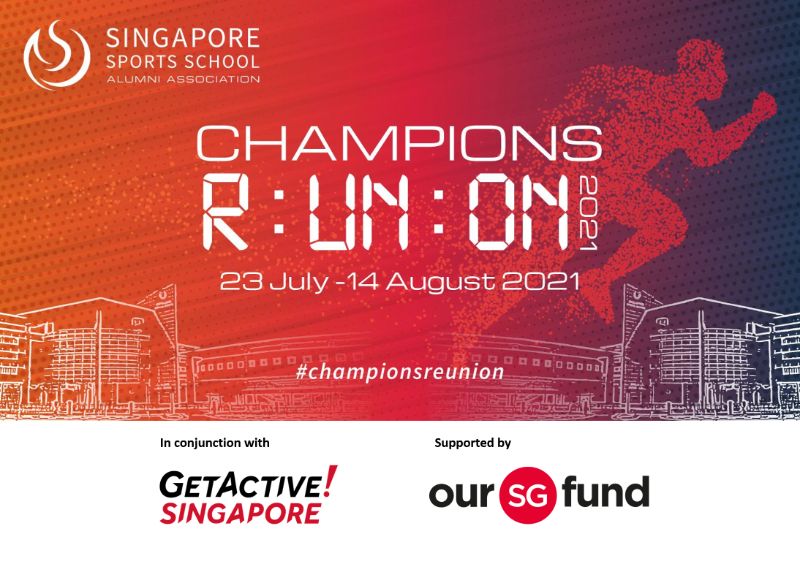 The Singapore Sports School Alumni Association will be organising its first event, Champions R:un:on 2021, since the Association's launch on 28 January 2021.
Champions R:un:on is a virtual event which seeks to reconnect with Singapore Sports School's community of student-athletes, alumni, staff and parents, both past and present, through sport. R:un:on is a play on the word "Reunion", and through this event, the Association hopes to build community spirit through running – or walking – together virtually.
The event which will take place from 23 July to 14 August, commemorates Sports School's 17th Anniversary, which was celebrated on 2 April 2021, as well as the nation's 56th birthday. Participants can choose to complete one of five distances (10km, 17km, 56km, 85km and 170km) during the 23-day period. To achieve their goal, cumulative distances clocked on foot – either by running, walking or a combination of both – will count towards their accomplishment. Multiple submissions are allowed. Champions R:un:on 2021 is organised in conjunction with GetActive! Singapore 2021 and supported by Our Singapore Fund.
Held during the National Day celebratory period, participants can experience, or relive, what it feels like to "run for the nation". Participants are encouraged to don national colours or wear anything Singapore Sports School, such as a school shirt, or red or orange clothes, during their runs and transform into a Champion for Singapore. As R:un:on's start date coincides with the official opening of the Tokyo 2020 Olympic Games, participants can also run "alongside" their friends, schoolmates, seniors or former students as an act of solidarity and a form of support for the Olympians who are flying Singapore's flag high in Tokyo.
Prizes are available for the top three participants who clock the furthest distance cumulatively in both the individual and team categories. Participants can form teams of up to four members to spur each other on and encourage one another to achieve their targets or even to stretch their limits. Three inspirational awards are also up for grabs for participants with the most inspiring posts. Inspiring posts should reflect the Sports School's values of RISER (Respect, Integrity, Responsibility, Excellence, Resilience). To be eligible for the award, posts must include the event hashtag #championsreunion.
Participants are able to post photos of themselves with the hashtag #championsreunion and stand a chance to win an inspirational award. Three participants with the most inspiring posts will receive a prize.
Through this virtual event, the Alumni Association also aims to raise funds for the Sports School's Financial Assistance Fund (SSP FAF), which supports needy student-athletes in the School. $5 from each registration will go towards the SSP FAF.
Click
here
to sign up or learn more about the event.