LFC Trilogy Stars Top Swimmers
Lessons From The Champions (Swimming Academy)
By Lim Wan Ting and Leroy Lock
Swimming Academy, Secondary 2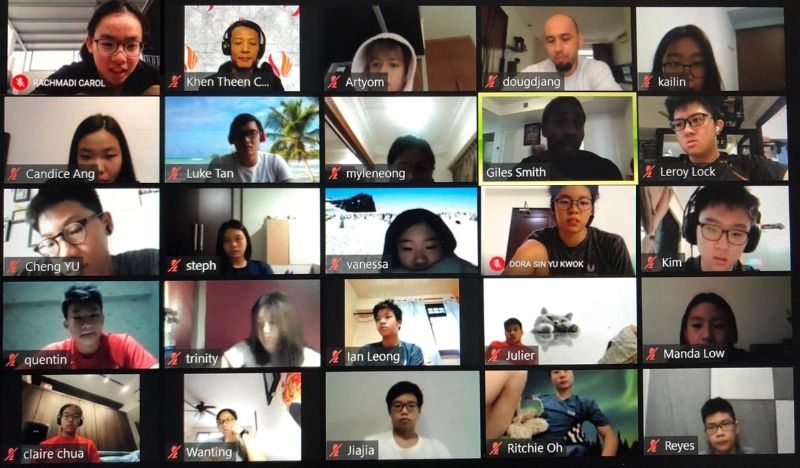 Swimming Academy meeting with Giles Smith over Zoom
As part of our home-based training programme during the May school holidays, we were fortunate to hear from three top swimmers. While it may not have been the most conventional form of training that leaves us physically exhausted and breathless, we got to learn about other aspects that will help us become a better swimmer.
South African Olympian Brad Tandy opened the three-part Lessons From The Champions (LFC) series on 6 May by touching on our preparedness as swimmers; that we should be prepared for the unexpected, and to trust that our minds are stronger than we think and never give up. We then had the chance to meet Americans Breeja Larson and Giles Smith on Zoom, on 15 and 20 May respectively.
Conversations with…
Breeja Larson (By Leroy Lock)
At just 4 years old, Breeja dreamt of going to the Olympic Games after seeing a performance by a gymnast at the Olympics. That dream came true 16 years later when she made her debut at the London 2012 Olympics. Her maiden participation in the world's largest sport event was made sweeter when she clinched a gold medal in the Women's 4x100m Medley Relay.
However, her Olympics experience did not go as smoothly as she had hoped. As Breeja stood on the blocks, ready to take the plunge in the final of the Women's 100m Breaststroke, her feet left the blocks a split second too early, deeming it a false start. Fortunately, officials determined there was a technical issue and she was able to race. Rather than be discouraged or upset, Breeja turned it into a learning point and chose to take on a positive mindset.
In life, it is not uncommon to lose motivation and be discouraged, especially if the odds are not in our favour. However, as Brad had shared in the first session, our mind is stronger than we think; therefore, changing our mentality to think positively is very much possible.
"My takeaway from Breeja Larson's sharing is that you have to always have a positive mindset because you are your own best friend. Essentially, this meeting gave me a brand-new perspective on swimming, managing my nerves and racing as a whole," said Secondary 4 senior Clydi Chan.
Breeja also encouraged us to always ask ourselves the "5 Whys" – a metaphorical phrase to keep questioning oneself on our desire and drive to achieve our goals. Through asking ourselves the "5 Whys", like "Why am I here?" and "Why do I want to swim?", we will hopefully gain motivation through self-reflection. The process could also be used to guide us in setting more specific goals, as well as help us prioritise what is important.
"Even as a national swimmer, there are still days when I feel horrible in the water and have bad sessions. On days like those, it is really important for me to ask myself why I'm feeling bad and what I can and should do to improve myself so as to have a better session the next training," said another senior Maximillian Ang Wei. Maximillian is a Year 3 post-secondary student-athlete in the Diploma in Sports and Leisure Management programme who won an individual bronze medal at the Philippines 2019 Southeast Asian Games.
Giles Smith (By Lim Wan Ting)
A quote on the importance of commitment in sport left an indelible mark on Giles even at the young age of 9 years old. It was with this statement that he started his sharing with, and clearly it left an impacted me as well. The quote read: "When you are late for practice, you will never be able to win races." That mantra has prepared him for hard work and helped him remain committed to excellence during his 20-plus years as a swimmer. He currently specialises in the freestyle and butterfly events.
During the Zoom meeting, Giles, a specialist in the freestyle and butterfly strokes, shared tips on how to keep ourselves motivated, especially after a bad swim, as well as on recovery.
Having bad swims are part and parcel of an athlete's life. However, even a bad race can be an opportunity to gain more experience. It is important that we do not let these bad races affect our spirit, but understand why we did not do well so as to avoid making the same mistakes again. As long as we have executed our race plan, with our best effort and without regret, we will be one step closer to our goals.
One thing stuck out to me was his advice to focus on the start of the race – our race plan, rather than the end of the race – an outcome we have little control over. As a person who tends to worry about the outcome of the race, I sometimes lack the confidence in my ability to clock a good timing during my races.
Giles also shared that "you are never as bad as you think and never the best you can be", stressing that there is always room for improvement. If we train hard, we will never be that bad because hard work does pay off. On a similar point, every change that we make is important and can help us reach our goals, if we take time to change our habits.
His last tip of the day was on recovery – how the quality of our sleep and food we eat will affect our race-day performance. To Giles, the competition does not start on the day of the meet; it starts two weeks before the day itself. Getting sufficient sleep, eating the right food, and foam rolling and stretches will speed up our recovery before the next training session or race. Of course, while we may adopt good recovery routines, the best way to improve is still through hard work and technique correction.