2 Years, 2 Win Lee Kuan Yew Award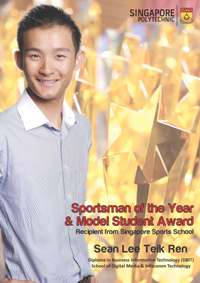 National Youth paddler and 2006 Singapore Sports School graduand Tan Hui Min impressed when she received her Diploma in Business Application at Republic Polytechnic with a 3.93 GPA and was bestowed The Lee Kuan Yew Award for Mathematics and Science in 2010. National Sailor Sean Lee gave Sports School reason for a second round of cheers when he completed his Diploma in Business Information Technology at Singapore Polytechnic with a 3.974 GPA and became Sports School's second recipient of The Lee Kuan Yew Award for Mathematics and Science in 2011.
Additionally, Sean has also won the IDA Gold Medal, Keppel Housing Prize, OCBC Prize, Shell Companies in Singapore Prize and Singapore Indian Chamber of Commerce and Industry Prize.
As early as in Secondary 3, Sean knew that he wanted to continue his post-secondary education at Singapore Polytechnic and therefore, applied for a place under the Direct Polytechnic Admissions Scheme. With a guaranteed seat, he could concentrate in Sailing. In 2008, the year after he graduated from Singapore Sports School, he partnered Sports School and National Team mate Joel Pang to win the 2008 Asian Sailing Championships 470 Silver Medal.
Despite having to juggle his final year studies with Sailing, Sean found time to participate in the Singapore 2010 Youth Olympic Games as a YOG Ambassador and Torchbearer - all this on top of obtaining a Certificate in Applied Psychology under the Diploma-Plus programme.
It is little wonder that at Singapore Polytechnic, he won the SP Sports Scholarship, Model Student Award and Sportsman of the Year Award - all in one year.
On the sports front, Sean, 19, hopes to qualify for the London 2012 Olympic Games. Where tertiary studies are concerned, Sean is not without choices he has been offered places by both Nanyang Technological University (with the prestigious Nanyang Scholarship) and National University of Singapore. He hopes to read Accountancy and Business.