Taking Charge Scores Shooter Award For Leadership And Excellence
ROAR Award Of The Month (May 2021)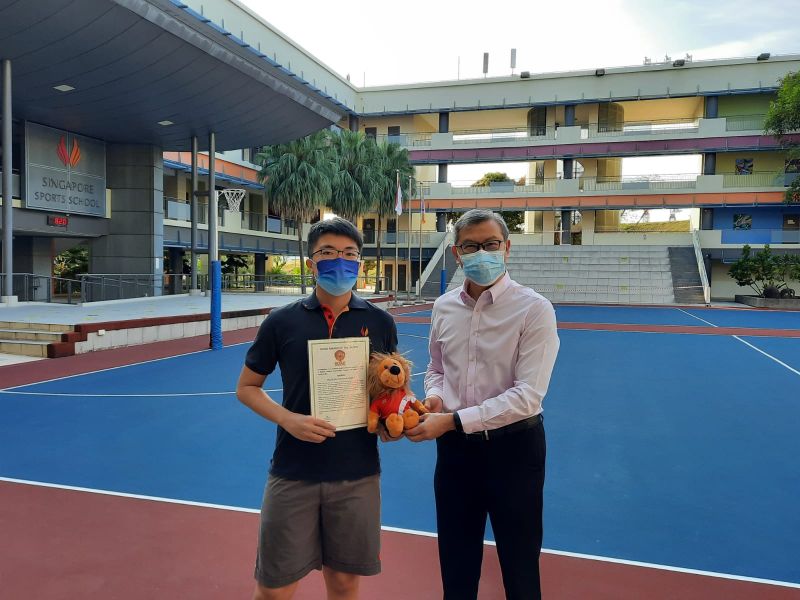 Stepping out of his comfort zone paid off for Secondary 3 shooter Maldon Then Fung Lim who exemplified the school values of Responsibility and Excellence in Shooting Academy's Values in Action (VIA) programme held on 30 April 2021.
In the VIA programme held in collaboration with North West Community Development Council, our shooters taught the basics of the sport to pupils from Greenwood Primary School and Woodlands Primary School.
Maldon was one of nine Secondary 3 student-athletes from the Shooting Academy who made up the Planning Committee, and he and his teammates planned the overall programme and liaised with staff from partner schools, prepared ice-breakers, conducted a safety briefing for participants and created a positive experience for the visitors. The student-athletes also budgeted, ordered and packed goodie bags and prizes for the children.
Maldon was singled out for his outstanding leadership qualities shown whilst heading his academy mates in the planning of the programme, as well as liaising with staff from the partner schools and communicating with them effectively via emails.
Maldon also overcame his initial nerves to host the event and was an engaging emcee, displaying confidence and responding quickly to new developments during the event.
On 1 July 2021, Maldon received the ROAR Award for the month of May in recognition of his effort.
The ROAR Award is presented to student-athletes who possess outstanding behaviour traits and exhibit the School Values of Respect, Integrity, Responsibility, Excellence and Resilience in their lives.
"It felt great to receive the ROAR award, as I was just doing my part for the event. I really enjoyed hosting the shooting activity and it was fun watching the primary school children compete with one another," said Maldon.
"Perhaps in the next VIA, I can try out a different role, perhaps being a range officer, so that I can assist the children in the shooting games and am able to interact more with them."
Continue Reading