Justin's 'A' Class Win
2019 Pondok Indah International Junior Golf Championship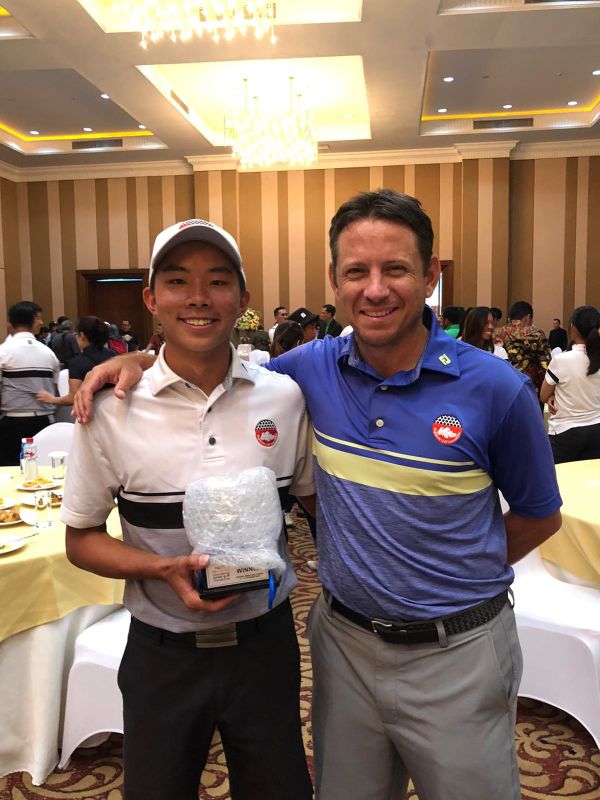 Justin Kuk, Boys Class A champion, with coach Matt Ballard
Christmas came early for Singapore Sports School post-secondary golfer Justin Kuk Zheng Zhong as he clinched the 2019 Pondok Indah International Junior Golf Championship Boys Class A Division trophy on 19 December 2019.
Justin opened the three-day tournament on 17 December with 1-over 73 strokes to place 5th in the Under 18 competition. Over the next two days, the current Diploma in Sports and Leisure Management Year 3 student-athlete went from strength to strength. He carded 2-under 70 strokes on Day 2 for the round's lowest score, boosting him into a joint-2nd place with Malcolm Ting of Malaysia. Justin then fired 5-under 67 strokes in the final round to conclude with a total of 6-under 210 strokes. His strong finish cemented his position as 2nd overall golfer behind home favourite Amadeus Christian Susanto (9-under 207 strokes) and ahead of his Malaysian rival (5-under 211 strokes). Indonesian golfer Amadeus, who concluded the event with the lowest overall gross score, was awarded the Boys Champion title, while Justin took the Boys Class A crown.
16-year-old alumna Hailey Loh Suanne from the Class of 2019 also ranked amongst the top 10 finish in her event. She shot a total of 16-over 232 strokes to finish overall 6th in the Girls Class A division.