No Break For Their Winning Spirit
2020 Marigold National Squash Championships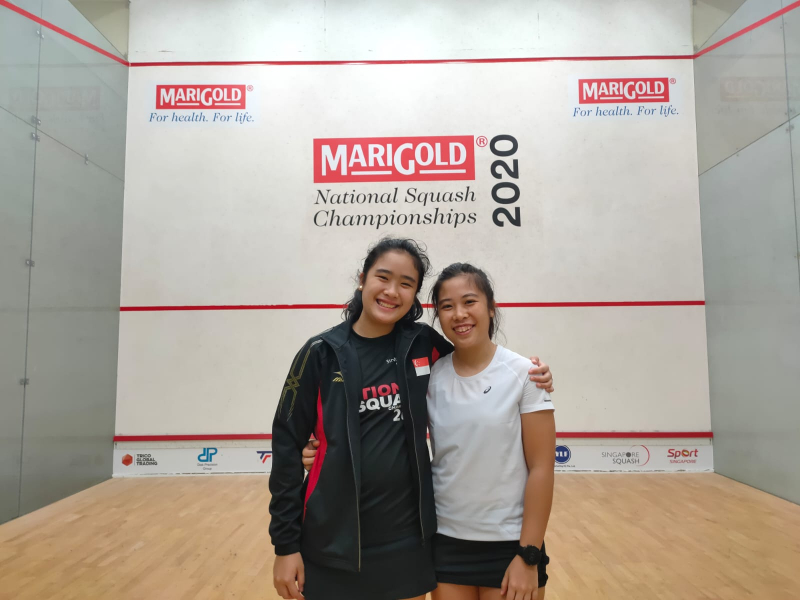 Sisters Au Yeong Wai Iynn (left) and Wai Yhann
It has been about a year since graduating post-secondary student-athlete Au Yeong Wai Yhann has stepped into a squash court for a competition. Despite a different competition atmosphere and a long hiatus from competitions, Wai Yhann proved that she is still on top of her game at the Marigold National Squash Championships held from 28 November to 6 December 2020 at Kallang Squash Centre. Wai Yhann had a comfortable win against Gracia Chua (11-7, 11-0, 13-11) to retain her national title in the women's open event. This is her third consecutive win at the Marigold National Squash Championships.
Wai Yhann was last seen competing at 2019 SEA Games in the Philippines where she clinched three medals – two silvers and one bronze. On her win, Wai Yhann shared, "I was definitely all nerves before the competition as it is the first competition and probably the last for this year. On top of that, this is the biggest local squash competition, and I felt the pressure to do well. I've been working really hard the past 8 months, managing my injuries and studies, so I'm really pleased to able to win the title for the third time."
Her sister, Au Yeong Wai Iynn, was just as thrilled that she performed above expectations by finishing as the runner-up in the Girls U19 final. This is the first competition for the 13-year-old since she joined Singapore Sports School this year. Wai lynn, who was previously in Singapore Chinese Girls' School, was delighted that she finally had an opportunity to test her skills in a competition this year. She said, "Though there have been disruptions to my usual training this year, I have been working hard. I managed a good result that surpassed my expected seeding and was beyond my own expectations."
While the sister duo walked into familiar grounds for the championships, it proved to be a very different experience for the both of them. This year, spectators were not allowed at the competition venue. Also, competitors were allowed into the venue only 15 minutes before and had to wait at a separate holding area before they could enter their respective courts.