SEAing a Dream Come True At Hanoi
Feature: 31st Southeast Asian Games

It is time for the thrills, spills and excitement of the 31st Southeast Asian (SEA) Games to be held in Hanoi, Vietnam, from 12 to 23 May 2022. Securing a place to represent Singapore in one of the most highly-anticipated sporting events in the country has been the dream of student-athletes at Singapore Sports School.
For 33 of them, their dream has become a reality as they will make their maiden journey to the SEA Games. A total of 91 past and present student-athletes from 19 sports have made it to the Team Singapore contingent. In this edition of the Games, 427 athletes will represent our nation in 33 sports.
A
SEA Games Send-Off Ceremony
was organised for the 91 of them by Sports School on 27 April 2022 to recognise and celebrate their achievements.
Out of the 91 athletes in Team Sports School, 33 are athletes in the School's through-train academic programmes – the International Baccalaureate Diploma Programme, Diploma in Business (offered in collaboration with Republic Polytechnic) or Diploma in Business Studies (jointly offered with Ngee Ann Polytechnic). The strong representation of post-secondary student-athletes in the contingent is a testament to the value of the through-train pathways, and the support given to student-athletes to achieve sporting excellence.
Let's meet four national athletes heading to the upcoming SEA Games.
Max Lee Shen Oon
Secondary 3
Age: 14
Sport: Aquatics (Diving)
"I want to go to the Olympics," said Max Lee Shen Oon to his mother when he was just eight years old. At that age, Max was ignorant about the journey of an athlete and the perseverance required to become an Olympian. But he knew he loved diving, and he wanted to pursue it professionally. "I just knew that I wanted to be an Olympic champion, but I didn't know what it takes or the sacrifices I would have to make," he shared.
Max started swimming when he was six years old and was part of the Aquatics Performance Swimming Club. When the Club started looking for divers about a year later, Max decided to grab the opportunity to try it. He was open about giving diving a shot as Max was a sports enthusiast. He had tried badminton, tennis, track and field and trampoline, just to name a few, as a young child. "I was young, and I had a lot of energy. I loved sports and always wanted to try something new!" he said. Besides diving with a Club, he was also in the Track and Field co-curricular activity in St Joseph's Institution Junior, where he did his primary school education.
Even as Max started to slowly experience the life of an athlete, and understand what it takes to get to the Olympics, his goal has stayed the same – he wants to be an Olympic Champion. As a step towards his goal, Max transferred from St. Patrick's Secondary School to Sports School at the start of 2022.
At just 14 years old, Max is set to make his debut at the upcoming SEA Games. He is the youngest athlete in the Team Singapore contingent.
Mitchell Ang Li
Extended International Baccalaureate Diploma Programme
Age: 19
Sport: Aquatics (Swimming)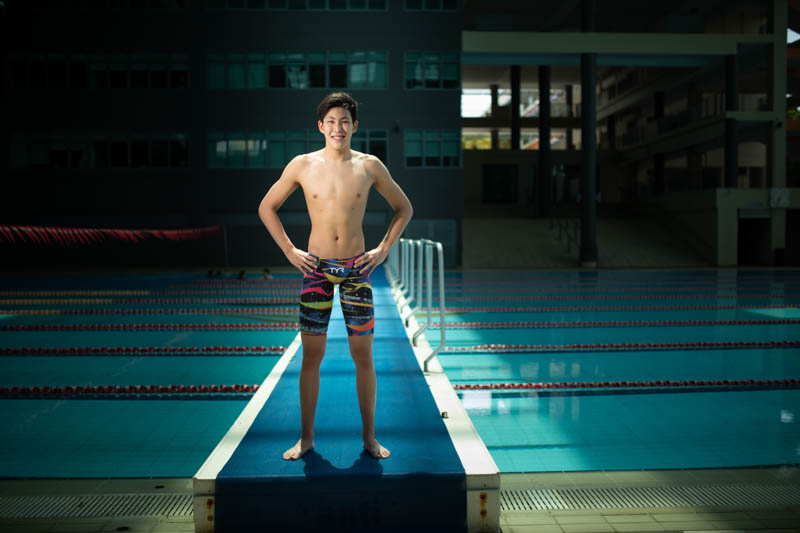 Mitchell Ang Li comes from a family of swimmers. His father is a former national swimmer, and his brother is Maximillian Ang Wei, a post-secondary student-athlete in Diploma in Sport and Leisure Management. Both his father and brother have held national records. His father was the national record holder in Men's 100m breaststroke, and Under-17 and Under-14 100m and 200m breaststroke. Maximillian holds the national record for 200m breaststroke.
When Mitchell was very young, his father introduced him to swimming. Since then, swimming is the only sport that he has done. By six years old, Mitchell was already swimming competitively.
The Ang brothers will be heading to the SEA Games together for the first time. At the last SEA Games, Max broke the 200m breaststroke national record, and won a bronze medal.
Though his elder brother is an inspiration, Mitchell wants to set his own path and create his own successes. "I am proud and privileged to represent my country in my first major Games ever. I am super excited to see what it is like there and gain new experiences. I would also look ahead and will certainly use the experiences and lessons learnt from this SEA Games as a stepping stone for me to go for other more prestigious games," he expressed.
He has been preparing himself for the SEA Games by ensuring he has nutritional meals, sufficient rest and good training sessions. He has also sought advice from his brother on what to expect at the Games, to mentally psyche himself for his first major Games.
Besides Mitchell and Maximillian, there are two other sibling pairs from Team Sports School at the 31st SEA Games. They are alumni Fernel Tan Qian Ni and Adele Tan Qian Xiu, and Martina Lindsay P Veloso and Marat Lleyton P Veloso. Both pairs are from the Shooting Academy.
Megan Lee Xinyi
Diploma in Business Studies
Age: 16
Sport: Badminton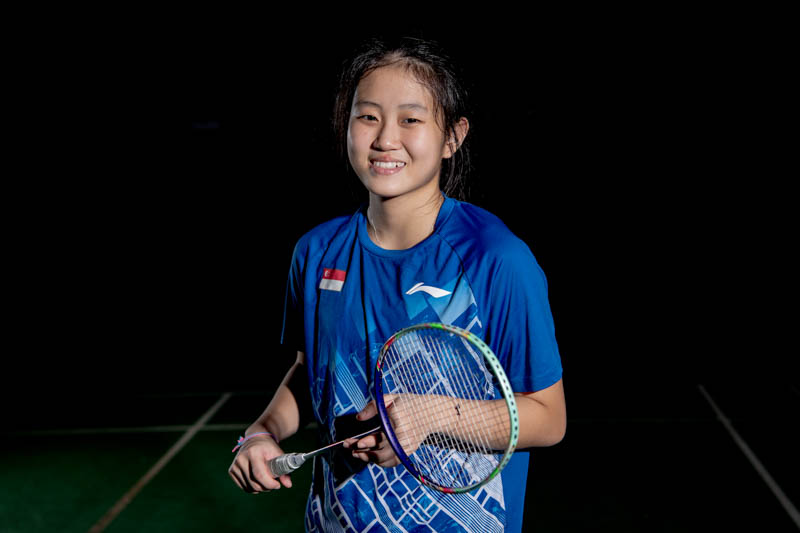 Playing badminton was the favourite family activity for Megan Lee Xinyi and her family when she was young. Her father, Lee Suan Soon, was a former national shuttler, and had introduced many sports to his children. In fact, badminton was the last sport that he exposed them to as he did not want his children to be influenced by him, and he wanted them to find their own path. However, the Lee siblings took a natural liking to badminton. They took it up as a co-curricular activity in Tao Nan Primary School, where they did their primary school education.
Megan, and her brother Benjamin Lee Yihui, later enrolled in Singapore Sports School with the dream of becoming national shuttlers like their father. She shared, "My dad is my inspiration as I wanted to follow in his footsteps to be a national shuttler. M
y dad still shares tips and guides me in my games and training up till now. My brother has been of great influence. Looking at how hard he trained to enter Sports School when he was 12, inspired me to want to go there too. He continues to be my big supporter."
Megan's hard work and perseverance have paid off as she had made it to the national team and will be representing Singapore at the 31st SEA Games.
When Megan heard that she made the SEA Games team, she was shocked but extremely happy. She will be competing in the Girls' team event alongside three other past and present student-athletes – Jaslyn Hooi Yue Yann, Nur Insyirah Khan Abdul Hamid Khan, and Yeo Jia Min. There are 15 past and present student-athletes from the Badminton Academy competing in the Games. Though the 16-year-old is the youngest on the team, she does not feel the pressure of being part of an experienced team, some of whom have made headlines lately like Loh Kean Yew, Terry Hee, and Tan Weihan. Her goal for the SEA Games: "Just play my best. If I win, that's even better."
Amirah Sahrin
Extended Diploma in Sport Management
Age: 20
Sport: Pencak Silat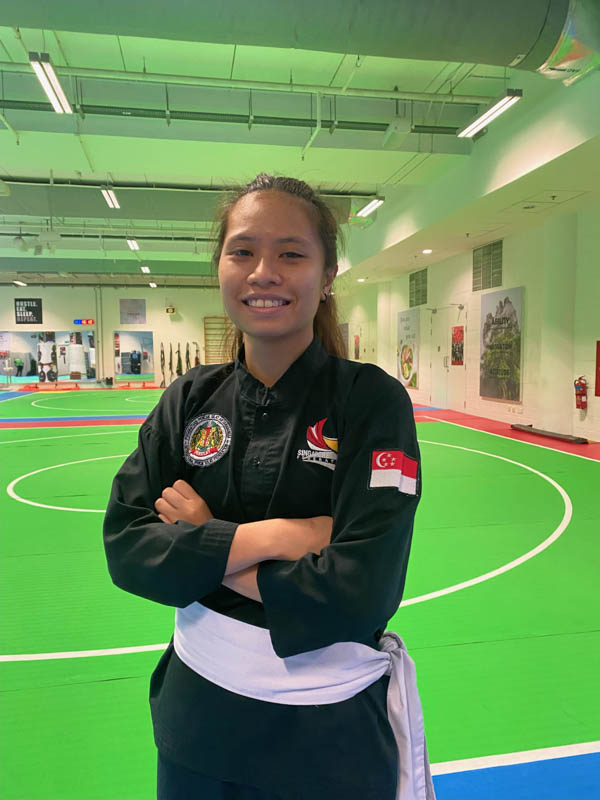 The 28th SEA Games hosted in Singapore in 2015 was life-changing for post-secondary student-athlete Amirah Sahrin. It was held soon after she made a switch from Pencak Silat to Taekwondo, and it was the first time that she was a spectator of an international Pencak Silat competition. Inspired by the athletes' display of skills and showmanship, Amirah decided that she will work towards representing Singapore in Pencak Silat one day. She said, "I had the belief that I was also capable of competing on the same level as the world-class players from international countries."
Her self-belief and hard work have helped her push her limits and achieve sporting success. Amirah has achieved the goal she set for herself years ago, as she will be making her maiden appearance at the 31st SEA Games.
On her goals for the SEA Games, she shared, "Since this is my first time competing at the SEA Games, I am aiming for a podium finish. Considering my team's dynamics, we hope we can get at least the top three... I have been committing to two training sessions per day. For the first session, I will usually focus on my fitness and weight training while the second session focuses on my techniques and skills."
Amirah, who has three other siblings who are Pencak Silat exponents in Sports School, hopes that her outing to the SEA Games will also be an inspiration to them.
Continue Reading →