Golfer Strikes Balance
Athlete-Friendly Academic Programme and Support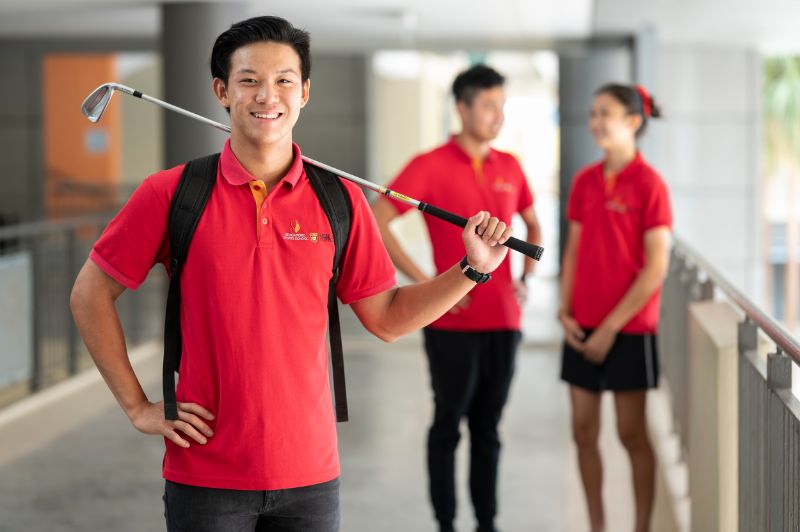 When national golfer Brandon Han Zhen Guang was in Primary 1, his parents formally started him on two sports – football and golf. Brandon's father, an avid golfer himself, felt a combination of a team sport and individual sport would teach Brandon valuable life skills. Brandon, too, enjoyed getting a good cardiovascular workout through soccer and loved the solitude that is gained from playing golf. Brandon continued playing both sports throughout his primary and secondary school years.
When Brandon was in St. Gabriel's Secondary School, he was part of the school's golf team. Winning an Under 19 tournament when he was a 14-year-old teenager gave him his "a-ha" moment and made him realise that he had a better future in golf. "I thought to myself, 'You know what, I can do this.'" A year later, Brandon was selected to be part of the National Development team. With his weekly training in football with Arsenal Academy, golf training with the school team, national training for gold, and his own individual training sessions, Brandon had an extremely busy schedule in secondary school. His five-times-a-week of sports training left him little time for his own leisure and social life. Yet, Brandon enjoyed every single moment as he enjoyed both sports.
However, Brandon admits that he struggled juggling both his sport commitments and studies, and he did see his results suffer when he was in Secondary 3. He shared, "I was travelling a lot, was busy with training, and did allow my grades to suffer. It definitely takes a lot of self-discipline and determination to stay on top of your game in both sport and studies at the same time." Brandon eventually stopped football training when he was 16 years old.
After completing his secondary education, he decided to continue his post-secondary education at Singapore Sports School by doing the joint Diploma in Business Studies (DBS) programme offered in collaboration with Ngee Ann Polytechnic. Having heard about the athlete-friendliness of the programme and the school's support system, Brandon felt that the school will be the right fit for him. "I still had many dreams I wanted to fulfil in golf – I was definitely not done yet. If I wanted to do well in both studies and sport, I knew that Sports School would be the best place for me. With lessons from 12 to 4 pm four days a week, there is sufficient time for training before and after lessons. For me, that is a big plus point because it gives me sufficient time to breathe, focus and manage my time better. Plus, we do one module at a time, making it easier for us to cope with our studies. There are also special provisions, academic support, and mentors within the Sports School system to help athletes like myself achieve our goals."
Brandon travels daily to National Service Resort & Country Club (NSRCC) for training. Since NSRCC is near his home, travelling to and from Sports School each day is still manageable for him. Despite still being extremely busy, the second-year DBS student-athlete is satisfied with his performance on and off the greens.
These days he even has more leisure time with his family. His sister, who is a bowler, and his parents spend time playing and watching tennis together. "Though my days are really busy, it is great that I still get to bond with my family. For an athlete, mental health and relieving stress is extremely important, and I am grateful that I manage to have some leisure time with my family occasionally. I believe that is possible because of the curriculum structure and lesson hours that we have at Sports School."
Brandon is certainly a bright young star to look out for. In the recent EFG Singapore Junior Masters, Brandon finished 2nd after a close fight.
"My short-term goal now is to qualify for the Hanoi 2021 Southeast Asian Games that is scheduled to take place at the end of the year. Eventually, I also hope to medal at the SEA Games, and in the longer term, I do hope I get to represent Singapore in the Olympics," shared Brandon.