Racing Ahead With Colourful Experiences
Valedictorian (Secondary): Samantha Theresa Ortega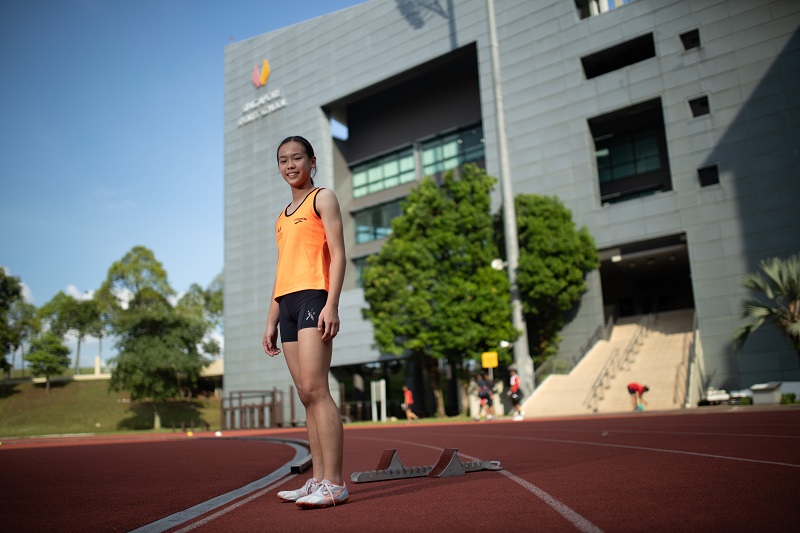 The Valedictorian representing the Secondary cohort, Samantha Theresa Ortega from the Track and Field Academy, is a well-known figure among her peers in Singapore Sports School. Since the time she joined Sports School as a Secondary 1 student-athlete in 2018, Samantha has been representing her peers through different leadership roles, and has been serving the community.
The former CHIJ (Katong) Primary student who started Track and Field at Primary Two, showed that she had the potential to go further at a young age. While she joined Sports School to further her passion, and take advantage of the athlete-friendly environment that would allow her to balance sports and studies, Samantha has developed into a holistic individual through the experiences and exposure she has gained in her four years in the School.
Samantha's leadership journey started in her first year in the School itself as a Sports Captain. As Samantha stood out as a confident and capable student-athlete, she was selected to be a student councillor by the next year. She later became a School Captain, the equivalent of a Student Councillor, in 2019, and eventually was part of the 17th Students' Council in 2020. This year, Samantha took on the role of Vice-President of the 18th Students' Council.
Samantha has taken on leadership positions year after year as she enjoys representing the student body and organising events. She feels a sense of satisfaction in seeing teams work together through difficulties to organise activities for student-athletes, and gains joy witnessing the happiness and smiles in the faces of her peers through events organised by student leaders. This year, Samantha had a key role to play in organising the e-Open House together with Lau Wei Na (IBDP Year 5, Water Polo). Both of them worked alongside staff to give valuable perspectives and headed student-led initiatives such as student-driven academy videos, social media publicity, and content development, to publicise the School.
Samantha has also represented Sports School in local and regional competitions. One of her most unforgettable memories during a competition was at the 2019 Thailand Sports School Games. While warming up for her 200m finals, Samantha felt discomfort in her hamstring. After much contemplation, Samantha decided to go with her gut feeling to compete in the race. As she was setting up her blocks, she remembers repeating to herself 'I can do it! I can do it!' And she did! She came in second, got a personal best (26.34s) and broke the 200m Under-14 girls record. This record-breaking feat served as a good reminder to her as to how important self-belief is to achieve desired outcomes.
On her Sports School experience thus far, Samantha shared, "In these four years, I definitely learnt how to cope with handling pressure a lot better. With competitions and exam preparations, sometimes it can be draining and demanding, both physically and mentally. I have also learnt to be confident in my abilities, trust in the process; not overthink too much. I have also recognised the sheer strength of simply believing; how our limits are rooted from our personal fears and doubts within ourselves."
Samantha, who came into Sports School to further her sporting excellence, still holds her dream of competing in the Southeast Asian (SEA) Games in an individual event. She will continue to strive for good results, both in sports and academics, as she progresses to the through-train International Baccalaureate Diploma Programme offered in the School next year.
Continue Reading →