"Bould" Natalie Defies Gravity
Sport Climbing: 2020 SMU Gravical
12-year-old Natalie Goh Sihui remained unfazed despite being the youngest competitor in the Open category of the 2020 SMU Gravical from 30 January to 2 February 2020. The Singapore Sports School Secondary 1 student-athlete boldly stepped up to the bouldering wall in her first competition for the year and managed a creditable 9th-place finish in a field of 36 climbers.
In the Qualifiers, Natalie, Sports School's first sport climbing recruit, successfully topped two of the five routes to rank 15th and qualify for the next round. She was handed another five problems in the Semi-Finals and pulled off two top-outs and four zone holds to finish 9th. Only the top six climbers progress into the finals.

Ritchie Oh, Our MVP
Open Water Swimming: 2020 Swim Expo Asia

| | |
| --- | --- |
| | Ritchie Oh Rui Zhi was miles ahead of his closest rival as he stepped out of the water at the end of his 3.8km swim at the 2020 Swim Expo Asia on 19 January 2020. Singapore Sports School's Diploma in Business Studies Year 2 open water swimmer completed his race in 00:48:32s, more than 7 minutes faster than the next best swimmer in the overall ranking. He also received the Most Valuable Player Award for his stellar performance. |
4 Finish Top 5 In Multi-Events Meet
Track and Field: 2020 State Combined Events Championships

Over two days of the 2020 State Combined Events Championships organised by Little Athletics Western Australia from 8 to 9 February 2020, eight Singapore Sports School student-athletes pit themselves against their Australian counterparts in the Heptathlon's seven events.
Secondary 3's Elijah Tan won Sports School's only medal at the Championships, finishing 2nd in the Men Under 16 division, with 3,470 points. Of the eight student-athletes, four managed a top-5 finish in their respective age-groups.
RESULTS
Men Heptathlon Under 14
4th – Lucas Fan Le Cong (3,667 points)
Women Heptathlon Under 14
6th – Sharifah Falisha Syed Ahmed Riadh (2,832 points)
Men Heptathlon Under 15
5th – Ezra Nur Iman Zainal (3,420 points)
11th – Kyan Chong Jun Xiang (1,557 points)
Men Heptathlon Under 16
2nd – Elijah Tan (3,470 points)
Women Heptathlon Under 16
5th – Belynda Tan Suang Teng (2,259 points)
6th – Ng Jing Ni (1,884 points)
Women Heptathlon Under 17
7th – Rachel Tan Wei Ling (2,996 points)
Sports School Impresses At Aquathlon Events
Triathlon: 2020 Singapore Aquathlon, 2020 MetaSprint Series Aquathlon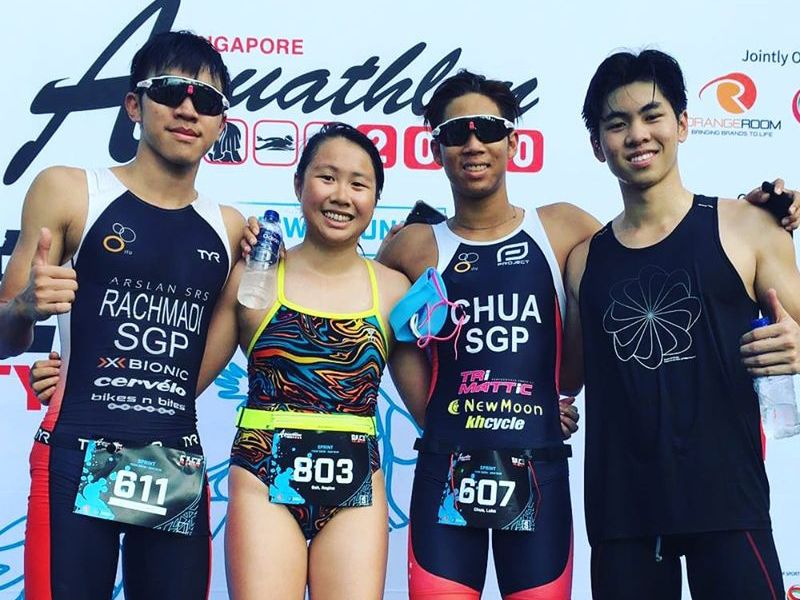 Student-athletes and alumni at 2020 Singapore Aquathlon (from left) Nicholas Rachmadi, Regine Goh Xuan Xuan, Luke Chua Li Rong, and Koh Liang Jun

Sports School past and present student-athletes reaped impressive results at two recent Aquathlon events. Alumna Regine Goh Xuan Xuan displayed grit and endurance in both competitions. She completed a 750m swim and 5km run to secure the third spot at the 2020 Singapore Aquathlon held on 19 January 2020, and hit the second place at the 2020 MetaSprint Series Aquathlon that recently took place on 9 February.
At the Singapore Aquathlon Individual Male Junior (16-19 Years) event, IBDP Year 3 student-athlete and Chairman for Council of School Captains, Nicholas Rachmadi, beat 11 competitors for the championship title, while alumni Luke Chua Li Rong and Koh Liang Jun came in second and seventh place respectively. Alumna Chin Khar Yi, also had a strong finishing. She swam for 1.5km and ran 10km for a second-place victory in the Individual Female Age Group (18-29 Years).
At the MetaSprint Series Aquathlon, DBS Year 1 student-athlete Ervina Lim Qian Hui and alumnus Kok Kiat Xuan emerged first and third in the Individual Female and Male (16-39 Years) events respectively.
RESULTS
2020 Singapore Aquathlon
750m Swim + 5km Run
Individual Male Junior (16-19 Years)
1st – Nicholas Rachmadi
2nd – Luke Chua Li Rong
7th – Koh Liang Jun
Individual Female Junior (16-19 Years)
3rd – Regine Goh Xuan Xuan
1.5km Swim + 10km Run
Individual Female Age Group (18-29 Years)
2nd – Chin Khar Yi
2020 MetaSprint Series Aquathlon
Sprint Aquathlon (750m Swim + 5km Run)
Individual Male 16-19 Years
5th – Nicholas Rachmadi
Individual Female 16-19 Years
2nd – Regine Goh Xuan Xuan
Individual Male 20-24 Years
17th – Raphael Chau Yi Zhi
Individual Female 20-24 Years
5th – Lee Mei Shuang
Discovery Aquathlon (250m Swim + 2.5km Run)
Individual Male 16-39 Years
3rd – Kok Kiat Xuan
Individual Female 16-39 Years
1st – Ervina Lim Qian Hui