Home
> News and Publications > Archive > DEC20 > Cross-Border Exchange Made Possible Virtually
Cross-Border Exchange Made Possible Virtually
IBDP CAS Virtual Student Exchange With Singapore International School - Hong Kong
By Raeka Ee Pei Ying
IBDP Year 5, Netball Academy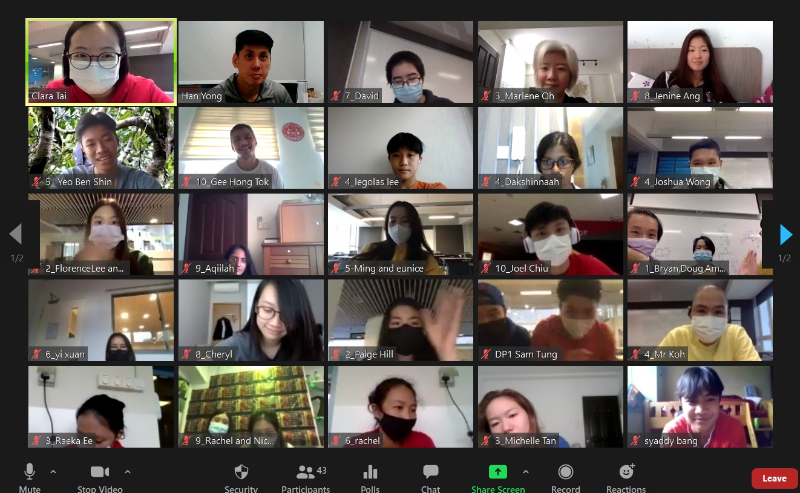 From 4 to 25 November 2020, 26 IBDP Year 5 student-athletes participated in a virtual exchange programme with the Singapore International School – Hong Kong (SISHK). In other years, the IBDP Year 5 student-athletes would travel to Hong Kong for an exchange programme, and work with fellow Hong Kong students physically. However, travel restrictions prevented the exchange programme from being carried out as per previous years. Yet, this did not deter the exchange programme from going on as planned, though we had to adapt to participating in the programme through online video conferencing platforms.
The COVID-19 pandemic also turned into an opportunity for collaboration. Students from both schools were split into groups, and each group was tasked to create a presentation on various topics related to the pandemic. Over the course of four weeks, we met up with our Hong Kong counterparts over Zoom and Google Meet and worked together to research and create creative presentations for our assigned topics. For example, my group wrote a song and rap to illustrate the impacts of the pandemic on society, while other groups created engaging presentation slides about how science has aided in the fight against the virus.
Working with our Hong Kong counterparts broadened our worldview, as we deepened our understanding of how the pandemic has affected both countries and the measures that both countries took in response. It was truly an invaluable experience getting to work with our new friends from overseas. As Aqiilah Nissa Muhamad Nazzim (IBDP Year 5, Netball) said, "It forced us to grow out of our comfort zone and provided us the opportunity to foster collaborative skills as we worked with people whom we were unfamiliar with. The skills we learnt through the exchange will also benefit us further in our working life as the process was similar and we needed to collaborate with people from different cultural backgrounds."
Most importantly, this programme allowed us to foster new bonds and find new pillars of support in our counterparts more than 2,000km away. We are still very thankful for this fruitful partnership with SISHK, and hope to meet and work together with our new friends in the near future!