Footing International Exposure On Home Grounds
Football: 2019 Under 15 International Challenge Cup

Student-athletes gained international exposure within the Singapore Sports School premises at the 4th edition of the 2019 Under 15 International Challenge Cup. Student-athletes were featured in the two local teams that competed – Singapore Under 15 team and Singapore Sports School team. They played against worthy opponents from countries such as Japan, Australia, Vietnam, Indonesia and Malaysia over seven intense days from 23 November to 29 November 2019.
The Challenge Cup was lifted by Johor Darul Ta'zim (JDT), ending defending champions Promotion Fund of Vietnamese Football Talents (PVF)'s remarkable winning streak since the ICC was first held in 2016. While the Sports School came in sixth place, the competition provided young footballers invaluable experience. As mentioned by the Sports School's football coach, Isa Halim, "This competition will expose players to different teams and their varying styles of play. Also, it will give my team the chance to compete and understand the demands of international football."
Netballers Claim Overall Championship
Netball: Pronet7 Netball U17 Tournament

Singapore Sports School Secondary 2 and 3 Netball teams has a strong finish at the Pronet7 Netball U17 Tournament on 20 November 2019. Both teams had a good start by emerging top 2 in the preliminary rounds before playing against each other at the semi-finals. With a total of 28 teams in the tournament, one of the Sports School teams emerged victorious after playing against St Hilda's Hearts in the finals and was crowned Overall Champions while the other team came in fourth.
Sailors Secure Olympic Berth
Olympic Games: Road To Tokyo 2020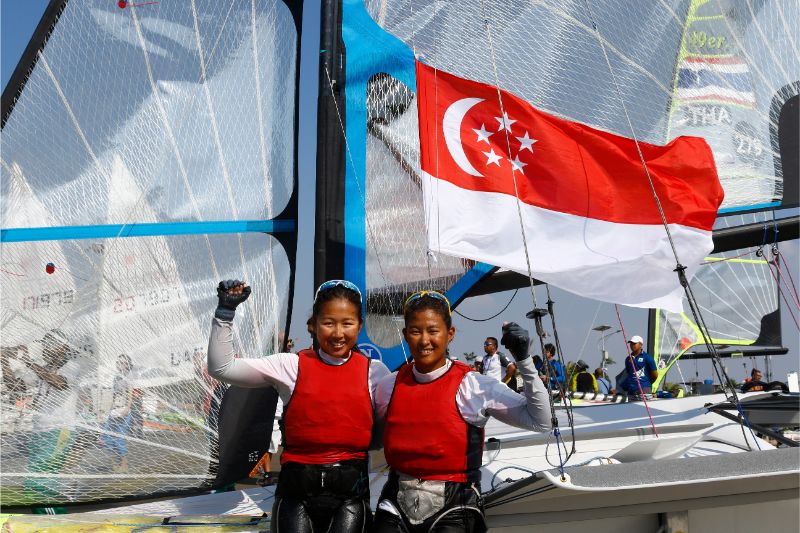 Cecilia Low Rui Qi (right) and partner Kimberly Lim after winning the Women's 49erFX gold medal at Jakarta-Palembang 2018 Asian Games. Photo by Sport Singapore/Feline Lim

Cecilia Low Rui Qi and partner Kimberly Lim secured a spot for Singapore in sailing's 49erFX class at the Tokyo 2020 Olympic Games after creditable performance at the 2019 Hyundai 49er, 49erFX and Nacra 17 World Championships.
Racing 16 times over six days, Singapore Sports School alumna Cecilia and compatriot Kimberly, who were gold medallists at the Jakarta-Palembang 2018 Asian Games, finished 15th in the 61-fleet competition in Auckland, New Zealand, from 3 to 8 December 2019. They finished as the top Asian pair, ahead of Japan in 20th place.
Three sailing alumnae Denise Lim Ke Xin, Griselda Khng and Jovina Choo Bei Fen had represented Singapore at the Rio 2016 Olympics.