Academic Collaborations Add To Athlete-Friendly Environment
Tie-Ups For Longer Academic Runway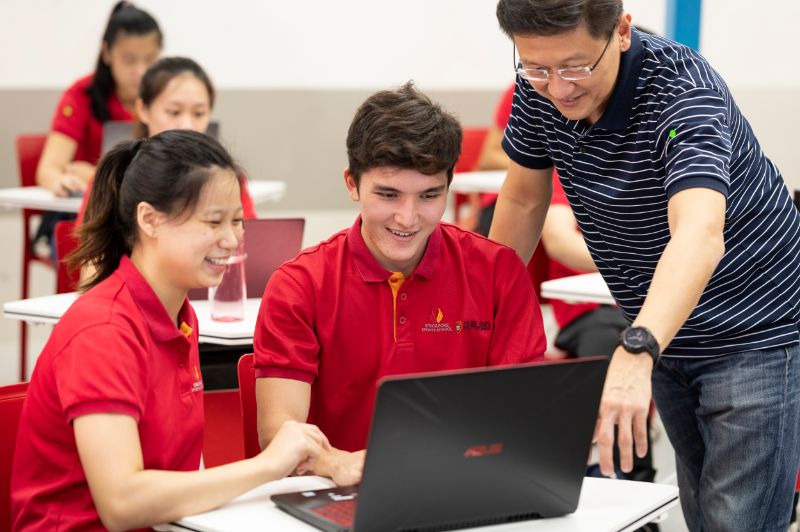 Customised polytechnic programme conducted in-house on Singapore Sports School campus
A decade after the Sports School began operations, a review of the school was launched to assess areas in which student-athletes – or youth athletes in general – can be better supported. A set of recommendations were rolled out, including several pertaining to enhancing the academic support offered to student-athletes.
The recommendations that surfaced from the review included the provision of more academic pathways that extend to six or more years, and the establishment of linkages with universities to support student-athletes with high sport potential.
It is common knowledge that having to sit for major examinations hampers the sport development of athletes. Having to sit for major examinations like the GCE O-Level would often require student-athletes to put their sport commitments on the back burner to prepare for the academic assessment. However, the O-Level falls within a critical sport developmental age for most athletes which makes the disruption extremely unfavourable. As such, Sports School offers a through-train pathway for student-athletes to bypass the national examinations and progress into a post-secondary academic programme. Student-athletes who go on the through-train programmes will be able to obtain a recognised qualification that can earn them entry into university.
Following the School Review, a third post-secondary pathway was made available to student-athletes in the form of the customised Diploma in Business Studies (DBS) programme, offered jointly by Ngee Ann Polytechnic (
read more
). The other two through-train programmes are the International Baccalaureate Diploma Programme (IBDP) (
read more
), with an option for high-performing student-athletes to extend beyond the standard two years, and the customised Diploma in Business (DBIZ) programme conferred by Republic Polytechnic (
read more
). The three post-secondary programmes, which are conducted in-house at the Sports School, provide student-athletes with differing academic abilities and aspirations more options to attain a pre-university education.
Sports School has also formed ties with local universities to support student-athletes who have high potential to excel in sport (
read more
). Selected student-athletes in their graduating year of post-secondary education at Sports School are recommended for discretionary admission so as to enable them to pursue a university education whilst continuing their sports endeavours. Student-athletes who have benefitted from discretionary admission include Singapore's top artistic swimming duo Debbie Soh Li Fei and Miya Yong Hsing, national shooter Adele Tan Qian Xiu and national wushu exponent Jowen Lim Si Wei.
As the only school in Singapore accredited as an Athlete-Friendly Education Centre (AFEC), the Sports School constantly strives to refine and improve on the athlete-friendly environment to enable student-athletes to thrive in both their sport and academic pursuits, which will eventually prepare them for a post-athlete career.
The Direct School Admission – Junior Colleges (DSA-JC) and Early Admission Exercise (EAE) begin in June 2021. Students with sport talent and ability who are taking the GCE O-Level or are in their final of year Institute of Technical Education (ITE) studies may apply to enrol in our post-secondary programmes. Click
here
to find out more.