Who's That BTS?
Our Support Staff, 'YOu Did It' Award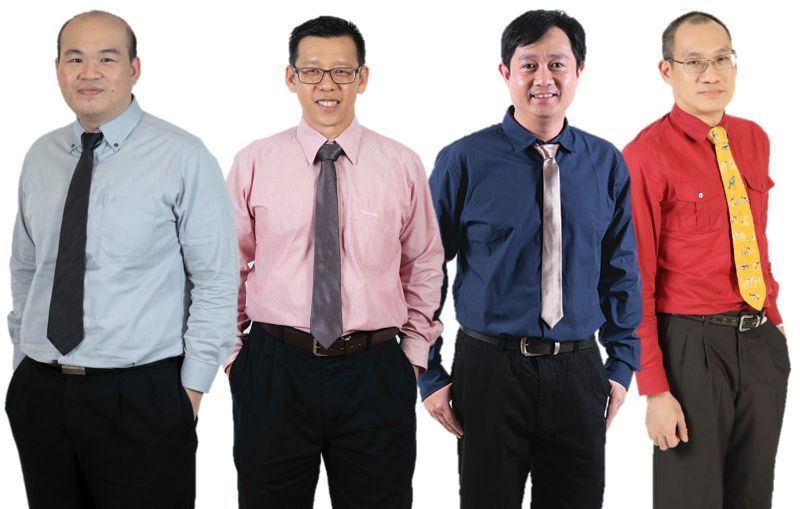 From left, Desmond Chia, Alan Keow, Andy Yap and Ong Eng Ju
Sometimes, we wonder if elves and fairies do really exist. One moment, a blown bulb is mysteriously back in working order. Another moment, a stack of printed assignments miraculously appear for distribution. Yet another moment, the magical connection to the virtual realm is restored.
At Singapore Sports School, there are many hands that work behind the scenes (BTS) to ensure the smooth functioning of the school. These include the administrative support teams from Academics, Boarding and Business, Corporate Services, and Sports Groups.
Unlike the teachers, coaches and boarding mentors, support staff have few interaction opportunities with student-athletes. In fact, most of their work does not usually have direct impact on student-athletes.
Even then, Estate Officer Andy Yap enjoys coming to work, knowing that what he does ensures a safe and conducive environment for student-athletes to train, study and live in.
"It's nice to hear the student-athletes say hello and thank you when they pass by or after I have fixed something in the school that was damaged," said Andy.
Andy is one of three members of Sports School's Estate team that received the "YOu Did It!" Award (YODA). The Award is a ground-up initiative to recognise support staff who have gone the extra mile to help their colleagues. As the Star Wars character Yoda says, "Do or do not, there is no try." Four staff – Desmond Chia, Alan Keow, Andy, and Ong Eng Ju – have shown their helpfulness and selflessness in their service towards their colleagues to win the YODA in this second year of the Award.
The first time Andy worked on the school was in 2003, even before the building was completed. Back then, he was part of the maintenance crew of a subcontractor engaged in the construction of the Sports School. He returned several years later, still as a contract worker, before joining as a full-time staff in 2015. What motivates him in his work is being able to help colleagues "just because I can" if it is within his capacity. Regardless to say, Andy's servant attitude has allowed him to cultivate harmonious relationships with colleagues which makes work enjoyable for him.
Likewise, Desmond and Alan, the Manager and Senior Executive respectively from the Estate department, also affirmed that it is the people whom they work with that makes the job enjoyable. Their desire to serve others better motivates them to continue improving themselves and learning from others.
The four award recipients share certain similarities in their work ethic and attitude, among which are their responsiveness to requests and their readiness to offer solutions or advice.
Known as the "Mr Fix-It", Eng Ju, a Sports Administration Executive, is often seen solving problems of various kinds and forms. From IT difficulties to job-related obstacles, Eng Ju readily extends a helping hand to those in need regardless of his level of involvement in the issue. Many a time during casual conversations with him, colleagues would raise problems they are facing. Yet, because of his innate desire to help others, responsibility and reliability, no issue would be left unattended to.
"I am glad to know that my colleagues are also performing above and beyond their call of duty. It makes me happy to know that their extra effort has not gone to waste and that they are being appreciated," said Desmond, on how he feels about two of his team members also receiving the Award.