Callie's Golden Double
2019 Southeast Asian Shooting Association Championships
2019 Indonesia Shooting Championship Open Tournament
By Callie Siah Yong Xin
Shooting Academy, Secondary 4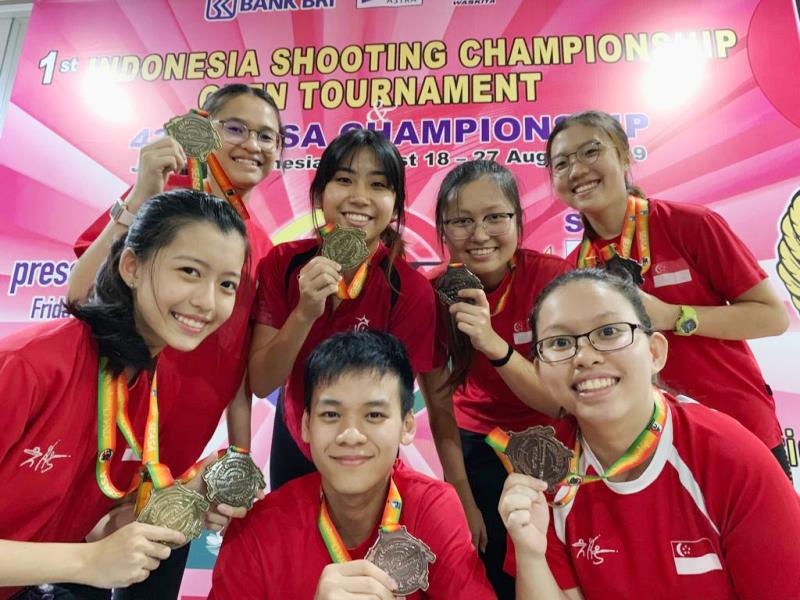 The 1st Indonesia Shooting Championship Open Tournament was held in conjunction with the 43rd Southeast Asian Shooting Association Championships (SEASA) in Jakarta, Indonesia. Eleven Singapore Sports School teammates, one alumna and I began the competition from 18 to 27 August 2019 with the aim of doing Singapore and our school proud.
We had some difficulties adjusting to the unfamiliar environment and competition conditions initially, but the Indonesian officials were very helpful towards us, providing advice during equipment control which was new to some of us.
My senior, Shirlene Hew Yun Ting in Year 5 of Sports School's International Baccalaureate Diploma Programme, contributed to the 10m Air Pistol Women Junior Team's stellar performance at SEASA. She and compatriots Charmaine Lim and Goh Jia Yu clinched the gold medal with a score of 1,672-30x, ahead of rivals from Chinese Taipei (1,667-35x) and Vietnam (1,645-35x) in second and third respectively. Five other Shooting Academy teammates also did well to rank amongst the top three in their individual and team events.
Meanwhile, a few teammates and I competed in the Indonesia Open and shot down some medals. My experience at the tournament turned out to be a memorable one because my journey to the 2 gold medals I earned in the 10m Air Rifle Women Junior Individual and Team events on 21 August. The competition was nerve-wracking yet enlightening I managed to overcome my nerves and fears, instead of succumbing to them, which allowed me to have better control of my abilities during stressful situations. The calmness I felt also increased my awareness of areas I can improve in.
Secondary 3's Edlyn Nadra Mohammed Sophian and alumna Lenice Tan Yue Tong also competed in the 10m Air Rifle Women Junior and our combined scores secured us the Team gold. IBDP Year 5's Ross Lee Yu Bin also won the individual gold in the 10m Air Pistol Men Junior.
I am grateful to my coaches, team manager and fellow teammates for giving me the confidence to believe that I can achieve good results, as well as for being pillars of mental support during the competition.
RESULTS
43rd Southeast Asian Shooting Association Championships (SEASA)
10m Air Pistol Men Junior Individual
3rd – Gabriel Lim Kea Seng
10m Air Pistol Women Junior Team
1st – Shirlene Hew Yun Ting
10m Air Rifle Women Junior Individual
2nd – Fernel Tan Qian Ni
3rd – Cecilia Ng
10m Air Rifle Women Junior Team
3rd – Cecilia Ng, Fernel Tan Qian Ni, Nurul Syafiqa Nassaruddin
50m Rifle 3 Positions Men Individual
3rd – Mohamad Irwan Abdul Rahman
50m Rifle Prone Men Team
2nd – Mohamad Irwan Abdul Rahman
1st Indonesia Shooting Championship Open Tournament
10m Air Pistol Men Junior Individual
1st – Ross Lee Yu Bin
10m Air Rifle Women Junior Individual
1st – Callie Siah Yong Xin
10m Air Rifle Women Junior Team
1st – Callie Siah Yong Xin, Edlyn Nadra Mohammed Sophian, Lenice Tan Yue Tong