Swimmers Lead Medal Charge At Nanjing 2013 AYG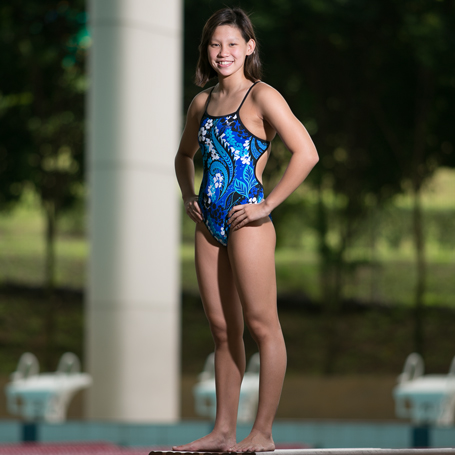 The swimmers led the way, winning the bulk of the medals brought home by Singapore Sports School student-athletes from the Nanjing 2013 Asian Youth Games.
Hoong En Qi won a silver medal as Singapore finished behind South Korea in the Girls' 4x100m Freestyle Relay with a time of 3:54.71, a new Under 17 National Record. She also set a new Under 14 National Record in the Girls' 50m Butterfly with a time of 28.20s, when she finished 5th.
Lim Ching Hwang, a Foreign Sports Scholar representing Malaysia, emerged from the Nanjing Olympic Sports Centre Natatorium with 1 gold, 2 silver and 1 bronze medals. Ching Hwang won gold in the Boys' 200m Freestyle, added two silvers in the Boys' 50m and 100m Freestyle, and anchored the Malaysian relay team to a bronze medal in the Boys' 4x100m Freestyle Relay.
Phiangkhwan Pawapotako, a Singapore Youth Olympic Scholar representing Thailand, won a bronze medal as part of Thailand's 4x100m Freestyle Relay team.
On 18 August 2013, shooter Martina Lindsay P Veloso became Singapore's first medallist when she won a bronze medal in the Women's 10m Air Rifle Final. Despite being the youngest competitor amongst the 38-strong field, Martina came within 0.1 point for a place in the final two and a shot at the gold medal, which eventually went to China's He Zichao; South Korea's Kim Jehee won the silver medal.
At the Nanjing International Expo Centre, Fencing Academy's Zachary Chen Yi defied the odds with a run to the semi-final in the Men's Epee Individual but was stopped by China's Zhu Haiyu and had to settle for a bronze medal. Zhu Haiyu lost to compatriot Gu Xinyuan in the gold medal match.
Singapore Sports School Medallists
Fencing
Bronze – Zachary Chen Yi (Men's Epee Individual)
Shooting
Bronze – Martina Lindsay P Veloso (Women's 10m Air Rifle)
Swimming
Gold – Lim Ching Hwang (Boys' 200m Freestyle)
Silver – Hoong En Qi (Girls' 4x100m Freestyle Relay)
Silver – Lim Ching Hwang (Boys' 50m Freestyle)
Silver – Lim Ching Hwang (Boys' 100m Freestyle)
Bronze – Lim Ching Hwang (Boys' 4x100m Freestyle Relay)
Bronze – Phiangkhwan Pawapotako (Girls' 4x100m Freestyle Relay)