Sports Bites
Artistic Swimming, Cycling, Golf, Wrestling, Water Polo


Artistic Swimming: FINA Artistic Swimming World Series 2022 (Virtual)
The national Artistic Swimming team had to showcase their elegant moves and routine virtually for the FINA Artistic Swimming World Series 2022. Eleanor Quah Yu Wei (IBDP Year 5), Claire Tan Wen Yen (IBDP Year 6), Caitlyn Ann Tan (Reserve - Secondary 4), Rae-Anne Ong (Reserve, Diploma in Business Studies, Year 1) - and alumnae Debbie Soh Li Fei and Miya Yong Hsing were part of the team that represented Singapore. The team put up an excellent performance and scored their new Personal Best in the Women's Team Free routine.
Cycling: Arena BMX Nasional
From 12 to 17 May 2022, Mikha Zuhayr Norman (Secondary 3) competed in the Arena BMX Nasional in Malaysia. Mikha competed with 16 riders in the 15-16 years old category, and finished with a silver medal. He later participated in the Jungle Cross 2 - MTB Juniors, where he went against local competitors in the 13-17 years old category on 28 May 2022. After powering through an 8km trail, Mikha emerged in 2nd place and took home yet another silver medal yet again.
Golf: Queen Sirikit 2022
Written by: Ng Kok Wei, Senior General Manager, Individual Programme
From 24-27 May 2022, Laguna National Golf & Country club played host to top amateur players from 13 Asia Pacific nations. Traditional powerhouses Japan, New Zealand and South Korea dominated proceedings, finishing in that order. Singapore were represented by a young team comprising of Shannon Tan, Yoko Tai & current student-athlete Jaymie Ng Wan Xin (IBDP Year 5). They finished a Queen Sirikit best-ever fourth position, with Shannon just a stroke behind eventual individual winner Hashimoto Mizuki who completed four rounds with a 9-under 279 strokes. Jaymie was 7 strokes back on 287 and finished tied for an impressive 10th position. This put the National School Games 'A' Division champion above golfers from New Zealand, Thailand and South Korea.
Water Polo: Water Polo Inter Nations Cup 2022
The Singapore A Teams clinched both the Men's and Women's titles on home ground at the inaugural Water Polo Inter Nations Cup 2022. After a five-day intensive battle from 18 to 22 May 2022, the Women's A Team, led by alumna Koh Ting Ting, captured a 9-4 victory in the gold-medal match to claim their historic win over Thailand in 11 years. The Men's A Team which alumnus Goh Wen Zhe was part of, defeated Indonesia with a convincing win of 16-2. They had straight wins against Thailand, Malaysia, the Philippines and Singapore B as well, before emerging as champions.
Sports School past and present student-athletes:
Women's Singapore A Team
Koh Ting Ting (Alumna)
Koh Xiao Li (Alumna)
Chow Yan Teng (Alumna)
Clarisse Gan (Alumna)
Celeste Ferrao Wan (Diploma in Business, Year 3)
Michelle Tan Ting Yee (Extended IBDP)
Women's Singapore B Team
Ervina Lim Qian Hui (Alumna)
Lau Wei Na (IBDP, Year 6)
Janelle Ng Shang En (IBDP, Year 6)
Faith Yue (Diploma in Business, Year 1)
Charlene Tio Ji Suan (Secondary 3)
Alexis Hoh Le Xin (Secondary 4)
Men's Singapore A Team
Goh Wen Zhe (Alumnus)
Men's Singapore B Team
Derek Chan Wen Kai (Diploma in Business, Year 2)
Wrestling: Singapore Inter-Club Grappling Meet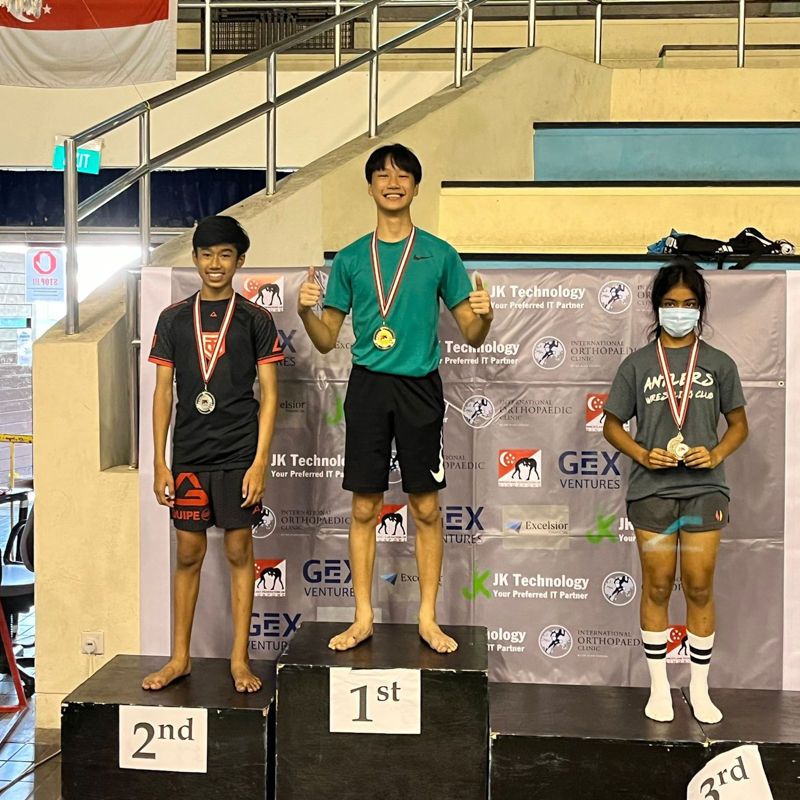 On 29 May 2022, wrestler Heba Lutfina (Secondary 2) participated in the Singapore Inter-Club Grappling Meet where she was up against all-boys competitors. Though she was the only female competitor, Heba gave them a tough fight in the Mixed 13-15 years Freestyle. She ended the competition with one victory and two losses, which won her a bronze medal.
Continue Reading →