Junior Shuttlers Give Their Best On A World Stage
BWF World Junior Championships 2022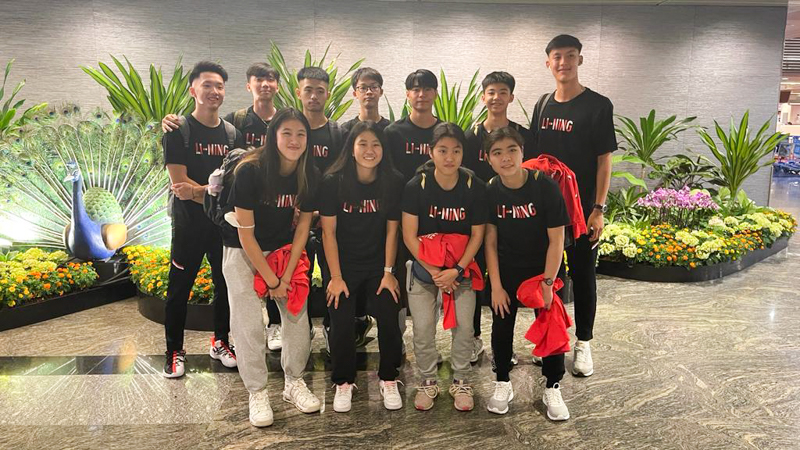 Written by
Chia Xin Ying, Secondary 3
Heng Xiao En, Secondary 4
After three years, we finally had the opportunity to fly for an overseas competition – and it was a major one! We flew for 25 hours to Santander, Spain, for the BWF World Junior Championships 2022 from 17 to 30 October 2022.
The World Junior Championships is the biggest competition that any junior can participate in. That would mean that all the players participating in this competition are the most outstanding ones in their country. For the 11 of us selected to participate in this World Junior Competition, it was a honour to represent our country and an excellent opportunity to spar against the best-of-the-best juniors from around the world.
The first week of the competition was the team event where Singapore had to face off strong opponents such as Netherlands, Tahiti, England, and Canada. On the first day, we started off well with a 4-1 win against Netherlands. Sadly, after an intense battle with England, we lost 3-2. With another loss against Canada and a win against Tahiti, Singapore placed 3rd in the group, where we moved on to the second round of games.
Players were full of fire and fought for their own countries with their best efforts. It was shocking to see such fast and powerful matches but the players kept steady and played with little mistakes.
On days with no competition, we kept the momentum going by training and going for morning runs to improve and play to our fullest potential on the competition days.
It was a very eye-opening experience, and much was learnt from this competition. For us to gain such good exposure to a high level of play at such a young age is extremely beneficial to our growth.
Megan Lee Xinyi, first-year Diploma in Business Studies student-athlete, shared similar sentiments. She said, "I played my first World Junior Championships when I was 13 years old and unfortunately we were not able to take part in the competition the past two years due to the pandemic. This year, we were in Spain for the competition and I am proud to represent Singapore for the third time. It was an eye-opener and I got to play with opponents who turned friends after our competition. It was an enriching experience and it helped propel my development in badminton. I also had the opportunity to see some of the world's best talents in badminton and I am motivated to work harder to reach their levels.
Although I lost to a stronger opponent in the Round of 32. I managed to defeat Kaloyana Nalbant from Bulgaria who was the U19 European Women Singles Champion in the Round of 64. That victory showed that my training is on the right path and I should continue to work with my coach (Kelvin Ho) to further improve my game. I hope that I would have the opportunity to compete in the World Junior Championships again in 2023."
Continue Reading →