Bid Adieu, With Love
Staff Feature – Koh Aik Beng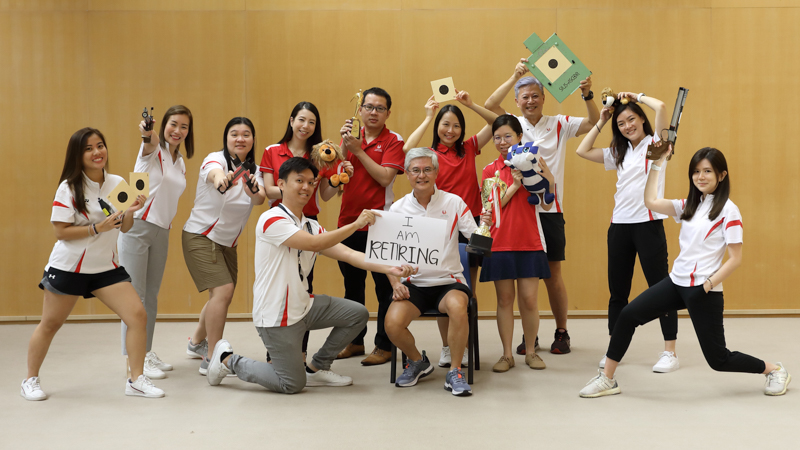 It is almost time to bid farewell to Mr Koh Aik Beng, the Senior General Manager of the Shooting Academy, who will be retiring at the end of the year from Singapore Sports School after 17 years of service. Fondly known as 'Uncle Koh', Mr Koh's friendly and pleasant nature and sense of responsibility make him well-liked by staff and student-athletes alike.
Mr Koh joined Singapore Sports School in 2006 as the General Manager for Sailing before he became the first General Manager of the Shooting Academy after the sport was set up.
Fun Fact: Did you know that his interest in Windsurfing rubbed off on his two sons, who later went on to represent Singapore in Sailing at the Beijing Olympic Games in 2008. The two of them were the first pair of siblings in sailing to participate in the same Olympics. Mr Koh also has another daughter. His three children have made him a happy grandfather of five (and one more on the way!).
Besides spending more time with his family, Mr Koh will be enjoying his retirement by living well and learning new skills to keep in mind, body and soul happy and healthy. As the starting point of his career was in IT, he is interested to learn a programming language. Recently, he met a safety board driver during the Sports School Orientation Camp, and like him, he may volunteer to clean up our waterways as he has a powerboat license. Mr Koh is also an avid cyclist, and he will be spending more time cycling longer distances. He even intends to go overseas to cycle too!
We would like to thank him for his years of service at Sports School, and wish him all the best for a happy and healthy retirement!
Mr Koh penned a farewell note, sharing his journey, appreciation for his team, and advice for his shooters.
________________________________________________________________________________________________________
I started my career in the IT industry in computer operating system support where I learned how to solve problems under pressure. Then I crossed over to business application development which allowed the creative side of me to blossom. When I was in my forties, I landed at the Singapore Sailing Federation (SSF) as its Secretary General. At SSF, I honed my people management and strategic planning skills. These experiences and skillsets came in handy when I joined Sports School in 2006, at the age of 49.
At Sports School, I rediscovered my youth. Working with the shooters is a blessing. They are full of surprises. They keep me young but not necessarily sane. Fortunately, in my team are dedicated coaches and mentors. They are the ones at the front line, guiding the motivated and picking up the fallen. On behalf of the shooters, a big thank you.
I am also appreciative of the school management's strong support which makes my job a breeze. I did not face any big challenges. I have always tried to do my job based on these words that I found on the internet:
Managers administer, Leaders innovate.
Managers ask how and when, Leaders ask what and why.
Managers focus on systems, Leaders focus on people.
Managers do things right, Leaders do the right things.
Managers maintain, Leaders develop.
Managers rely on control, Leaders inspire trust.
Managers have a short-term perspective, Leaders have a longer-term perspective.
Managers accept the status-quo, Leaders challenge the status-quo.
Managers have an eye on the bottom line, Leaders have an eye on the horizon.
Managers imitate, Leaders originate.
Managers emulate the classic good soldier, Leaders are their own person.
Managers copy, Leaders show originality
I am calling it a day after 17 wonderful years at the Sports School. I am very sure the Shooting Academy will continue to flourish, to groom champions and to lead by example. This is my farewell gift to the Academy.
It's never easy to say goodbye
To the everyday faces and voices
To the familiar
I came with hope, ideas and drive
To inspire a young generation
To realise dreams
Patience and faith were required
To love, to mould and to unite
To forge an identity
I was fortunate to share their journey
To witness champions in the making
To taste glory
Difficult as it may be, it's time
To close this door and open another
To say goodbye
Bye!
Continue Reading →