Lin Qian Bags Cadet Girls' Singles Silver
2019 Chinese Taipei Junior and Cadet Open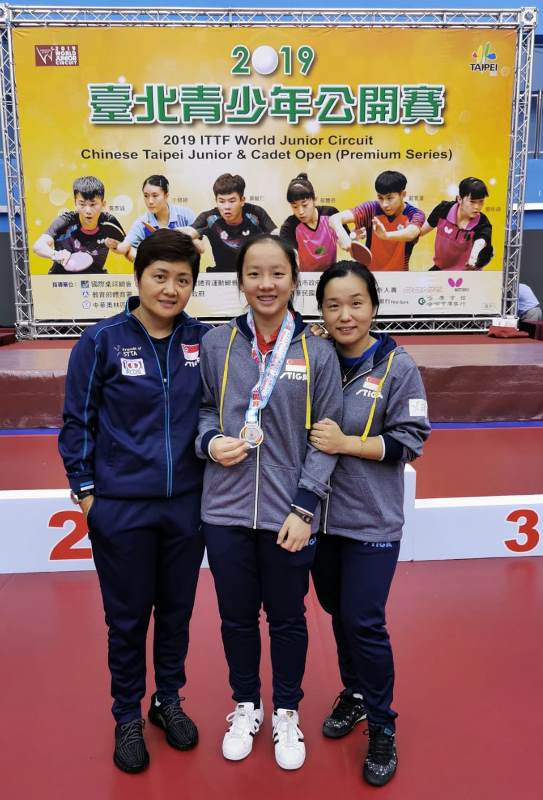 Singapore Sports School table tennis starlet Ser Lin Qian left her mark at the 2019 Chinese Taipei Junior and Cadet Open. Held from 25 to 29 September 2019 in Taipei, Lin Qian began her campaign at the Cadet Girls' Singles event on 27 September. On 28 September, Lin Qian punched above her weight and played a stable game against Chinese Taipei opponent Lin Chien-Ying in the Round of 32. Lin Qian proceeded to the Round of 16 on the same day with a winning score of 3-1 in both matches.
Going undefeated and winning with comfortable scores of 11-8, 11-6, 11-6, Lin Qian took on Chinese Taipei opponent Chen Yu-Chih in the 29 September quarter finals to proceed into the semi-finals against Chinese Taipei's Cheng Pu-Syuan.
At the semi-finals, Lin Qian got off to a winning start of 11-5 and continued to make it an uphill task for her Chinese Taipei opponent to emulate her achievement. Lin Qian eventually secured her place in the finals against Akae Kaho, with a 3-0 win. The 13-year-old Secondary 1 paddler eventually settled for a silver medal after she was defeated by her Japanese opponent in the finals.
Lin Qian, an alumna of Nanyang Primary School, belongs to the pioneer batch of EW Barker Scholarship holders in Sports School. The EW Barker Scholarship was launched by DPM Tharman Shanmugaratnam during Sports School's 15th Anniversary Celebrations cum Awards Night held on 13 February 2019. The EW Barker Scholarship is made possible by the EW Barker Endowment managed by Temasek Foundation. The Endowment is a tribute to one of the pioneer leaders of Singapore, Mr Edmund William Barker, who was a statesman, scholar, sportsman and supporter of sport.