Divers Spring To 3 Best Scores
2019 Singapore Inter-Schools Diving Championships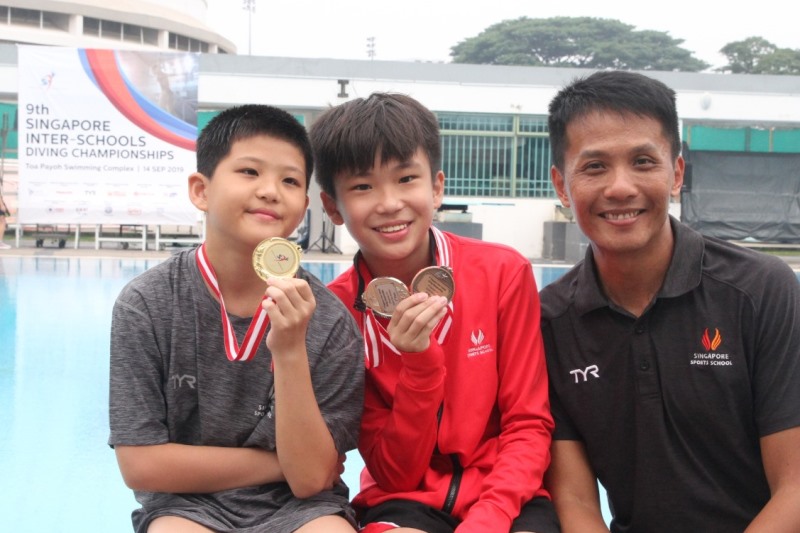 From left, Yim Shek Yen, Joel Chiew and Chin Khen Theen (Manager, Sports, overseeing Swimming Academy and Individual Programme – Aquatics)
Singapore Sports School's divers reached new heights at the 9th Singapore Inter-Schools Diving Championships on 14 September 2019 after scoring new Personal Bests in the in the 1m Springboard and 5m Platform events. Secondary 1 student-athletes Joel Chiew and Yim Shek Yen delivered strong performances to win 3 medals between both divers.
Shek Yen and Joel finished first and second respectively in the Boys Secondary 5m Platform, both with new PBs. Several hours later, Joel sent another PB plunging en route to winning the Secondary 1m Springboard bronze, his second medal of the meet.
Diving is one the three Aquatics sports that Sports School offers under Individual Programme – the other two being Artistic Swimming and Water Polo.
RESULTS
Boys Secondary 5m Platform
1st – Yim Shek Yen (119.50 points)
2nd – Joel Chiew (99.45 points)
Boys Secondary 1m Springboard
3rd – Joel Chiew (173.25 points)