Rising Sun Creates Opportunities For Paddlers, Shuttlers
Singapore Sports School-Kochi Prefectural Board of Education MOU
Posted: 19 October 2016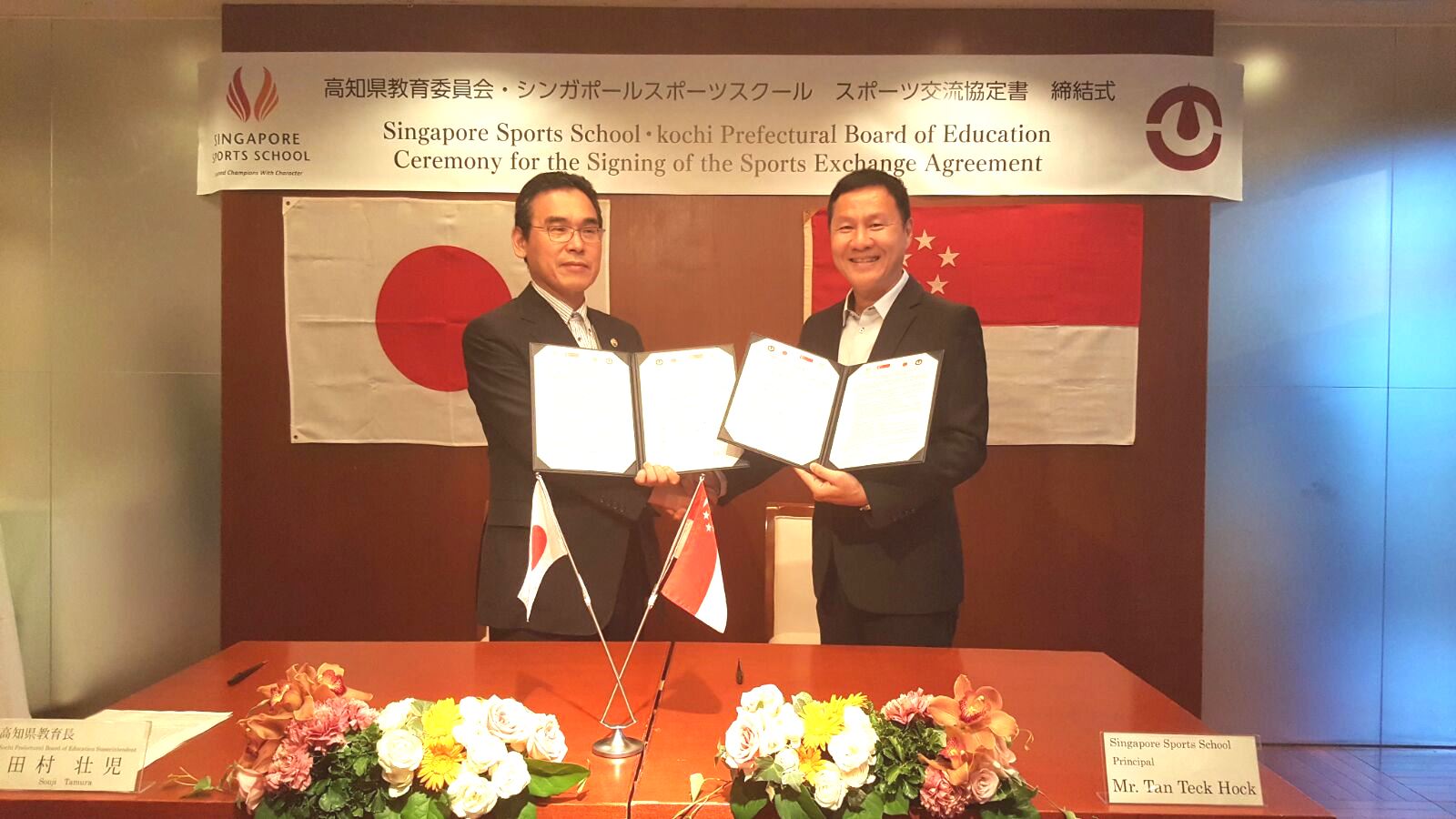 Singapore Sports School Principal, Mr Tan Teck Hock (right) and Kochi Prefectural Board of Education Superintendent, Mr Souji Tamura
Singapore Sports School's badminton and table tennis student-athletes travel for many overseas competitions throughout the year to gain experience in playing with different players. They will have an additional opportunity to train with youth players from Japan beginning from 2017.
On 17 October 2016, Sports School signed a Memorandum of Understanding with the Kochi Prefectural Board of Education to provide more opportunities for our student-athletes to fulfil their potential in sport.
The sports exchange programme with Kochi Prefecture allows student-athletes from the Badminton and Table Tennis Academies greater exposure to quality international players and different playing styles and tactics. The friendly competition between youth athletes from both parties serves to develop a competitive mindset in them, as well as deliver the benefits of improved sport performance. The exchange in Kochi Prefecture will take place once in two years, with a reciprocal arrangement by Sports School every alternate year.
"Singapore Sports School offers a quality sports programmes to its student-athletes. With potential for information sharing between players and coaches during the sports exchange, we believe that our partnership will be a positive driving force in our promotion of sports in Kochi Prefecture," said Mr Souji Tamura, Superintendent, Kochi Prefectural Board of Education.
Our student-athletes also stand to gain from the cultural exchange and interaction with the Japanese, in addition to the sharing of sport and technical knowledge.
Mr Tan Teck Hock, Principal of Singapore Sports School, said at the MOU Signing Ceremony: "Singapore Prime Minister Lee Hsien Loong recently visited Japan and he urged Singaporeans in Japan to take home 'some of the good values and habits and customs of the Japanese'. Singapore Sports School strongly believes there is much that our student-athletes can gain from this sports exchange programme with Kochi Prefectural Education Board."
Sports School has formal partnerships with several clubs and institutions for the sport development of student-athletes in other sports: Lam Tai Fai College (Hong Kong), Fencing Academy; Omiya Ardija FC (Japan), Football Academy; Ulsan Sports Science Secondary School (South Korea), Shooting, Swimming, Track and Field Academies.